With the way the ambition for entrepreneurship is growing in India, it's no surprise that India is fast moving towards having the highest number of business schools in the world. While the likes of IIMs, MDI and XLRI remain the top fairing B-Schools, young India is trying to look beyond too. In such an eco-system, it is becoming important for these institutions to equip themselves with the best of everything to match the competition.
One such institution 'working hard' to get there is Institute of Finance and International Management, Bangalore. Set up in 1995 by VB Padode, the institute now boasts of a 4.00 acre campus in Bangalore and some unique courses like executive program in Business Analytics and Distance Learning PGDM with Business Analytics Certification. Educationbiz spoke to Sanjay Padode, Secretary, IFIM c/o Centre for Developmental Education, on the idea behind IFIM, the Indian education sector, the need for upgrading to EdTech and more. Here's the detailed exclusive interview:
Tell us about IFIM. What made you foray into Management education and set up IFIM?
We were first generation professionally qualified entrepreneurs from a middle class family. It was very fortunate that our bringing up made us different and we had a burning desire to do something for the society at large. However, when we got into our businesses we realised that graduates and youth at large had a very low appetite for risk and aspirational levels were restricted to survival. This stark difference in our view of life and the view of the masses encouraged us to build an educational platform to inculcate the same hunger and passion into the new generation. This was the main reason for founding IFIM.
How conducive is Bengaluru for the B-School sector?
Bengaluru has emerged as an aspirational city for many Indians. The growth of IT and throbbing startup culture is testimony to Bengaluru's culture of forgiving failure and encouraging those who are wanting to win the world. This attitude of Bengaluru aligned with our reason for setting up IFIM and hence, for us this was a natural choice.
What kind of development has IFIM seen from 1995 till today? What kind of investment has gone into developing it over the years?
IFIM Business School was started in 1995 at the Banashankari campus. In 2002, we received the AUI status. In 2003, during our founding years, we shifted to our current campus at Electronic City. It was in 2009 that we started IFIM College and began the Executive PGDM Program in 2011. IFIM received its ISO 9001:2008 accreditation and in 2014, IFIM Business School became a member of the AACSB. Another proud moment was in 2014 when we received our SAQS accreditation and it was in the same year that we established IFIM Institute of Social Sciences and IFIM Law College. IFIM Business School launched an executive program in Business Analytics with IBM in 2014. Recently, IFIM Business School tied up with the National Stock Exchange to provide a unique Program.
IFIM has grown organically over the past 21 years. Besides the monetary investment required to develop the 4.00 acre state of the art campus, the promoters, faculty and the patrons of IFIM have invested more than 10,000 person years of effort to bring the institution to its present levels without comprising on business ethics.
Tell us more about the new course, Distance Learning PGDM with Business Analytics Certification, introduced by IFIM. What makes IFIM introduce this course in India?
In tune with IFIM's vision of developing and nurturing socially responsible, holistic and continuously employable professionals, IFIM was always looking at providing course-work that could enable executives to enhance their employability quotient and hence, accelerate their career. Therefore, we wanted to look at a professional skill based certification to be embedded into the entire two year course. Traditionally, a two-year course results in employability only post completion of two years, but we thought it would be better if we give interim certification post completion of each semester from a professional agency such as Jigsaw Academy or FLIP. Such interim professional certification embedded into the curriculum would help the student become employable in respective stream determined by the certification.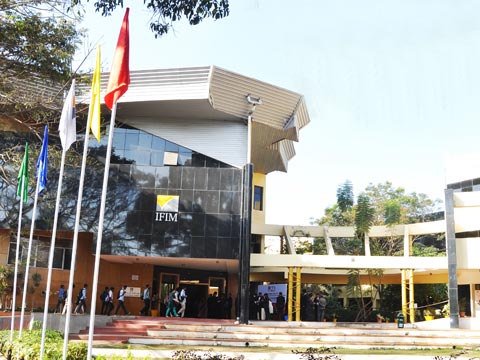 For Example, if a learner is interested in Business Analytics, he/she can start his/her career in Business Analytics after 6 months instead of waiting for two years and would enable the student to garner 18 months of experience in the field of specialisation prior to completing the graduation.
Do you think courses like these open potential areas of new opportunities in the Indian education sector? Elaborate.
We are undergoing times that are extremely dynamic, thus, it is important for every professional to upgrade their skills consistently for maintaining currency and relevance to the times. Therefore, there is immense opportunity for courses like these in the market to upgrade skill levels of existing professionals to assist them maintain their roles and accelerate their careers whilst continuing to be employed.
What is your opinion on the transformation from traditional methods of education to EdTech?
EdTech is in its germination mode presently; nevertheless it is going to make a great impact on how education is delivered in the future. There is huge dearth of teachers and there is large demand from growing number of learners. Considering the shortage of teachers in the system the demand can only be serviced by scaling up the academic delivery methods through the use of education technology. So the writing on the wall is clear that EdTech has got a very prosperous future, however, it is going to be a journey. The change is not going to be digital the change is going to be gradual and organic.
Tell us about IFIM's tie-ups with EdTech. Please elaborate.
Over the last three of four years, IFIM has been deploying technology to enhance its efficacy in learning. Recently, we have invested into an integrated platform to enable blended learning. This platform has been developed by tightly integrating an enterprise resource planning (ERP), learning management system (LMS), Microsoft Office 365 and Facebook for Work. We are calling this platform as the Keep Learning Portal. The tight integration of these systems enables learning resource and information access through social media and messaging systems. This enables the user to access the system through mobile devices anytime and from anywhere. The platform also enables IFIM to capture learning behaviour through analytics and helps IFIM adapts its delivery mechanics to suit the learning needs of every individual student.
How effective do you think are these collaborations in developing India's education market?
We are a formal educational institution and EdTech is an enabling platform for formal institutions to enhance their delivery of learning. Such collaborations are going to be the norm of the future. So it is advisable for other intuitions to adopt such means to make learning more convenient and flexible.
How important is e-learning in higher education? What are the kind of areas e-learning opens up for those looking at investing in the education sector of India?
E-Learning has been an integral part of the learning space for many years in the past. Today with the start-up culture, the emergence of EdTech has given it prominence. E-Learning has always been used very effectively by many universities in India and overseas to impart learning resources as well as to conduct assessments. However, going forward, E-Learning is going to play a major role because it becomes a medium by which you can develop learning analytics and try and customise learning towards the needs of the learner. So you can make learning adaptive and tailor-made.
What is IFIM doing to get into the top 10 B-schools of India? What role do you think do international collaborations play in this?
The simplest answer is "working very hard". We are continuing to recruit the right faculty, develop a flexible and liberal curriculum (which we have launched this year) and augmenting our learning resources and infrastructure.
International collaborations play a very important role in education by itself. In the present times it is vital for every student to be a global citizen. International collaborations play an important role in enabling immersions for the faculty and students to experience other cultures and environment. They also provide opportunities for cross border research.
What must B-schools do to build their brand?
The focus must be on hiring good faculty, customising the curriculum to suit the needs of the learner and address the skill and knowledge requirement of the society.
Where do you see India's education sector in the next 5 years? Where do you see IFIM in the next 5 years?
We have the largest and youngest population of millennials in our country. The higher education system in India is burdened with the responsibility to make this population employable. Thus I see a tremendous growth of this sector in this country.
As far as IFIM is concerned, we have got a five year plan to strive hard to emerge into global rankings. We will continue to work hard as we have a long road ahead. On the way we will strive to continue collecting recognitions, accolades and accreditations by providing socially responsible and continuously employable professionals.