In India, according to an AC Nielsen report, the soap market is pegged at Rs 14,093 crore, of which, the North, West and East Zones together account for around Rs 9,950 crore. Holding a strong market presence in southern and western region, Cholayil Pvt Ltd, has made it big in Ayurveda personal care products market with its star product – Medimix.
"We manufacture Medimix Ayurvedic soap. Cuticura, Krishna Thulasi are the products manufactured by Cholayil. We have strong national presence. We sell Medimix in the north, east and the western region and also in the international market. Our Cuticura is sold all across India. Our presence for Cuticura is largely in Kerala and Tamil Nadu currently. Even Krishna Tulsi is largely sold in the state of Kerala and Tamil Nadu," said Pradeep Cholayil, Chairman and MD, Cholayil Pvt Ltd.
Nevertheless, in an exclusive interaction with WI Bureau, Cholayil MD also unveiled his plans to bring Cuticura and Krishna Tulasi in northern region, of course, after establishing both the products in the southern market.
Here is what more you must know about the company and its business plans. Edited excerpt:
Market share
Currently, we have not captured a big pie in the soap market because we're a niche player in the category. So, we have to establish that mark yet. As far as the Ayurvedic category is concerned, we're the number 1 player in the category, all over India and we're very confident about it. Also, we're the key players in Ayurvedic soaps in most of the parts India where our competitors are not present in all the markets, we are rightly present. That's the biggest difference between us and the competition brands.
Biggest competitors and why
Currently, in the Ayurvedic soaps category, we can only think of Chandrika as our biggest rival. This one brand is having national presence and rest others are regional players. We don't consider Patanjali as our rivals because the company has created Ayurveda products' separate category and is helping us grow. The company has made Ayurveda a popular range of products among the mass. People are getting the knowledge about Ayurveda in a larger perspective because of brands like Patanjali.
Promotional strategy
In this financial year, two major changes we've done for our Medimix Classic soap. Our Medimix Classic is the largest brand which we own currently. In the classic, we've changed the monocut and packaging. Originally it was a white colour pack but now we've shifted to a green colour package with giving it a significant portrayal of the herbs used in the product. Now, if you look at the new pack, it clearly signifies that it's an Ayurvedic product. Another essential initiative we've launched is, we've launched a new TV commercial for Medimix Classic and it's been widely accepted and in fact, even currently also, the TVC has been running on all the major channels in Maharashtra in Marathi channels, we're running strong promotions.
Year-on-year growth
Overall, we are ranging above 15 per cent growth.
What's new?
In this financial year, we've introduced one new face wash. What's unique about it is it's an anti-tan face wash and we've used Burmese herb called Thanaka (a yellowish-white native herb from Myanmar that helps in eliminating dark spots on the skin). It's been well accepted in the market and we are able to find good stock in the retail outlets and we're getting good response also.
Professional range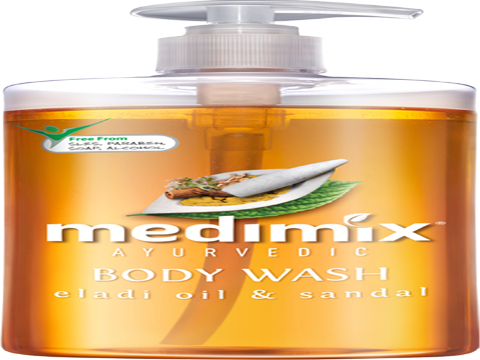 Currently, Medimix is largely known for skin care products, so dermatologically; we're already in that market. Also, we've launched our interesting Ayurvedic products for intimate hygiene wash for women. It's a first of its kind in Ayurveda itself. Rest of the intimate hygiene wash available in India or world over are all chemical infused products. We're doing our best in the product placement. Slowly, we're able to see the optics from the shelf also. Currently, we are focusing largely on the modern trade for the placement of Intimate hygiene wash. We're successfully into that business. So, dermatologically, we're a brand into dermatology care.
Product availability
We're present on Amazon, Snapdeal. We're in the listing process in the modern trade and we're present in almost all the modern trades available. Currently, we're largely focusing on the intimate hygiene wash on the chemist shops and also on the departmental stores.
Current worth of the company
We're currently worth Rs.150 Crore and out of this; nearly 30 per cent of our business comes from the exports. We're expecting to cross this year (fiscal 2016) around Rs170 crore turnover.
Further expansion plans
Tier II and III cities can happen only after three years' time. We're trying to establish Intimate Hygiene wash in the international market. We're getting a good presence in Malaysia market and also in market like Taiwan where we're establishing our presence big as that is going to fetch us good results. As far as global market presence is concerned, we're largely present in Middle East countries. In these countries, good number of Indian populations has made our products popular in these countries. Also, in the south east countries, we've good presence in markets like Singapore, Malaysia and Taiwan. In fact, in countries like Taiwan where Indians have nil presence, our brand is performing really well and has been in demand for long. In almost all the Indian store in US, Medimix is present and not just that, it's actually popular in India and US. We've recently launched the Medimix shampoo for international markets like Malaysia and Singapore.
In the near future, we're planning to introduce more number of personal and skin care products. Also, we have plans to introduce newer ranges of products to the Cuticura and Krishna Tulsi products. So these are the plans we've drawn upon for the year 2020.