With the increase in westernisation, the influence of international sitcoms and movies and growing inclination towards western clothing, one might think that this will affect the ethnic wear market in India. However surprisingly this is not the case; in fact, the ethnic wear market is growing faster than ever.
Owing to the religious and cultural diversity of India, a wide range of occasions are celebrated. On such festive occasions, consumers tend to purchase ethnic wear for both personal uses as well as for gifting, as brands typically bring out new trends and designs to coincide with festive occasions. These occasions typically drive the growth for ethnic wear.
Another major reason behind the tremendous growth in ethnic wear is due to the fact that it is now finding acceptance even among younger consumers, especially college going ones.
However, the market was dominated by unorganised players predominantly. But, recent times have seen the emergence of organised players such as BIBA, Fab India etc. who have not only created a mark for themselves but has also helped in increasing the demand of ethnic wears.
Market Scenario in India
Ethnic wear is the largest segment in the apparel industry, which accounts for a dominant 74% share of the women's apparel market (as shown in fig. below). Interestingly, more than 75% of this is currently unorganised due to the fragmented nature of the industry, differences in preferences and styles across different regions, and the demand for more variety.
However, this is slowly changing and organised players are increasingly gaining size and share. According to reports, organised ethnic wear penetration is expected to reach 33% by 2020.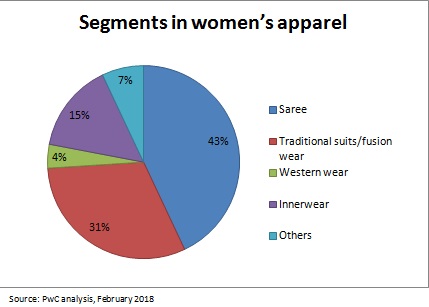 The emergence of BIBA, Fab India, W, and Westside etc. infused a fresh approach into ethnic wear by offering ready-to-wear and ready-to-stitch garments, with a lot of liveliness in this segment.
This growth of organised retail has spun the popularity of ethnic wear in tier II and III cities as well. With industry leaders expanding their wings in metropolitan cities as well as smaller cities with franchising, has not only helped these brands to grow rapidly but also increased the market share of the segment.
According to a report, 26.4 trillion of household income in India is concentrated in tier II and III markets as opposed to 800 billion in India's big 8 metros. Hence, industry players are increasingly capitalising on tier II and III markets as major growth of ethnic wear are coming from these cities.
What's Propelling the Growth
Convenience, comfort and style have been the key driving factors behind the growth of modern and organised format in ethnic wear segment. The organised players offer ready-to-wear products, which captures the attention of younger consumers.
Another key emerging trends contributing to the growth of this segment is the gradual increase in the number of women in the corporate workforce.
Characterised by the rising number of independent women indulging in value-seeking shopping behaviour, ethnic wear has transitioned from being just traditional wear to daily wear that combines tradition with contemporary fashion.
Brands have been able to envision this tradition and capitalise on this opportunity by offering products positioned across casual, formal, weddings, festival, fusion wears, in western styles and prints; in order to target the younger and workforce segment of consumers.
The onset of the e-commerce revolution is also changing the game. Consumers are able to purchase many, if not all, popular ethnic wear brands from the comfort of their homes. This is why many offline stores have extended their presence over online platforms as well. Moreover, celebrities preferring traditional wear have also increased the popularity of ethnic wear.
Business Model
As highlighted earlier, organised retail is all set to capture 33% of the total ethnic wear market by 2020. And, with the increased demand for ready-to-wear branded clothing, showcases a positive and profitable future for ethnic wear market.
Hence, it might just be the right time to invest in an ethnic wear franchise. Major players such as BIBA, Fab India, Libas, Laabha, W, Sabhyata etc. offers franchises for aspiring entrepreneurs to venture into the industry without much hassle.
Brands such as Laabha, requires a total investment of INR 20 lakhs, with area requirement of 500 sq. ft. The initial stock investment would be INR 12 lakhs with an anticipated return on investment of 50%.
On the other hand, a franchise of Fab India, demands an investment of INR 30-50 lakhs, with an area requirement of
700-1500 sq ft. in a high street area or mall. The anticipated percentage return on investment is 24%.
Hence, it is safe to say that the demand for ethnic wear won't be going down any time soon and offers great scope for entrepreneurs willing to enter the apparel industry.