Do you reminisce about your childhood hobbies and wish if you still had public libraries to issue fictions to read during summer break or sit back in leisure and paint your evening out or simply jot down or narrate a poem or learn to play guitar in cosy settings? Well you can now, no matter what your age, as there are people who, having read your mind, are taking into consideration your busy schedules and tight time frames and offering your childhood stressbusters to you for a meagre fees or even free. The happening part is you too can make money out of your hobby by taking up their franchise!
Today marks the birthday of Upendrakishore Ray Chowdhury, grandfather of Satyajit Ray and India's renowned writer, violinist, composer and painter. It was today that India's famous Urdu shayar and film lyricist Kaifi Azmi died. On such a talent heavy day, it would be wrong to not throw light on the young gen that have abided by the dead men's talented churnings, lived with it during their childhood, grown up practicing them and are now doing everything in their power to not let it die as a forgotten hobby.
From recognising the vital importance of these "slow-dying-hobbies" to emphasising their essential unity for national and international growth, several entrepreneurs and academies are coming up with engaging classes and casual sessions to maintain the highest values of drawing and painting in their pristine purity and in conformity with tradition or arranging for musical instruments training, research, study, teaching and development of fine and folk music or simply ensuring that the principles of creative writing are adhered through weekly/fortnightly poetry sessions in one's basement or weekend cafe hangout. The fun here is your business being your hobby.
All this, just so India, which has long been known as the land of literature, arts and crafts, with almost every region having its own traditional form of writing and art that includes drawings, paintings, embroideries, carvings, saris and more, doesn't lose out on its diversity in this space. We bring to you three such hobby corners (literally) that you can attend with your children or siblings or alone, age no bar, during this summer vacation and beyond.
KONSULT ART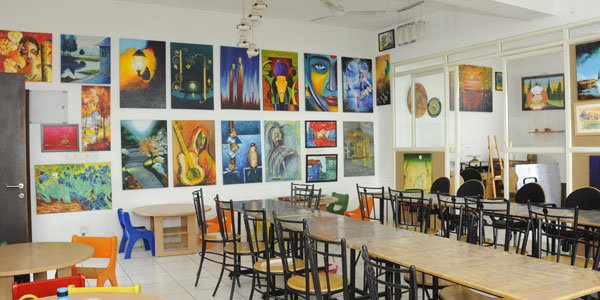 Having seen her husband work closely with Singapore's education sector on frequent business trips to the country, Shahina Ashraf, Founder, Konsult Art & Design Academy, was quite impressed by the way Singapore Art School event (which the husband-wife duo were once invited to judge) was run, its curriculum and ambience and thought why such an institution did not exist in Bangalore which was emerging as a global city. The idea was thus born and after ample of study, constituted an advisory board consisting of artists and educators and had them working on the concept.
"We have a very systematic art learning from a 3 year old to 60 plus. We have developed our own study material and these are not just some graphics" asserts Shahina. "Our study material is created by a team of artists and curated by a Board of Senior Artists" she said emphasising the same to be their USP.
They worked on developing the content and worked on teaching methodology for almost one year before they finally launched Konsult Art in 2010.
"We have worked very hard on developing the content and giving an academic format where the learning is in a structured way. The focus is on "hands on learning" and hence our study material is 100% practical and hands on training with a structured curriculum" Shahina shared about her classes where the students are encouraged to create their own art works to stimulate creativity and encouraged to "think out of box" using the techniques they have learnt the given day, seated in an artistic ambience and a gallery environment which itself serves as an inspiration for the students who are learning art.
The pricing depends on the program duration and complexity where on an average they charge Rs.150-200 per hour for children and Rs.250-300 per hour for adults. 8 years down and they have sprawled from a single centre to acoss the country with 25 centres currently. "Our unique franchise system has enabled women entrepreneurs to start art learning centres in Mumbai, Raipur, Coimbatore, Chandigarh, Ludhiana and Bangalore" said an excited Shahina who is looking at dynamic, go-getters and passionate people as their franchisees who she said need not be artist but should love creativity.
Catering to all age groups their timings and schedules are flexible and customised as per the student's requirement. They are planning to spread pan India and also in Asia Pacific region to help hundreds of artists and empower women as entrepreneurs to open Konsult Art learning centres. "Our aim is to have a presence across Asia and that is the reason we have kept our franchise system very simple and easy to approach. We have a system of Home Franchise and Centre Franchise. One can start a franchise within 15 days of contacting us" she shared given they provide training in the areas of setup, operations, curriculum and marketing and handhold the franchisees until they settle down.
KAAFIYA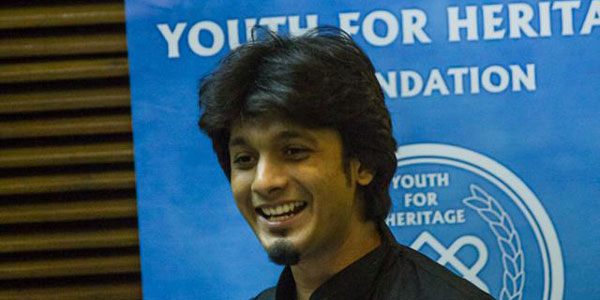 Incepted in the early 2015, Kaafiya was born to make Delhi the 'Poetry Capital' of India and eventually of the world too. Yaseen Anwar, Founder, Kaafiya, revealed "The construct also has the vision to become the active force involved in the development of soft infrastructure of the country. Initially we cater to three languages and diverse forms of poetry. We totally understand the need to compartmentalize and that is exactly what we are doing. We ensure that the legacy we have been handed on remains imperforated and yet at the same time novice voices are promoted because they are yet to accommodate themselves here or there." He was of the opinion that what the current generation writes is candid, raw "and rebellious at times" so it is important to give them the space which they rightfully deserve before they feel neglected from the main stream poetry.
"We do not charge the writers. We don't believe in charging the artist rather, we try to generate funds via sponsorship" quipped Yaseen who is open to the idea of franchising and is looking for likeminded people who can allign their vision with him and his Kaafiya team and take things forward while serving poetry.
Yaseen has his plate full with plans to scale up through production of new initiatives involving cinema and mixing it with poetry in the coming months apart from other productions and initiatives that he is working on to keep the spirit of creative writing flaming in the hearts of gen Z even as they get engulfed in the lazy, creativity freezing, digital age.
TANSEN SANGEET MAHAVIDYALAYA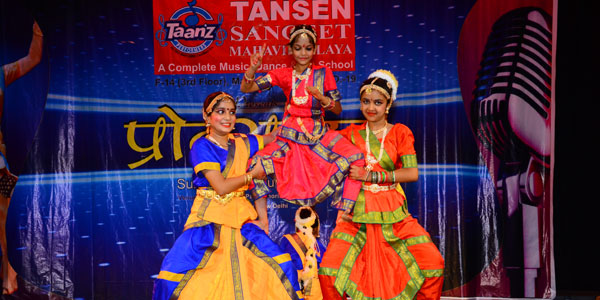 Founded in 1972 by late Shri R. S. Verma (Sangeet Acharya) in Hapur, the aim of the academy was to keep alive and advance the great heritage of Indian Music (and culture). His son, late Shri M. L. Verma, carried forward the tradition and presently, with the keen involvement of his grandchildren, it has spread to over 11 states of India with over 80 franchisees and is still growing in number.
Believing music to be a hobby that is eternal and everlasting, the faculty at Tansen Sangeet Mahavidyalaya encourages and prepares students for various examinations, particularly that of Prayag Sangeet Samiti, Allahabad and Trinity College, London. "Even though we teach in traditional ways, laying great emphasis on basics, we do teach Bollywood and Hollywood (for western music and western instruments), songs and dance sequence (in Western Dance)" said P.S.Gosain, Director, Tansen Sangeet Mahavidyalaya where music and dance festivals are organised periodically in which students of all franchisee centres are invited to perform before music world's celebrities like Birju Maharaj, Kavita Krishnamurthy, Saroj Khan, Jatin Pandit, Master Marzi, Ismail Darbar, etc. and arrangements are made for students to take part in various music and dance programmes, contests and television reality shows.
The packages offered are on quarterly, half-yearly and yearly basis, flexibly based  according to locality (city/state). To the franchisees, they offer a low investment, near-zero risk and profitably replicated business model that is in sync with the current socio-economic scenario. The offer is for two types of franchises: the master franchisee which is for a whole region and locality or centre franchisee wherein a franchise to run a centre is offered in a particular locality. "In the second model, which is generally the norm, a fully functional centre can be offered or the franchisee can opt for starting it. In all cases, the franchisees are helped in all matters of running the centre" said Gosain who also shared that while Tansen Sangeet Mahavidyalaya is always on a lookout for new franchises, people interested in opening new franchises can also approach the institute directly. "This way the number of Tansen Sangeet Mahavidyalaya keeps on increasing day-by-day and soon it will be in every state and every city/town of India" hoped Gosain who expressed plans of opening franchises abroad, the work for which is already underway.