Search Business Opportunities
In an interview to Restaurant India, Munaf Patel, Chief Eating Officer at The Bohri Kitchen talks about the idea of starting this paid concept dining trend.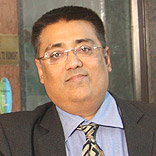 The Franchising World (TFW): How was the concept Mirchi born? Ranjiv Kumar (RK): The name 'Mirchi' denotes a bold and unconservative kind of authentic Indian cuisine...