Various factors like rising awareness of healthy lifestyle among Indians, growing disposable incomes, rising lifestyle diseases and least affected by slowdown in economy are leading to the rise of the fitness sector in the country.
Total retail market for fitness category is worth about Rs 4,579 crore (US$ 0.76 bn) growing at 16-18 per cent and is estimated to cross Rs 7,000 crore (US$ 1.18 bn) by 2017.
The growth can also be gauged with the fact that we see rising number of gyms in every locality these days. With the passage of time, these unorganised or non-branded gyms are moving towards organised players and opting for franchise brands. And there are number of leading players operating in the country who are seeking franchise partners.
How to fit in the fitness business? 
International brands in India are strengthening their brand's muscle power to to expand pan-India, Srileka Reddy, Co-founder/ Director Marketing, Force Fitness- Master Franchisee Snap Fitness, says, "To open a Snap franchise, the potential investor has to have the required capital and the interest to open a fitness club. He/she should also have some time to monitor the business as there are a lot of upfront payments and finance has to be carefully managed. We normally qualify the potential investor by requiring him/her to fill a qualifier form."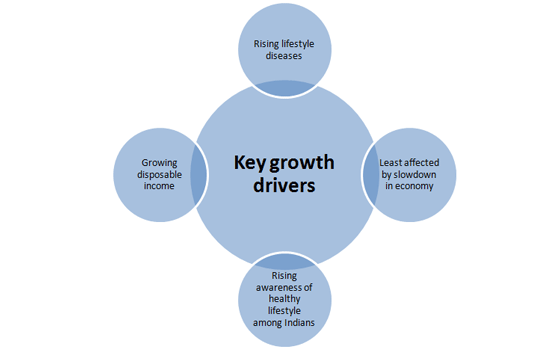 On this, Nikhil Kakkar, Vice President, Franchising & Operations, Gold's Gym India, says, "In my opinion, passion is something which drives this business, when it comes to set up a space of 3,000-7,000 sq. ft and an investment of Rs 1.5 crore to 3 crore is required."
Key cities for business
The organised fitness market is concentrated in top eight cities of India-Delhi NCR, Mumbai, Bangaluru, Chennai, Kolkata, Pune, Hyderabad, Ahmedabad- with more than 60 per cent of outlets of top dozen chains located in these cities.
However, having spread their footprints in metros and other major cities, the franchise gym brands are moving to tier-II and III cities now. "A high street location is recommended and preferably between first to third floor. Also important is parking space, our team also assists our franchise partners in selecting the location as this is one of most important aspect of business," shares Kakkar.
Reddy too expresses similar views on this aspect of the business, "High street of residential catchments is suitable for opening a Snap Fitness location. We usually open on second or third floor for higher visibility," she says.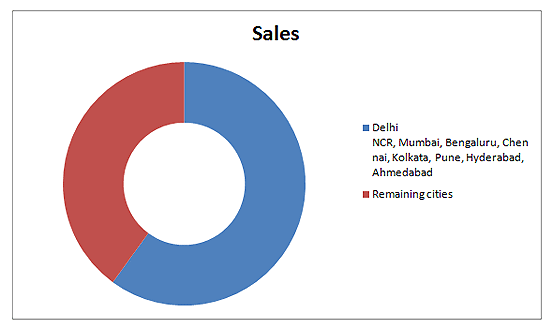 Not just gymming, training too
Having set up their centres in the key cities of India, one of the prime challenges for these players remained was of certified trainers. To sort this out, almost all leading franchisors have started a chain of fitness training centres as well. On one side, they are creating a large pool of certified and trained trainers on the other hand; they are able to beat the problem of shortage of instructors and attrition rate.
 "Trainers are the soul of this business, and getting qualified trainers is a must. To ensure it, we have qualified trainers as we also run an institute for fitness trainers training i.e. Gold's Gym Fitness Institute," says Kakkar.
Adding further to it, Force Fitness Co-Founder, points out, "It is preferable for the gym coach to be certified but we also hire freshers and train them at our corporate office. The initial recruitment is done by the Master Franchisee and the entire team has to go through a rigorous 10-day-Snap training before they are allowed on the floor. The franchisee can also hire staff but they have to be sent for training to the corporate office."
Big expansion via franchise route
Leading gym brands in India prefer franchise route for expansion as they look to expand their footprints across the country. Gold's Gym India is aggressively seeking franchise partners in tier-I, II and III cities. At present, the US-based fitness chain has 92 operational and 20 under construction gyms in India. It eyes at signing up 150 gyms by March 2017
Also, Snap Fitness has set an ambitious target of 300 gyms in India over the next three years through the franchise mode. The brand has opened 62 centres in the country till date.
"We are looking forward to open 300 centres in India over the next three years. High street of residential catchments is suitable for opening a Snap Fitness franchise centre and we usually open on second or third floor for higher visibility," shares Reddy.
Franchise facts:
| | | | | | |
| --- | --- | --- | --- | --- | --- |
| Brands | Area | Investment | RoI | Total centres | Expansion plans |
| Snap Fitness | 3000-5000 sq feet | 1.5 -1.8 crore | 18-24 months | 62 | 300 over the next 3 years |
| Gold's Gym India | 3000 – 7000 sq ft carpet | Rs 150-300 lakh | 3-3.5 years | 92 operational & 20 under construction | Tier-I, II & III towns across India |