Caring and nurturing come naturally to women. Thus, service sectors like health, fitness, beauty, salon, spa and others obviously has a large number of womenpreneurs. What makes it easier for women is the fact that most of the service industry brands offer franchise. Due to this, a large number of women are taking the franchise of their choice of brand and are fast turning into a businesswoman.     
Service sector brands are doing their bit and taking many initiatives to encourage women entrepreneurs and employees. "The percentage of women entrepreneurs is about 50% among our total franchisees. We undertake marketing initiatives globally to spread the message of opportunities available for women using various mediums like social media, blogs etc," says Gita Ramesh, Joint Managing Director, Kairali Ayurvedic Group.
Snap Fitness too has a healthy number of women who are leading from the front. Srileka Reddy, Director Marketing and Co-promoter, proudly tells Franchise India, "As our business philosophy, we have more than 60% of the clubs managed and run by women. We actively encourage franchise owners to involve their wives or other female members of their family to get involved in running the business as we have seen in our experience of 60+ clubs that the success of the business is much higher if a woman in the family is involved."  
Batting for diversity of employees and encouraging womenpreneurs, Ronak Kumar Samantray ,Co-Founder, NowFloats, points out, "We embrace diversity at NowFloats. A diverse family of employees is bound to bring a variety of perspectives to the table - enriching our work and innovation. About 20% of our company  has female employees and we encourage equal dedication to our shared vision to both men and women. Regulated or privatised service sector jobs tend to attract both men and women especially in urban areas-tier I and II cities- which are predominantly services-oriented. Specifically, I believe the security of safe working conditions, flexibility of working hours and focus of many service sector organisations to encourage women's involvement in their workforce."
Womenpreneuers - a force to reckon with
A recent Global Entrepreneurialism Report conducted by international bank BNP Paribas has put India on top for the highest percentage of women entrepreneurs. The survey, which was conducted among 2500 entrepreneurs in 17 markets spanning the US, Europe, the Middle-East and Asia, found that 49% of the entrepreneurs in India were women. India topped the table and was followed by Hong Kong (45%) and France (42%).
Also, Global Entrepreneurship Monitor report placed India second after Thailand among ten major countries with women entrepreneurs.
The top three countries with the highest percentage of womenpreneurs
Source- Global Entrepreneurialism Report
On the present scenario and the future of the Indian businesswomen, Samantray, believes, "While women do remain underrepresented within the entrepreneurial world right now in India, where we are today in regards to female representation as entrepreneurs is much better than where we were 10 years ago. And, we are bound to be in an even brighter place 10 years hence. An increased level of female education, more female role models, open and widespread acceptance and encouragement of diversity in the entrepreneurial world are all social trends that have empowered women. Not to say that there will be no challenges specific to women-of course there will be. However, slow and steady advances towards a more accepting and encourage entrepreneurial ecosystem are definitely underway. The future for women entrepreneurs seems bright – the hope is that all segments of society work in cooperation towards this pursuit."
 "The future will be more of women coming out from the role of traditional housewives to an independent entrepreneur. The future of women being an entrepreneur is booming and it's going to be a successful one," adds Gita Ramesh.
Government initiatives for women entrepreneurs
Other than services brands, there are several government initiatives to help and promote entrepreneurship among the fairer sex. The women entrepreneurs can check the websites and concerned departments to take benefits of these schemes to start their business journey.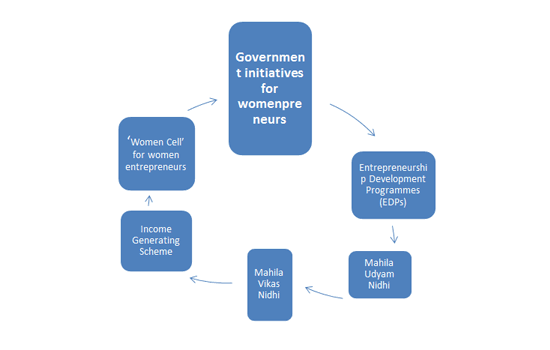 Government-run schemes for womenpreneurs
According to the website of Ministry of Micro, Small & Medium Enterprises (MSME), MSME Development Organisation, various State Small Industries Development Corporations (SSIDCs), the nationalised banks and even NGOs are conducting various programmes, including Entrepreneurship Development Programmes (EDPs), to encourage them.
For those female, who may not have adequate educational background and skills, MSME-DO has introduced process/product oriented EDPs in areas like TV repairing, printed circuit boards, leather goods, screen printing etc.
The Office of DC (MSME) has also opened a 'Women Cell' to provide coordination and assistance to women entrepreneurs facing specific problems. Income Generating Scheme, which provides assistance for setting up training-cum-income generating activities for needy women to make them economically independent and grant for setting up a production unit is also available under Socio-Economic Programme of Central Social Welfare Board.
Besides this, Small Industries Development Bank of India (SIDBI) has been implementing two special schemes for women -Mahila Udyam Nidhi, which is an exclusive scheme for providing equity to women entrepreneurs, and Mahila Vikas Nidhi, which offers developmental assistance for pursuit of income generating activities to women.