On the work front, in the same company, opportunities for growth may be getting limited- both lateral and upwards. It could be that there is some strategic over haul happening, and that puts you at a disadvantage or limits your role. Joseph Devasia, MD, Antal International India explains:
"Here are two great reasons why a business in Recruitment becomes a choice of vocation in your 40s:
Your experience: By the time you are 40 years old, you have gained enough experience in the market – this gives you an edge over many recruiters who recruit with no industrial knowledge. You know the industry by its length and breadth, you understand what talents and skills are required to fill a role, you know how the remuneration cycle works within that industry, you understand the role, you know the kind of talent that is available in the market.
Your Network: During your tenure with a particular industry, you've probably met all the movers and shakers within your industry and that again gives you the edge over your competitors, you have more personal and professional connections to take advantage of. Aside from the connections you already have, you're decades ahead of the competition in terms of interpersonal skills. Take networking events, for example. You'll often see familiar faces at these gatherings--it's almost like you're all in a support group together. Plus, consider all the referral opportunities that you have to your disposal. Six Degrees of Separation really don't apply in your case.
Recruitment sector is ever growing
As long as there are students passing out of colleges, there will be need of jobs and better recruitment specialists. Aroon Balakrishnan, MD, Waays & Solutions says: "I started at the age of 33, today I am 38. I feel, an experience the individual has gained in the sector where he's spent most of his career span, he knows the pros and cons of the sector as a whole. Secondly, a matured and experienced person in the sector will have a great network that he has created for years. At the age of 40, which is just about mid life crisis and where a person feels that he needs to discontinue from corporate culture and start something on his own, Recruitment as a career is surely a suitable choice."
40's is the phase when you are too young to retire yet too old to get a new job. On the positive aspects, Ajit Kumar Singh, CEO & MD, Unidus Services Manpower Pvt Ltd comments: "The best solution is to start your own business. You may consider being an entrepreneur and your experience is an advantage in putting up your own company. Changing a career from a full time paid job to a business is a process that can be fun, self awakening, and can give you a new zeal for living."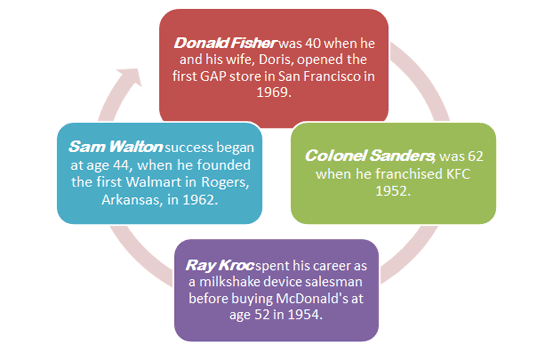 Need of niche recruiters
There is also movement of employers preferring to work with niche recruiters. Niche recruiters are specialists- they don't cater to all sectors- they cater to the industry/market that they are familiar with and confident about; and this is what makes them successful. Devasia from Antal comments: "They know the needs of their clients and understand talent in their sector and hence are able to understand the best talent for their clients."
Important part of the leadership team
Mumbai-based, Talent Corner HR Services Pvt. Ltd is one such organisation that truly supports individuals aspiring to do big after the age of 40. Rashesh Doshi, MD of the company comments: "I joined this business when I was 20 and now I am 32. However, most of my team members who are successful are either 40+ or are close to touching their 40's. These people are a very important part of my leadership team and my decision making process.
Here are three important points why people after 40's make a great choice in recruitment-
Clearer Goals: Most People above 40 have clearer goals and therefore instead of going for long leaps they understand the importance of baby steps. It is this attitude that helps them do well.
Relationship Management: Young People have their own set of challenges revolving around life and therefore they tend to lose sight of the importance of managing relationships with their clients. The Older you get, the more you start valuing this. Most people who understand the concept of relationship management will infer that recruitment is not a transactional game but its success lies in being able to manage relationships.
Sense of Maturity: Any candidate is more comfortable being interviewed by a matured person, who understands the importance of that conversation. Maturity also gives the recruiter an ability to have more rationale and reasonable conversation with the client. The client usually gives a more patient hearing to someone with experience of life.