Indian two-wheeler industry has grown in leaps and bound in terms of volume of production and sales. As stated by Business MapsofIndia, the market registered an overall growth rate of 9.5% between 2006- 2014. The growth in Indian automobile industry witnessed a sharp increase in the two-wheeler segment in 2014. The volume growth recorded in the 2014-15 fiscal year stood at a commendable 14.8% on a year-on-year basis. Moreover, bulk of the Indian population belongs to the middle income group. Two-wheelers therefore stand foremost on the Indian buyers' list. To harness this opportunity, two wheeler brands are escalating their dealership network in India and international market.
Surging sales and dealership network
Growing at a phenomenal pace, Royal Enfield experienced remarkable sales of over 300,000 units in 2014. Elaborating on the expansion plans of the brand, Siddhartha Lal, Chief Executive Officer, Royal Enfield said, "With a view to become the leader in the global mid-sized motorcycling, Royal Enfield will build two new technology centres. The larger one will be at a new 4.5 acre property on Old Mahabalipuram Road in Chennai, and will be operational by Q2 (second quarter) 2016; a smaller satellite center is being set up in Leicestershire, UK, and will be operational by the end of 2015. These technology centres will significantly enhance capability to execute Royal Enfield's long term product strategy. Royal Enfield's immediate business outlook is strong and the company will be investing Rs 500 crore in 2015 in all strategic areas for long term growth, including capacity expansion, product development, frontline and backend."
TVS Motor Company recorded 8% growth in sales for the month of June 2015 as compared to last year. Domestic two wheeler sales increased by 5% from 169,805 units in June 2014 to 177,769 units in June 2015. Motorcycles sales grew by 16% increasing from 76,734 units in the month of June 2014 to 88,675 units in June 2015.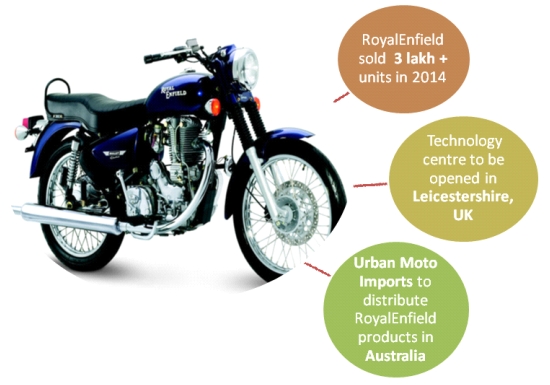 Scooters are not far behind
The scooter segment also saw a considerable expansion in the sales volume. It recorded a growth of 30.7% in sales volume. In the past two to three years, over a dozen new scooter brands have been introduced in India. The gearless scooters cater to the needs of both men and women, while motorbikes are a segment preferred by men only. This has propelled the sales greatly. K N Radhakrishnan, President and CEO, TVS Motor Company said, "TVS Jupiter created a landmark by reaching 500,000 units sales milestone in just eighteen months since its introduction into the market. A lot of thought and customer insights went into the making of TVS Jupiter. The fact that we have crossed this landmark in record time is testament to the fact that consumers are happy with the product's performance and quality. It will be our continued focus to delight our customers with consistent product innovation and introduction of freshness into the brand."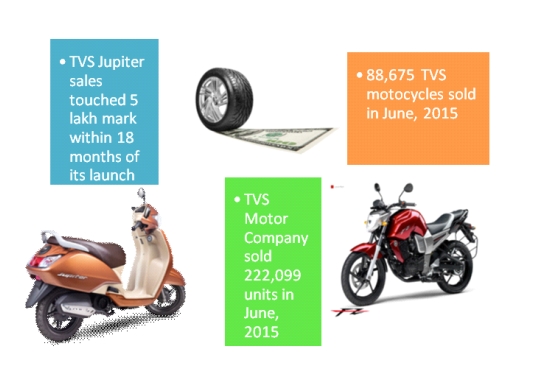 Growing overseas distributors
Two-wheeler market in India has always seen a high growth momentum. However, international market has also welcomed national brands. With a view to reignite the mid-sized motorcycle segment in Australia, Royal Enfield announced Urban Moto Imports as their distributor for the country. Urban Moto Imports will be announcing the new dealer and service agent network soon. The new distributors have proven expertise and experience that synergise well with Royal Enfield's brand experience.
Sharing details, Siddharth Lal added, "Urban Moto Imports will be responsible for supplying, marketing, reselling, distribution and servicing of RoyalEnfield products in the Australian market. They will operate out of Melbourne with a dealer network across Australia and New Zealand. Royal Enfield will be retailing its popular models – Bullet (AUD 6991), Classic (AUD 7290) and the new Continental GT cafe racer (AUD 7992) through Urban Moto's dealer networks. These modern classic bikes will reinstate the category of mid-sized motorcycles (250cc- 750cc) in Australia. These bikes will be retailed through exclusive Royal Enfield stores thtwat will be opened. Royal Enfield will introduce its range of purpose-built apparel and accessories. Australia is a strategic market for Royal Enfield given the demand from growing classic motorcycle loving customers and the fabulous riding terrain."