You can now find a Burger King, McDonald's, Nando's, Johnny Rockets and many more food brands at different locations in malls. These malls are not just making heavy sales from the food joints inside but this has also given a push to lot of mall activities and customer pull.
Commenting on the same, Rohit aggarwal, Director, Lite Bite Foods says: "The popular malls of Delhi such as Select CITYWALK, Saket and Ambience, Gurgaon are amongst the popular locations for any kind of business – be it food or apparel. We have Punjab Grill, Zambar, Fresc Co and Baker Street outlets in these locations which are doing extremely well. Lately, Cyberhub has become a foodie's paradise; Cyber City has ensured targeted footfalls and a regular customer base. Since Cyber-Hub has a captive all-day market, capacity utilisation within stores is higher."
Overall India's quick-service restaurant industry is pegged at Rs 6,000 crore and is expected to grow 26% each year to reach Rs 11,700 crore by 2017, according to research and ratings firm Crisil.  With increase in number of people eating out, even the store size has increased in malls to as big as 2000 sq. ft. The bigger the space, the better the chances of more footfalls is the result followed. Premium fine dining options like Punjab Grill, Mainland China etc are also doing great inside the malls as compared to the other locations. The change in food preferences has also given rise to large number of donut joints, pizza places and juice lounges in major malls not just in metros but in relatively smaller towns too.
Well acclaimed mall of India, Select CITYWALK boasts of its long list of national and international food brands in its mall area and in the food court. As per the company, the mall houses around 42 food brands. So, it can be said that in all the ways, restaurant owners are also making big bucks from the malls they enter into. With more than 86 operational outlets, currently covering more than one million sq. ft. of retail space, Lite Bite Foods has a strong presence in malls, high streets, airports, multiplexes, office complexes, hotels and other high footfall locations. Talking about one of his best performing outlets, Aggarwal says: "We have a Zambar Outlet in Cyber Hub and it is one of our best performing outlets and weekends especially are packed with families from Delhi-NCR area.  Even the restaurant landscape in Mumbai is changing for good, outlet in Palladium Mall, Juhu is the most revenue producing outlet. With the increasing purchasing power in tier II towns, these areas are also becoming increasingly popular."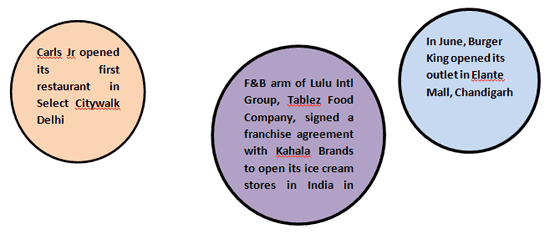 With most new malls upcoming in Delhi/NCR, Mumbai and Bangalore, they become the prominent choice for restaurant owners. As new and more malls are seen in other cities like Hyderabad, Chennai etc, they too might become the top choice for food brands. Even the malls are joining hands with well known names in F&B retailing and getting lucrative benefits. This year in January, Select CITYWALK and Everstone Capital-owned Pan India Food Solutions had formed a 51:49 partnership to operate multi-brand food courts in high-traffic clusters such as shopping centres, airports and office campuses. Recently, in June, Burger King opened its outlet in Elante Mall, Chandigarh. The restaurant chain's strategy is to open outlets across malls and food courts and is investing between Rs 1.75 crore to Rs 2.5 crore to set up each outlet.
Low development costs
Subway has its best operating outlets across malls in different cities. Like DLF Place Saket, Great India Place Noida, Alpha One Ahmedabad, C21 Indore and many more. The brand has fast grown with shifting of their outlets in major malls. "Food courts continue to be a preferred location for QSR brands as they help them reach out to a diverse set of customers especially families who prefer to eat-out, providing them an assortment of food choices. Furthermore low development cost, independent promotional activities conducted by malls that generate additional footfalls leading to positive impact on sales of these outlets are other reasons that make these locations a popular choice," concludes cheerfully, Sanjiv Pandey, Marketing Manager, Subway Systems India Private Limited.