Retailers have opted for many channels to showcase their brand and reach out to the target Group. It can be MBO's, EBO's, Retail outlets, Discount stores, Factory outlets or may be E-route. Each brand thinks differently in terms of their strategy. Siddharth Bindra, MD, BIBA says: "I think EBO's are the best channel for distribution in women's wear. BIBA products are available through 172 stores in 65 cities, apart from presence in all the major retail chains in the country like Shopper's Stop, Lifestyle, Pantaloons and Central. E-commerce is also here to stay. Last year we had around 8-10% business from e-route and next year it will be at least 15-20% for us.
Akhil Jain, Creative Director, MADAME has assorted views on this. He says: "All are prominent channels in their own respect, but for the brand, the effective channels happen to be EBO, MBO as the product gets due importance and prominence."
Gurprit Sawhney, MD and Founder, TRENDY DIVVA comments: "All the distributions channels are equally important and play pivotal role as India is a large country with a huge population and it's not possible to reach out to the masses through one channel."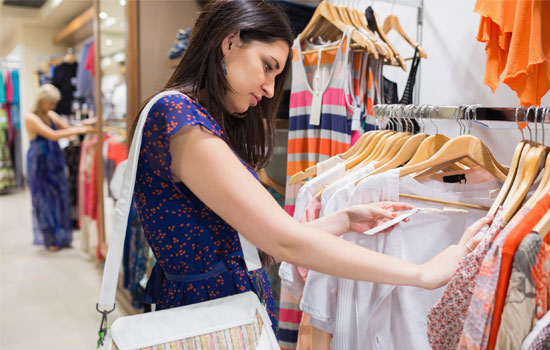 Challenges with channels of distribution
E-commerce
E-commerce is a channel of distribution that allows a retailer to reach out to clients all over the world. Maintaining real-time stock figures for online clients is also a challenge in e-commerce.  If you show something as being in stock, then it has to be in stock else you tend to lose valuable customers. Channel design and channel management are therefore important elements in a company's competitiveness. Asheeta Chhabra, Director, Chhabra Triple Five Fashions Pvt Ltd agress to e-commerce being a highly responsive platform for her brand. She says: "Though it is little difficult to segregate the distribution channel as this is based on an entrepreneur's own experience and choice. We have handful highly gripped company owned retail outlets and numerous franchisees. Apart from the physical brick and mortar stores, we have highly responsive e-commerce platform which is packed with thousands of products featuring all possible women wear categories."
Specialised Distribution
A single manufacturer may choose to distribute its products through quite a few channels of distribution. The challenge for the retailer is that it may be able to establish a relationship with one distributor but not the other. Distributing products via many channels can be a tough fight too.
Discount stores
Discount stores are retail outlets that sell brand-name and private-brand merchandise at prices significantly lower than prices at conventional retailers. Such stores lack clear positioning in the market. The biggest challenge is showing and giving off that quality to the customer even at discounted rates and also winning customer trust.
Retailers
The retail network in India is one that is closest to the customer as a customer directly gets in touch with a retailer.  It can be jewellery shops, apparel, grocery, footwear stores, mobiles stores and much more. The biggest challenge here can be keeping the customer happy as he walks in and maintain that relationship and loyalty because it's now or never. As they say, once a customer, always a customer.
Wholesale distribution
Wholesalers purchase products from manufacturers and sell to retailers. They perform services like storage, bulk breaking, credit provision, and information provision for manufacturers.  Wholesalers operate on very low margins, yet provide useful services. There can be challenges for them too like shedding off that extra stock after the season is gone.
By knowing the perfect distribution channel, a brand can benefit in numerous ways-
It can increase sales by developing specific products or marketing campaign tailored to industry needs.

It can find resellers or distributors that can make it easier for companies to do business with their product.

Identify their competitors across sectors