With the revamping of most of the railway stations and airports underway, coupled with resurgent Indian economy these locations have become a must have destination for the retailers.     
As per the recent media reports, beauty, personal care, alcohol and tobacco are the top three categories at the airports in the duty-free section, while food and beverage, books, periodicals and stationery took the top spot within the duty-paid segment. 
T2 terminal at Mumbai's Chhatrapati Shivaji International Airport has about 700,000 sq. ft area dedicated to retail, food and beverage, lounges and travel services. Similarly, Delhi's Indira Gandhi International Airport, (terminals T1 and T3 combined) has about 500 brands spread over 323,000 sq ft.
Like airports, highways too have immense opportunities for the retailers who are looking for innovative business ideas. All major highways have key franchise brands especially food and beverage giants like Subway, Pizza Hut, Domino's, Mc Donald's and other fast food brands. In view of centre government's plan of makeover of railway stations, this location is opening avenues for potential brands that are looking at scaling up their operations.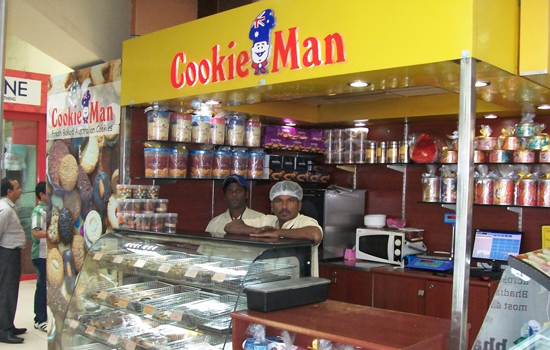 Opportunities galore:
On the massive growth of retailing at the airport, Anupam Saluja, Chief Executive Officer, Australian Foods India Pvt. Ltd says: "Cookie Man has kiosks at airports which are points for a premium brand's presence. Retail at airports presents the opportunity to reach out to a grand audience, where people awaiting their boarding call indulge in buying gifts for their loved ones or colleagues because they have the time. Cookie Man has one of the highest returns by ways of revenue per square feet from airport stores. Footfall at the airport outlets is almost guaranteed. With the offer of inexpensive tickets by low-cost airlines, more and more Indians are choosing to travel by flight, ensuring that Cookie Man is constantly being sampled by more people. Mall footfalls depend on holidays, festivals and weekend activities while airport footfall is constant and consistent," he adds.
Hidesign is also present at several airports in India and internationally. Another leading QSR, Subway has a presence at numerous new airports. Subway is an important part of overall food-court concession program and provides a viable, healthy alternative to the travelling public. The brand also believes that Indian airports hold a great potential.
Not just airports even railway stations and highways are the categories, retailers are excitingly looking for. RS Sodhi, Managing Director of the Gujarat Cooperative Milk Marketing Federation Ltd, maker of Amul brand products, tells Franchise India: "Amul has always appreciated the importance of reaching out to the consumers. The segments referred here have always been a part of our strategy. We are operating more than 200 Amul Parlours at the railway stations. Similarly, we have a very strong presence on the highway front as well. We have one parlour operational at the Ahmedabad Airport and we look forward to open similar parlours at other leading airports in the country."
Besides, budding entrepreneur who are thinking how to start a business and where to start a business are considering taking franchise at these locations.
Challenges:
Well, setting up an outlet at these locations could come up with many challenges, primarily towering real estate costs. Most of these brands find real estate factor as one of the major challenges.

      
"We are witnessing huge developments in real estate across the country. However, the pricing is an issue. Ice-cream retailing or any retailing business has to go through long waiting periods before they stabilise and become a viable proposition. The mantra of successful retailing till today is offering high value for money to the consumers while fetching high volumes to offset the lower margins. The retailing initiatives would only be able to offer low margins and thus irrational real estate prices can become quite an impediment," points out Sodhi of Gujarat Cooperative Milk Marketing Federation Ltd.
Saluja of Cookie Man feels: "Standalone/high street stores are not affected as much as the stores in malls and airports. With the development of malls and airports in smaller cities and non-metro locations, there is a tremendous opportunity for growth."
Conclusion: These destinations seem to be a viable option for retail business to flourish well. The dividends are surely going to come to the investors. Only thing an entrepreneur needs is proper planning alongwith new business ideas to embark upon the right business location.
Hot favourite cities for franchise brands at airports, railway stations and highways:
1. Delhi, 2. Mumbai, 3. Bangalore, 4.Chennai, 5. Kolkata
Key points:
-Airport retailing growing at approx 17-18 % annually 
-Major highways have abuzz with franchise brands especially food and beverage giants-Subway, Pizza Hut, Domino's, Mc Donald's and other fast food brands
-Railway stations are a hot opportunity as they are set for a makeover
Franchise facts
| | | |
| --- | --- | --- |
| Brands   | Amul (APOs, Parlours)  | Cookie Man |
| Area | 150 to 500 sq ft | 100 – 300 sq ft |
| Investment | Rs. 2-5 lakh | Rs. 8-30 lakh |
| Present stores     | 7200 APOs, 800 parlours      | 60 |
| Expansion plans | 10000 APOs, 1000 parlours   | 30+ Franchise outlets by the end of this year |