Smaller cities are undoubtedly India's fast emerging business locations. With the massive acceptance of franchise model across industries, even the Tier 3 and below cities have gladly started moving ahead with franchising. With the benefit of low rentals and easy availability of employees, these smaller cities have become top preference of franchisors besides the Metros. Let us tell you how the flow of franchising in these smaller towns is helping the brands and why these cities remain a desired choice nowadays.
Apart from other reasons, Sky rocketing rentals in bigger cities is also one of the main reasons for brands to move to tier 3 and below cities. Even the high investment sectors like Hotels have started following the same thing. Raj Rana, CEO, South Asia, Carlson Rezidor Hotel Group tells us: 'Growth in the tier 1 cities continue to remain our key focus, however, challenges abound in these markets as they are increasingly affected by high development and capital costs as well as an aggressive competitive market. With a keen interest in metros, we believe that our future growth will be strongly influenced by expansion in prominent Tier 2 and 3 cities, where we can benefit from a first-mover advantage. Carlson Rezidor Hotel Group has seen continued expansion across the country with new hotel signings in tier 2 and 3 markets, in addition to our presence in the key gateway cities.'
Local support is needed by every brand
Investment in any gymnasium brand requires crores of rupees for smooth operations and delivering the finest quality. Now, that bigger brands have opened their outlets in the metros and other big towns, they are now trying to take the first mover advantage in smaller cities. Rizwan Sayed, Founder, YFC- Your Fitness Club says: 'We have 20 + branches now and six of them are in tier 3 cities. Definitely, the response in tier 3 cities is much better and franchising works well with local support of franchise owners in these cities.'
Some tips for smaller town franchise operations
Franchising will only work well in smaller towns if the franchisee gets completely involved and sees it as his own business. The trainings and promotions have to be done very well.
Always make sure that before giving franchise rights to any person, you have personally enquired everything about him. This includes all personal and past professional details.
A thorough research will help you assess that your brand will work in that particular town or not. And also, who are your direct competitors.
In case you are a first time franchisee, get a full understanding of costs and margins; ask for any hidden costs and anything that might be of use to you in running the business in the small town efficiently.
For smaller towns, things are totally different from metro cities and other big towns, therefore in case you want to customise anything as per the local needs of the city, do not hesitate to put forward your idea to the franchisor.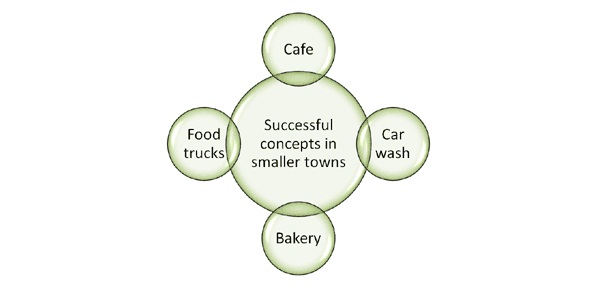 Born in 2001, Chain of Casual dining restaurants, The Yellow Chilli by Chef Sanjeev Kapoor has around 20 of its restaurants in smaller towns apart from Metros. SKRPL ( Sanjeev Kapoor Restaurants Pvt Ltd) provides ongoing training to its franchisees and store managers on new processes and systems that improve restaurant profitability. The staff will also undergo rigorous training on all relevant systems and processes to ensure excellence in execution. This training will be spearheaded by an Executive Chef certified by Chef Sanjeev Kapoor and a Restaurant Manager trained by SKRPL. This training will be supplemented by soft-skills training by SKRPL. This way the brand maintains the best quality even in smaller towns. Other reasons behind the growth in smaller cities are the unpredicted spurt caused by the rising income levels of middle class. The brands planned their brand extension into smaller cities because the investment for business set-up is comparatively lower than metros and there is a high probability of good returns.
Every brand, big or small, is now making its way into smaller towns due to all the reasons stated. In the last few years, many big brands like Amul, Pizza Hut, Domino's, KFC, Subway, Tanishq, Puma, Little Elly, Vadilal and many many more have expanded their network and moved successfully into smaller towns too. Now, seeing the fast movement of most brands into tiny towns, the major challenge for them will be to be the best even in the small towns.