With more opportunities and alternatives coming up, education, beauty and furniture brands have now opted for better tie-ups to remain at pace with the ready for action world. Earlier, Global education and training company, aptech had collaborated with Lakme to establish beauty training academies across India. Now, EuroKids has joined hands with Spacewood to launch child-friendly furniture line. The trend is scattering fast across Industries. Let's know more about such alliances and how it proves to be beneficial for both franchisor and franchisee and how third parties also have the benefit of the overall growth.
Hand shake of International brands with Indian brands is now a thing of the past. Now many Indian brands are making prolific tieups with each other that surely generates a lot of opportunities too. Looking deeper into the education sector, NextGen Preschool chain, EuroKids International, joined hands with Spacewood, one of the leading manufacturer of furniture solutions to provide child-friendly furniture at all existing 900+ pre-schools in India and at all pre-schools added in future. Prajodh Rajan, Co-founder and CEO, EuroKids International, says: 'At EuroKids, we have been redefining early childhood education for over 15 years with focus on providing a fun based yet safe learning environment. Keeping the 'Child First' ideology at the core of our pedagogy, we ensure the child's development, safety and engagement needs are met in a home like environment. We also ensure that the ambience and infrastructure in every EuroKids Pre-School is completely child-friendly. Our partnership with Spacewood is a step in this direction, to provide ergonomically designed, environment friendly classroom furniture for our children.
As per the reports of Research and Markets, "A global market research store, the furniture industry in India is considered as a 'non-organised' sector, with handicraft production accounts for about 85 per cent of the furniture production in India. The Indian furniture sector only makes a marginal contribution to the formation of GDP, representing just a small percentage (about 0.5%)."
Among all the types of furniture used, school furniture segment is the one that boasts to be important in terms of size as well as the technological innovation as per the modern day requirement. It is to be believed that the market size of school supplies is pegged at Rs 24000 crore per annum and is growing tremendously. Around 25 year old company, Adityas education furniture provides child friendly furniture to 25+ schools pan-India including names like Oakridge International schools, Delhi Public school, amity campuses and many more companies like Reserve Bank of India and Select CityWalk too. Aditya Mohan, Managing Director of the brand explains: 'The style and requirement of schools have completely changed. Cost is an important factor for all schools. There are definitely lot of opportunities in this sector too for a specialised person. Schools do not prefer bulky furniture. Demand has changed with changing time.'
Few days ago, Maharshi Karve Stree Shikshan Samstha's (MKSSS) School of Fashion Technology (SOFT) and Accademia Costume and Moda (ACM) of Italy also announced a strategic collaboration to push fashion technology in India.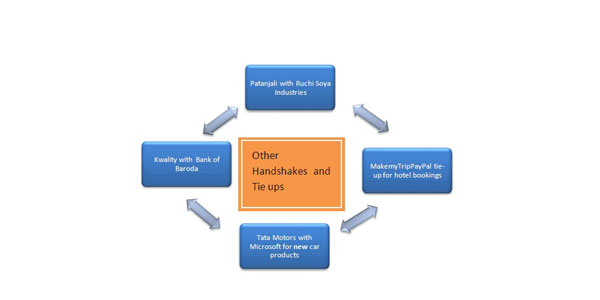 Overall Benefits
The brand stands out in the industry for delivering such diverse services.
A franchisee in any other town can boast of the tie-up and can get better student enrolments.
Such collaborations prove to be a learning stride for a new franchisee.
Support to partners
Last year, Preschool chain EuroKids International, had tied up with the State Bank of India to offer collateral free loans to prospective and existing pre-school partners along with interest rate concessions for women franchise partners. Such support to franchisees definitely encourages them to perform better for the brand and for themselves. Third party also gets a lot of benefits with a wonderful franchisor franchisee relationship. Third parties in the county get a chance to 'Make in India' and expand their product line. Whereas the franchisor can make better and larger number of franchisees by boasting about his brand and products offered. Another benefit for the third parties is that apart from manufacturing and distributing they can learn about the nuances of the trade and look forward to open their own stores via franchise route too. Overall there is a lot of augmentation and stream of job opportunities too.
This clearly shows that with a right alliance both franchisee and the brand get strong foothold in the market and with the right moves, both foreign and Indian brands can capitalize on profits on the burgeoning Indian market.