Athens, Greece-based leading brands, Kayak ice-cream and Kayak Greek Frozen Yogurt are revolutionising the yogurt culture in Greece and many other international countries. In an exclusive tête-à-tête with Franchise India, Salome Stavridou, Marketing Director & Partner, Kayak talked about her thoughts on spreading out her biz in India and also her analysis on the frozen yogurt market globally.
Tell us more about your brands - Kayak ice-cream and Kayak Greek Frozen Yogurt.
We combine the finest fresh ingredients with the most innovative production methods and "home-made" philosophy. Fusing traditional recipes with culinary current trends, Kayak ice-cream and Kayak Greek Frozen Yogurt are distinguished for their special taste and quality.Kayak premium ice cream and Greek Frozen Yogurt is produced by Kayak, a leading Greek ice-cream manufacturer that was founded in 1996. We create recipes using the most natural ingredients, fresh milk, Greek strained yogurt, cream, fruit and real fine chocolate. Production takes place in our modernised facilities with certified production and controls but always loyal to its original values. 
So, what is your franchise concept like?
After its long and successful presence in the ice-cream and Greek Frozen Yogurt market, Kayak is now providing the ideal franchise opportunities with reference to its support and high expertise. Our experience has taught us that what the customer needs is a unique product, professionalism, high quality of services, careful architecture of the stores and a direct and friendly approach. We want our franchisees to share our philosophy and our commitment to the successful operation of the franchise stores.
Your current presence globally.
We distribute our premium ice-cream and Greek frozen yogurt flavours in packages of 500 ml at upper class Greek supermarket chains and in our Kayak Boutique Stores. Our Kayak Boutiques are present in Germany, Glyfada, Attica, Myconos Island, Costa Navarino Resort Messinia and also at Athens International Airport, Attica. We have B2B distribution on UAE in selected super market chains, restaurants, high class hotels, patisseries and cafés.
Do you also plan to foray into the Indian market?
Yes, the Indian market has always been appealing to us. Greece stands in the midway between East and West, so we find many similarities with the Indian people. Our products appeal to those who care about their food as well as the nutritional values, the people who want to experiment and try different flavours and tastes. Flavours like lemongrass, mastic pink pepper, Greek frozen yogurt honey and sesame, Greek frozen yogurt bio quinoa, Greek frozen yogurt mango passion fruit and jasmine or even customised ones targeting to the specific preferences of the market are always within our plans.
How do you analyse and see the yogurt market across the world?
The Yogurt market and especially the Greek yogurt market is an upcoming market due to the multiple benefits of the product. Greek yogurt has two times the protein of a regular low fat yogurt, contains live and active cultures, contains less lactose than regular nonfat yogurt helpful for people who are lactose intolerant and also contains 15 per cent of daily value source of calcium that helps in the development and maintenance of healthy bones.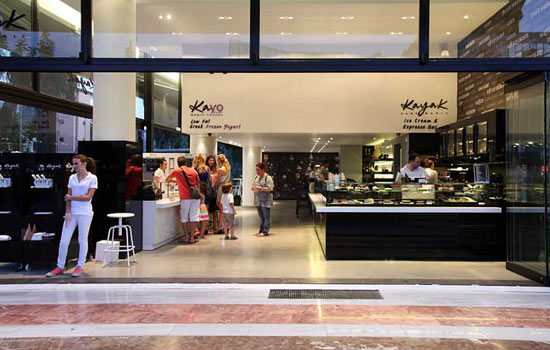 Many international brands are foraying into the Indian market; do you see any competition here?
Competition could be anything: juices, tea, beverages, sweets, refreshments. Kayak's proposal however is unique: using the best materials like pure natural Greek yogurt, fresh fruits, herbs and spices to come up with a product as close to nature as one could ever imagine and also offering ice cream and Greek frozen yogurt in flavours that could never come into one's mind and putting the culinary experience into a different level as a chef would prepare in the finest restaurant.