India is the most rapid growing ice cream market globally, with ice cream treats fast becoming a part of Indian culture. Indian consumers are turning regular at ice cream parlours. Even Amul – the biggest player in India's ice cream market extended their take-home range to include fun flavours such as Chocolate Passion, Fruit 'n Nut Fantasy, and Alphonso Marvel. A research by rediff, on ice cream consumption in India and rest of the world ranked India on 18th position in 2013. It stated that Per capita consumption of ice cream in India is 0.1 litres per year. The Rs 2,250 crore organised ice cream market in the country is actually sizzling this summer.
Recreating ice cream parlour at the home comfort
With changing times, consumer preferences have also changed. With availability of properly spaced refrigerators and other machines at home, people prefer taking bricks or family packs at home and enjoying with the family and friends. A few customers like it this way because of the freedom of making their own toppings at home. Nitin Arora, CEO, Creambell ice cream comments: "At-home consumption has witnessed a steady rise as, along with other dairy products like milk, cheese and butter, ice creams too are now becoming a regular on grocery lists of more and more sections of the population (especially in the mid and upper sections) Also, improved and innovative packaging, better electricity supply (at least in major cities) and more efficient distribution channels has played a vital role in pushing up the consumption of ice cream at home. Today multi-serve pack sales are growing at 20-25% at Creambell"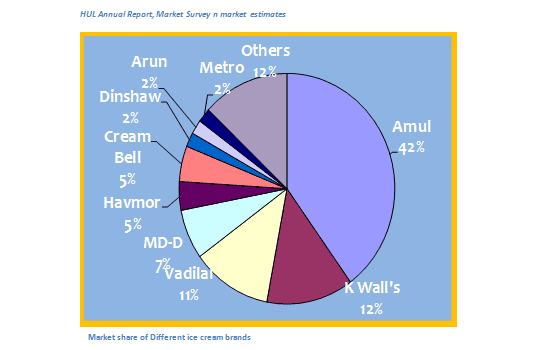 Talking about the ice cream consumption globally, R.S Sodhi, MD, AMUL informs: "Total worldwide consumption of ice cream is approximately 15.2 billion litres, of which Asia Pacific enjoys the leadership position with market share of 34%, with highest consumption and highest growth rate of 6.9%. The per capita consumption of ice cream is the highest in US at 24 litres/ annum, Australia at 18 litres / annum, while the per capita consumption in India is only 400 ml/annum as of now. The global average is 2.3 litres / annum.  This very clearly indicates the scope of growth that the market represents. Moreover looking at the world ice cream market, it is one of the biggest food categories and is growing at +3.5% per annum. Ice cream is also amongst the fastest growing product categories in packaged foods.
Srinivas Kamath, Director-Retail of Mumbai's very famous Natural Ice cream very rightly says: "The demand for take home ice creams has definitely risen. The main reason is having 24 hrs electricity supply at home in most tier I cities by which one can preserve ice creams in their fridge and also many parlours have started home delivery service to boost their sales and this has been convenient for customers to order and enjoy at home with family."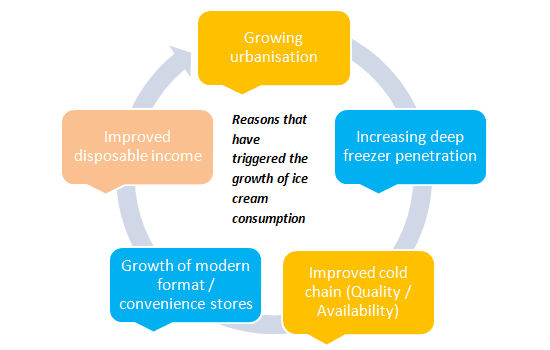 Brands launching premium range
To succeed in the huge market and beat the competition, most ice cream brands have launched or are launching premium range apart from the regular ones for its patrons. Best examples are Amul's Epic ice creams and Kwality Wall's Magnum. Even Vadilal has its gourmet cups. Vadilal's Gourmet range is available in six irresistible flavours like Pistachio Almond Fudge, Belgian Chocolate, Praline 'N' Creme, Silk Chocolate, Saffron D'elite, Choco Brownie Dip. At 16% milk fat, Amul's EPIC is the creamiest ice cream giving the Indian palate the richness and taste never experienced before. Also, ice cream in this product has less aeration compared to regular ice creams. To make this product more premium, the bars are coated with exotic Belgian chocolate, which is richer in taste as compared to regular chocolates.