Brand awareness and customer engagement are definitely the two key priorities for the brands franchising in India and both these aspects and much more can be achieved via social media promotions. Now brands have a dedicated team to take care of the promotions and campaigns via social apps. Rohit Aggarwal, Director, Lite Bite Foods comments: "Social media has evolved into a powerful marketing tool for restaurants. At the same time, restaurants struggle to protect their brands' image given the speed and reach of social media posts. One of the trickiest areas to tackle these days is 'Social Media'. It becomes really difficult to control what people are writing about you on platforms like Facebook or Twitter. We have got an in-house dedicated team for Digital Marketing who keeps a track on recent Social Media trends. We keep a tap on the current #tags and what people are writing about us on various Social Media handles. We monitor them and ensure that every query or complaint is resolved within 24 hours with corrective action."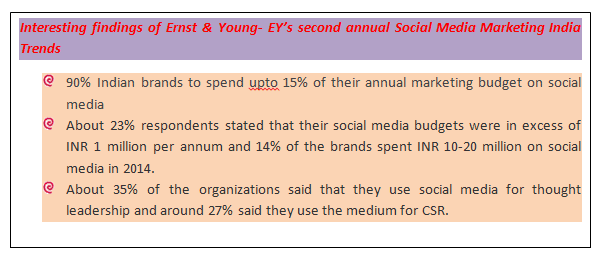 Dinesh Mishra, Partner and Customer Practice Leader (India), Advisory services, EY, said: "Through this study we reached out to India's top social and digital savvy brands from the third quarter of 2014 to January 2015. It is our observation that while brands have invested financially and in processes, there is a need for holistic customer engagement and strong community building strategies through the use of social media. That, in my mind, will strengthen the brand and allow for innovative and meaningful interactions between communities, as well as between the company and the community."
"About 32% of digital-savvy brands in India depend on the internal core team for strategy but the average team strength is small varying from 1-3 people. Given the mass reach and quick response time in social media, ownership plays a critical role in success. Every organisation irrespective of size must focus on developing capabilities and creating a strong internal governance framework," he added.
Magic of apps and ordering platforms
As per a data by Emarketer, Mobile advertising is the key driver of growth around the world, and advertisers will spend $64.25 billion worldwide on mobile in 2015, an increase of nearly 60% over 2014. Plenty of Indian brands are promoting themselves wonderfully and tactfully too on Twitter. Not just people get to know about their brands and offers but also a great way to stay connected.  The job is not just now limited to interns but brands have full fledged wings for such social promotions and campaigning. Talking about leading international brand like Domino's, emphasis on technology innovation helped Domino's generate approximately 50% of U.S. sales from digital channels at the end of 2014, and reach an estimated run rate of $4.0 billion annually in global digital sales. Domino's features an ordering app lineup that covers nearly 95% of the U.S. Smartphone market and has recently introduced several innovative ordering platforms, including Ford SYNC®, Samsung Smart TV® and Pebble Watch, as well as Twitter and text message using a pizza emoji. In June 2014, Domino's debuted voice ordering for its iPhone® and Android™ apps, a true technology first within traditional and e-commerce retail.
Social Media Marketing is one of the most efficient and cost effective ways to promote both small businesses and corporations and improve the visibility of the brand. Social Media Marketing is also about growing your sales. In a few months of advertising and correct digital marketing, you can reach out to customers globally. Gujarat based based, Coffee Culture started franchising in India in 2008. On the social media promotions, it's Director, Gaurave Naarang says: "For us social network is the most important medium of promotion. Our brand strives on Facebook, Instagram, BBM, Whatsapp, and Twitter. Our brand communicates day and night through social network because that's where our fans are. We seek more and more engagement based campaigns and connect with our audience every day. We have more than 80000 fans on Facebook as of today. We have also done a viral video which could reach more than 2.5 lakh views on Youtube. Our highest priority has always been social network and we learn and improvise every single day on it.