Smartphones have the power to connect businesses and consumers with all the mediums of advertising and that's the reason why M-commerce is creating ripples in the India's retail market. Extensive rise in number of GenY or millennials on smartphones is now opening new boulevards for e-tailers to take the m-commerce route to push sales across the country. Let's check out, how m-commerce market in India is spreading like a wildfire…
As per Frost & Sullivan estimates, the network-based segment of m-Commerce applications in India will record revenues of US $1.26 billion with close to 72.5 million subscribers by the end of 2018. Undoubtedly, it is anticipated that the next wave of growth in India will certainly come from brands that have presence through online and mobile platforms.
As last few years have witnessed a swift rush in the number of e-commerce players , more and more businesses are now moving from traditional brick and mortar format to completely a virtual platform for selling their products and services. Looking at the changing scenario, e-tailers are now tapping the "mobile phone"s as the potentially feasible route to stimulate profits.  The sudden transition can be attributed to various factors such as increasing penetration of internet in the country. Subsequent to e-commerce wave in the industry, it's now the turn of m-commerce industry which is creating a new buzzword in India's ever-growing retail industry. The latest trend which has spurred the retail industry – is the entry of e-commerce chains into m-commerce market. These days, e-commerce chains are shifting to an exclusive mobile app-based model to bolster sales and target customers by luring them with exciting deals and offers.  In fact, many small and big business conglomerates are focussed towards developing mobile friendly websites and apps to cash in on the lucrative opportunity to spread their reach in uncharted locations.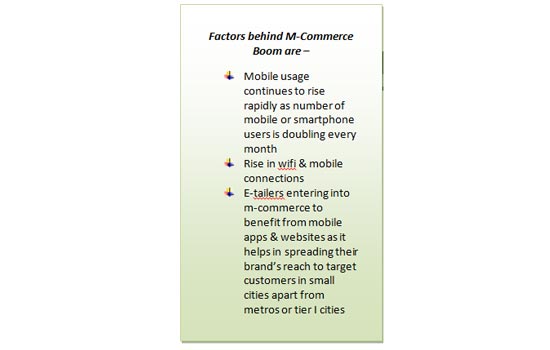 Experts believe that major growth propellers towards the m-commerce retail market are –
Exponentially increasing number of mobile users, augmented internet dissemination on smartphones
Availability of 2G, 3G and 4G networks that fuel the growth trajectory of country's economy and several businesses.
Commenting about the m-commerce wave in the Indian market, Vikram Chopra, CEO & Founder, Fabfurnish.com says: "35% of our revenue comes via M-commerce (app & mobile web). In fact, our revenue from last year via M-commerce has grown by 4-5 times. Major drivers behind the M-commerce retailing are increasing mobile penetration (smartphone and non-smartphone), more time being spent by users on mobile, better interface on mobile apps, greater brand accessibility towards users and high discounts given by e-tailers on mobile app purchases. Mobile is definitely seen as a better search and discovery platform." The latest entrant in this space is – Bizpluss, which is regarded as the first eServices Platform putting the distribution and retail business on cloud. Their CBO and  ED, Tarun Bhardwaj says: "The total market size of e-commerce in India was $4 bn in 2014 and is expected to swell to $ 6 billion by the end of 2015. It has grown 56% annually between 2009 and 2014. A per the recent eMarketer study, by the year 2017 more than 25% of all online retail transactions will happen in the mobile paradigm. India is set to witness proliferation of the fourth-generation wireless data services or 4G services shortly with slashed data plans."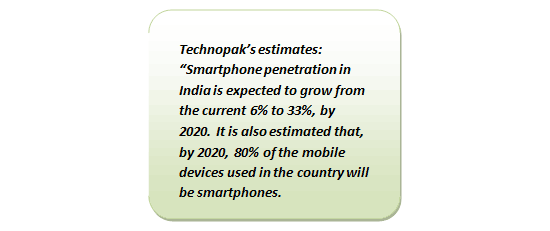 On the other side, elaborating about the customer buying experience, Akshay Sahi, Head Customer Experience, Amazon India, says: "The customer behavior on mobile devices is evolving fast and we are observing and learning. The unique capabilities of mobile such as location awareness, camera and voice will transform shopping experience dramatically. Payments over mobile devices are another area where a lot of innovative work is being done. The smaller screen size of the phone also has impact on how customers browse, search, discover and research products on the phone."
M-commerce is booming market
With M-commerce, shopping becomes easier as one can shop, check out best deals to relax at a nearby spa or go for a health check-up, book cabs or one can look at deals at popular food joints while at one's comfort in any city or country.  Looking at the growing M-commerce market, the India's most popular e-tailers are now entering into m-commerce space to target every tier of the country. Currently, the brands that have already diversified into this segment are – Flipkart, Snapdeal, Amazon India, Purplle, Myntra, Zovi, Voonik, Jabong, Quikr, Limeroad, Taxiforsure, Ola Cabs, firstcry.com and Lenskart.com. They have come up with their exclusive mobile apps to double their sales and reach consumers across urban and rural areas for a wider footprint. M-commerce offers ease and convenience to consumers and they can now shop at a comfort of their home or anywhere across the globe.  
Lately, Online Fashion Retailer – Myntra has shifted to an exclusive mobile app-based model. Commenting about the model's potential, Vikram Chopra, clearly adds: "There's no doubt that apps have better conversion rates than mobile websites. In terms of reaching uncharted locations, there is no difference between mobile app and mobile websites.
In fact, mobile websites would probably be better because not everyone downloads mobile apps. Apps-only models seem more beneficial for high frequency low ASP e-commerce players – cabs, groceries, clothes, food delivery, etc. However, for furniture, this isn't the best option because of long time spans in buying products online. Plus, consumers aren't very happy when forced to buy on app only e-tailers. Typically, there are about 20-30 active apps on each phone, niche e-com players can't compete in this. "Fab Furnish.com gets 70% of sales from desktop and 10% of sales from their mobile app. The brand expects M-commerce to grow 2-3 times this year. Whereas, Akshay Sahi confirms: "During our recently concluded Amazon Great Indian Summer Sale, mobile contributed to over 65% of traffic. Amazon.in offers an anywhere, anytime and on-the-go convenient shopping experience through the Amazon App for Android, iOS and Windows  phones. Mobile devices contribute 50% of the traffic on Amazon."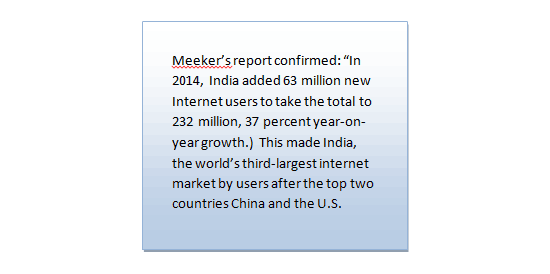 Virtual platforms are biggest game-changers
The development of avant-garde technology, consumers' growing buying power and internet connectivity and rise in number of mobile or smartphones users are the top growth boosters behind the increasing M-commerce market in India. It is expected that M-commerce will redefine the consumers' overall shopping experience and rev up revenues for e-tailers in the coming times.