Most brands in the industry are offering affordable vending machines that are an excellent and reliable source of income. All you have to do is just re-fill the stock every time. These businesses not just give you freedom but also endow you with convenience. One of the leading names in the sector is Café Desire. Cafe Desire business is all about installing Tea and Coffee vending machines and supplying Beverage premixes regularly. Coffee and tea vending machines offered by Café Desire are automatic tea coffee vending machines that are ideal for places like small medium and large offices, educational institutes, industrial canteens, hospitals, software companies, hotels, restaurants, malls, cinema theaters and many other places. Cafe Desire teams up with growth oriented franchisees and expands its market penetration by extending best of the possible and professional support to its franchisees, creating a regular stream of profits for franchisees.
TechNavio's analysts forecast the Global Vending Machine market to grow at a CAGR of 13.31 percent over the period 2013-2018. One of the key factors contributing to this market growth is the growing need to expand virtual store space. The high cost of rental space could pose a challenge to the growth of this market.
Growing prospects
Lately, it was heard that the Railway Ministry has decided to install 7,500 water vending machines at 1,100 busy stations in the first phase. IRCTC, Railways' catering arm, has been given responsibility for installing water vending machines at stations. Earlier and for a much longer time, the market just had cola, soda, water and Tea, Coffee vending machines, now it's Lassi too. Mother Dairy has taken this initiative and has introduced Lassi vending machines, a first-of-its-kind concept in India, designed to offer fresh, pure and hygienic dairy-based beverage to the consumers on the go. At present, Sweet Lassi, Mango Lassi and Litchi Lassi are available through Mother Dairy Lassi Vending Machines. The brand soon plans to launch salted Lassi also in the vending format. Subhashis Basu, Business Head  Dairy Products, Mother Dairy Fruit & Vegetable Pvt. Ltd says: "Mother Dairy Lassi vending machines are targeted at high footfall zones such as offices/corporates, educational institutions, recreational spaces, entertainment zones, etc. These are currently being operated through our channel partners. In today's world, there is a huge latent demand for healthy beverage options for consumption in high footfall areas with captive audience, Mother Dairy looks to push boundaries with respect to modernising traditional Indian food and offer a delectable product experience which has been the forte of Mother Dairy over the years. We believe this will appeal to a large section of our youth and today's consumers who are consciously moving towards healthier food options."
Gujarat-based, Yogvalley Vending Equipments Company that is famous for its vending machine and full fledged soda shop, Mr. Soda also offers opportunities to franchisees with its 12 different models in vending machines. Sanjay Banthia, CEO, Yogvalley Vending Equipment Company says: "If you are planning to establish your own business, then it is the perfect option for you. Mr. Soda is the best soda shop offering you with amazing business opportunities. You can easily start a new business and sell soda flavours with our precisely designed soda fountain machines. Establishing it in posh-malls, multiplexes, cinema halls, super markets, colleges, hospitals, and other dense traffic locations, you can easily get high returns. Our skilled team does a thorough market research to suggest you the most excellent site to start your business."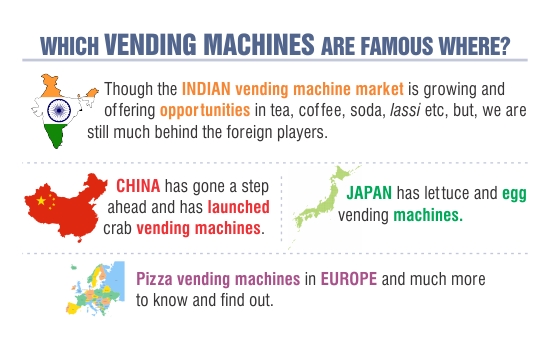 A newer notion
Indulge Beverages has recently introduced a Coffee & Tea capsules brand, Bonhomia.  The brand promotes Indian origin high altitude coffee and premium gourmet teas in the capsule format compatible with the Nespresso machines. The Bonhomia single serve coffee brewing system is a perfect confluence of technology and convenience that ensures a high quality brew each and every time. The coffee capsules concept has become a common fixture in offices, restaurants, hotel rooms, homes & meeting rooms across the world. Coffee consumption grew at a CAGR of 5.7% over 2000-09 and expected to grow at a CAGR of 7% over 2010-15. Specialist coffee shops increased their growth in 2010 registering 18% growth in the number of outlets. This is an indicator of the evolving tastes and expectations of the Indian Coffee/Tea consumer. Globally a $ 10 billion market, the Indian market size is somewhere around Rs 200 crore with a capacity to absorb about a 100 thousand machines. A niche offering for the well to do, the products have found wide-spread acceptance in both B2C and B2B circles. The capsules are available at premier commercial properties such as Pullman, Oberoi (Super luxury properties) and leading cafes etc to name a few. Kunal Bhagat, CEO, Indulge Beverages and Tuhin Jain, Director, Sales & Marketing believe that Coffee & Tea vending solution providers  have a huge scope of business, especially where they want a premium solutions for small offices (20 -25 personnel ) or high end restaurants, bakeries where the coffee consumptions is low-medium level (up to 50 cups a day) complementing their core business.
American Coffee Chain, Green Beans Coffee also offers a low investment opportunity to the prospective investors. All coffee products are made with Green Beans Coffee approved roasted coffee that is brewed on-site for optimal coffee taste and flavour. All products are manufactured in Japan in an FDA certified facility and can be sold through traditional vending machines Grocery Store, Convenience Stores, Malls, Airports & More.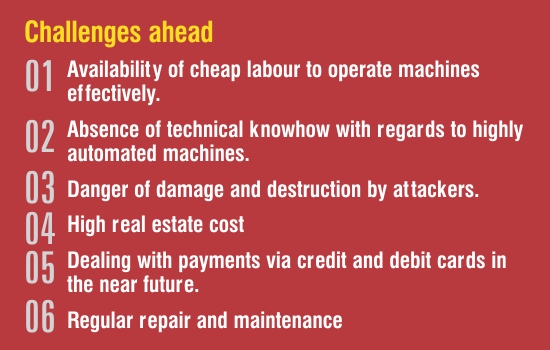 Expansion
Bonhomia is present across the premium national modern trade chains. As far as B2B is concerned, the brand has a strong presence established in the Indian Market in the HORECA segment, with a  large clientele base including Oberoi Hotels & Resorts, Taj Palace (New Delhi) , Starwood Properties (Westin, Four Points-Sheraton), Accor Properties (Pullman Hotels) , Scarlett French Café among many others. The brand plans on increasing the variety on offer by introducing more blends. It is also ramping up its presence across modern trade stores through end caps and sampling activities. Green Beans Coffee has current presence in North America, The Middle East, South West Asia and East Africa is seeking Dealers and Distributors for its canned Coffee and Chai products. 
India needs to build up its speed get ahead of tea, coffee, water etc. As a part of its expansion, Cafe Desire actively looks for franchisees to expand its business in different areas pan-India whereas Bonhomia is actively looking for distributors to service the retail partners - modern trade chains, gourmet stores, hotel and restaurant partners as well as for the online platform. The brand seeks entrepreneurs who are passionate and are ready to join hands to witness a change in lifestyle of Indian consumers. Mother Dairy plans to install its Lassi vending machines at a total of 300 locations in Delhi/NCR in the next few months.