Jewellery in India is considered to be the most valuable asset. However, it is a country which is hit by financial crisis time and again. Gold prices fluctuate at a large scale and precious stones like diamonds, emerald and ruby are too expensive with negligible resale value. Therefore, fashion conscious customers are shifting towards silver jewellery. 
According to a research report, the jewellery market in India is expected to grow at a CAGR of 15.95 % over the period 2014-2019. The silver jewellery exports from India were US$ 148.49 million in December 2014, according to the latest data released by the Gems and Jewellery Export Promotion Council (GJEPC).
Demand for silver embellishments has rebounded in Asia due to lower overall prices as compared to those years ago. Globally, silver jewellery fabrication experienced a second consecutive year of growth, increasing at 1.5%. This was a reflection chiefly of strong performance from India, which surged 47% from 2013 levels. 
Designer wear jewellery on the rise
Brands are elevating silver jewellery and bringing it at par with designer jewellery.  Style Quotient Jewellery Private Limited recently joined hands with the czar of fashion world, Tarun Tahiliani. Sharing a word on the growing silver jewellery market, Prasad Kapre, CEO and Director, Style Quotient Jewellery Private Ltd says, "Silver is projected to be the new gold in the coming years with respect to investment and personal jewellery preferences due to its affordability and excellent scope for creativity and design innovations. We believe our tie up with Tarun Tahiliani will bring us excellent business opportunities and help position our brand in the luxury designer jewellery segment."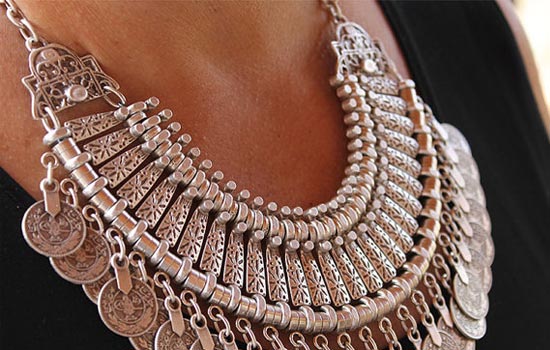 Risk free investment 
Gold imports in India have to face a lot of restrictions. Also, they fluctuate at a rampant scale. Silver prices however, remain more or less stable. This has further prompted the franchisors to expand their business. Silver Shines, a brand promoted by Planets Holdings is seeking franchisees for opening 100 outlets over three years across tier I and II cities which have prominent malls. Subramanian Rao, Partner, Planets9 Holdings says, "In retail, franchising is the best way to expand faster and share the growth with like-minded entrepreneurs. Our main target cities are Mumbai, Hyderabad, Delhi, Kolkata, Gurgaon and mini metros. The products are asset class, which are a risk free investment as far retail business is concerned. Being in the jewelry business, we feel that it is better to have local ownership for good productivity and shared responsibility that is only possible through franchising."