According to Bharat Book Bureau, a market research information aggregator, by the start of 2012, the Indian footwear industry was valued at a Rs 22,000 crore having a CAGR of 15per cent whereas the global scenario was a bit on the dull end with a CAGR of just five per cent and a value of Rs 10.15 lakh crore. The Indian footwear business has witnessed a notable growth and it is expected to continue with same CAGR reaching a value of Rs.38,700 crore by the end of 2015. Also the global footwear market is also estimated to experience a hike to a likely figure of 12.34 lakh crore by 2015.
About 85 per cent of the Indian footwear market - Shoe market is dominated by the unorganized sector. Today customers are more brand-conscious; hence the growth of the organized sector is likely to be 27 per cent a year. Anupam Bansal, Executive Director, Liberty Group says: "Our Company plans to take on the competition by expanding its retail reach through company-owned and operated outlets, as well as franchise stores. We plan to bring in a big change in merchandising, to make our products more fashionable, youthful, colourful, affordable and comfortable, because Indian consumers are price-conscious. We still have huge scope for the penetration of Liberty-branded footwear through distribution." Liberty Shoes have been fashioning footwear for well over 60 years for the style- conscious people around the globe.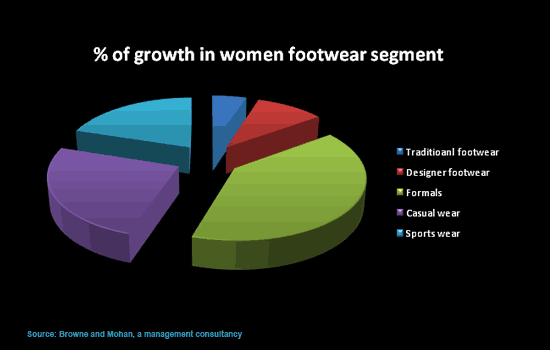 Opportunities in store
Woodland is country's one of the leading adventure gear  brands; discovering new technologies and presenting cutting edge innovations to bring the highest quality products for its consumers. The brand has a strong presence across the country through its equi-distributed network of over 500 stores. Woodland has also decided to operate franchisee run stores and ensure easy and wider accessibility of Woodland products to the consumers.
Harkirat Singh, MD Woodland: "We have always pushed the limits of outdoor sports and thus, focused on developing more and more technology led products that empower wanderers to Explore More. Every brand has its own business strategy to choose from COCO, franchisee route, distribution channel and others for an optimal balance between the manufacturer and the seller. We at Woodland have always believed that COCO is the best way to retain brand ethos and philosophy consistent across the country and thus, have invested / followed this route throughout our over two decades of business operations in India. It helps to provide the specific experience that a brand envisions for the end customer." However, Woodland at present has about 500 stores evenly spread across India and all the stores are company owned. Harkirat Singh futher adds, "The reason why we haven't entered the franchisee model till date is because we wanted to maintain equal standard of brand attributes as well as services across all our stores that would have been easier to achieve through company owned stores. An exclusive company owned space is an investment but it gives us complete freedom to display all the product range giving the customers more options to choose from. It also gives us an opportunity to create an ambience that speaks about the brand that in turn creates more awareness and impact on the brand."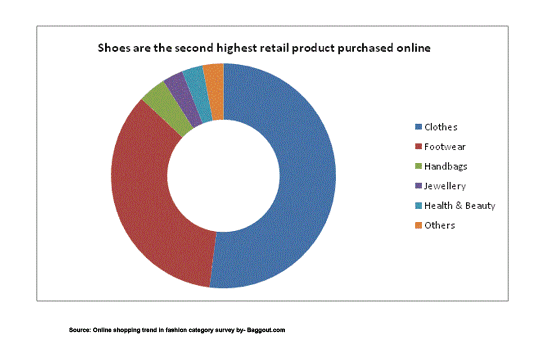 Incorporated in 2002, Crocs introduced an innovative shoe made of a revolutionary material called Croslite. The peculiar characteristics of Croslite technology, made it possible for the shoe to be worn both on land and in water. Hence, the company was named Crocs adhering to the multi-environment, amphibious nature of Crocodiles.
Nissan Joseph, General Manager, Crocs India is of the opinion: "India is one of the fastest growing markets for us and we want to be one of the top 10 markets for Crocs. Our major focus will be on brand expansion both online and offline. One big step that we are taking in 2015 is launching our own e-store. We have consciously adopted a multiple franchise model and by joining hands with partners who have local expertise we hope to go beyond the tier II and III cities. As we grow we will expand our footprint across all demographics and hopefully will reach a 100 store mark very soon. Apart from exclusive brand outlets, we will also double our presence in multiple brand outlets."
 The shoe bite
85 per cent of the market is unorganized whereby the multi brand stores are more inclined to sell local products because they end up generating high margins at the cost of tax evasion impacting the sale of branded products. The footwear brand needs to bring tax parity and more consumer education. Huge investment is required in retail infrastructure.
Retail presence: till recently, most companies invested in own stores as the means to grow and expand. With commercial rents increasing in last few years, capital required for expansions was a bottleneck.
Expansion plans
Liberty Group, that boasts to be country's second largest footwear manufacturer, is on a major retail network expansion and expects to close this fiscal with a turnover of Rs. 600 crore, thereby registering a growth of 20 per cent. As part of the company target to achieve a turnover of Rs. 1000 crore in the next two three years, it plans to add atleast 100 more stores during the next financial year.
Crocs India, one of the leading casual footwear brands started its operations in India in mid 2007, now aims at reaching 100 stores mark soon. Today, the brand has a pan-India presence and is also operational via the franchise route since October 2014.The brand stepped in the franchise arena in October, 2014. It has adopted a multiple franchise model and by joining hands with partners having local expertise, it is striving to go beyond the tier II and III cities.
Woodland as a brand has strengthened over the last two decades of its presence and so has the demand. The brand is planning to expand its footprint and thus, is in the process of reviewing possibilities of franchisee model to offer opportunity to its partners.