The key growth propellers which are encouraging upscale and organised gym chains to cement their countrywide presence are the sedentary and stressful lifestyles, increase in eating out market, growing health problems and the rising per capita income of Indians.Today, majority of consumers are keen about paying extra bucks so as to remain all hale and hearty and keeping themselves intact from lifestyle diseases. As people becoming more heath conscious, the India's fitness industry is slated to flourish in the coming years.  To authenticate that industry is expected to scale new heights, a FICCI-PwC report which was released in 2012 projected the growth of overall wellness industry at Rs 100,000 crore by 2015. Also, the growing interest in yoga, meditation, running and gymming, reveal that fitness is going to be hottest industry for making secure investments.
Looking at the growing Indian population and spending power, now exclusive fitness gyms chains for men, women, unisex and kids are opening across every corner. Apart from existing brands like Gold's Gym India, Snap Fitness India, FitnessOne, Anytime Fitness, Your Fitness Club (YFC), many new players are entering the fitness business via franchise model for making rapid expansion.  Considering the changing market trends, Champions from Sports fraternity are turning into entrepreneurs and entering the fray by launching their fitness clubs across the country. With an endeavour to inspire country's youth towards fitness, it was initially Mahendra Singh Dhoni who came up with his brand SportsFit and now it's the turn of cricketer turned entrepreneur – Virat Kohli who recently introduced his brand – Chisel in partnership with Franchise India. Apart from homegrown brands and celebrities, international brands too eyeing the Indian market and consider it as the hotbed of opportunities for making a perfect launch. Lately, US based entertainment and fitness brand AntiGravity sealed deal with Pune Based Biorhythm India to open studios in India through franchise route.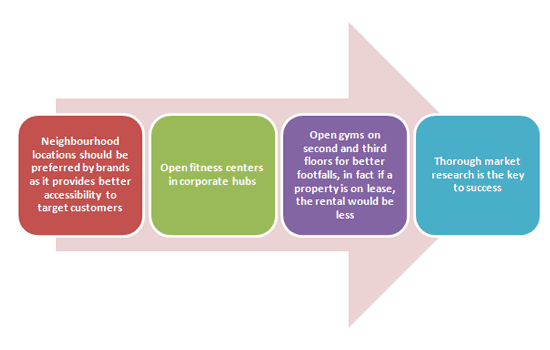 Strategise tactfully to deal with challenges
When establishing a brand's reach to national and global markets, fitness brands are often seen juggling with various issues pertaining to proficient workforce including fitness trainers or nutritionists, scouting a right location and scaling the biz growth are the major stumbling blocks that brands face.  To overcome such stumbling blocks, fitness brands are now exploring affordable yet competitive strategies to create a distinct value proposition to give tough competition to their competitors.
Srileka Reddy, Director – Marketing, Force Fitness – Master Franchisee – Snap Fitness, shares: "I strongly feel that selecting right real estate and quality of service are the two main challenges in fitness industry. We at Snap Fitness, focus on training our staff. We also have a tied up with Australia's SEDA which provides certified training programme to our fitness trainers which is delivered via trained fitness experts from Australia and India."  She also adds: "We believe in opening our fitness gyms within residential catchments so that it can be accessed easily by target customers. We prefer to open gyms on second or third floor which works better in terms of visibility. Snap Fitness Gyms are accessible and affordable and are usually opened in a space of 3,000 and 5,000 sq.ft."
While, Rizwan Sayed, Founder – Director of Mumbai based fitness chain Your Fitness Club (YFC) says: "Finding the right location is the key to success. Evaluation of every lead and location personally with demography and market research is the essence of starting a new project and successfully running business model."
Finding the right manpower is the major challenge for fitness brands. To overcome the same, Arun Kathiresan, Managing Director, FitnesOne Group India Limited says: "FitnessOne has the academy to recruit and train Fitness Trainers, Dieticians, Physiotherapists after recruiting them through campus interviews. We generally prefer this route than to take people from the competitors."
Ensuring that quality standards are maintained properly, it's important for brands to give right training and support to its prospective franchisees. On the same, G. Ramachandran, Promoter & Director, Gold's Gym India, says: "This is indeed a serious issue and we have our academy where we groom trainers and are setting up a training centre to have a continuous development programme for trainers in terms of certification and up-gradation of skills thereby addressing the issue of quality and retentive too."
On commenting about competition in fitness market, Arun Kathiresan says: "In tier I cities, competition is quite high and there is generally price war to acquire membership. Despite this, there is room for branded fitness centers to operate profitability in these markets. We have made entries to several under penetrated tier II markets. Given the strong brand positioning, most of the tier II franchisees are successful."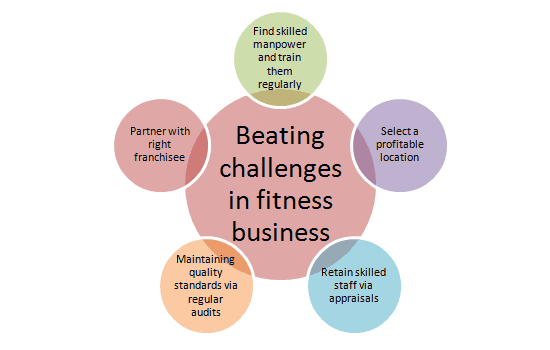 On the other hand, Vikas Jain, Managing Director, Anytime Fitness, says: "In tier II and III cities too, people are becoming health conscious, so the market is equally attractive. Also rural areas are a big market as its youth is increasingly becoming aware about staying fit. We already have clubs in cities like Bhuj, Gandhidham and Dimapur."
To deal successfully with challenges, franchisors need to think about out –of – the – box strategies to ensure that franchisees are operating fitness franchise as per the brand's set guidelines and standards. Regular audits should be conducted to ensure that quality standards are effectively maintained. Also, proper training and business support should be provided to franchisee and its manpower to generate footfalls.