OP Jindal group's luxury and lifestyle firm Arttd'inox is aiming to grow over three-fold in the next five years with a turnover of around Rs 1,000 crore. The firm will widen its growth by adding new innovative products and designs, and expanding in sales network by 2020. Arttd'inox entered into online sales around six months back and is expecting the virtual channel to pick up and contribute around 5-6 per cent of sales in the coming years. Likewise, leading Denimwear brand, Spykar is also planning open 60 stores across the county through franchising by 2016. Present turnover of the brand is Rs 200cr and it is targeting to earn Rs 255 cr by March 2016. Out of the brand's total sale, 94 % comes from offline stores and the rest 6 % comes from online.
Lingerie online trade on a boom
India is one of the most attractive retail targets globally and represents a huge untapped market for lingerie. The concept of online lingerie stores has enhanced the growth prospects of the lingerie market as it offers a wide range of international and private labels on a single platform. Technavio's analysts forecast the online lingerie market in India to grow at a CAGR of 42.32% over the period 2014-2019. About two years ago, the online business contributed to only 2-3% of overall turnover for Srilankan brand amante. Now, it contributes to more than 10%. The brand's recently launched its webstore that provides the consumer a superior brand experience and will also be a key in its Omni channel strategy, informs Vivek Mehta, CEO, MAS brands India.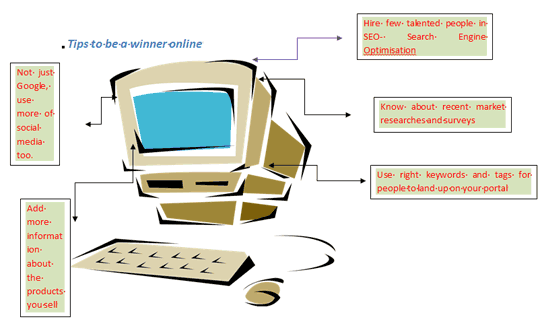 Avoiding rents and high distribution costs
Expanding the sales pipeline is definitely a tough job but brands that have gone the 'E' way have seen its benefits. Also, high rentals and distribution costs are two major factors that lead the brand to take the e-route where such costs can be easily saved. Roca Bathroom Pvt Ltd that has brands like Parryware under its umbrella has also taken the online channel and is benefitting with it.  Pau Abello, Managing Director, Roca Bathroom Pvt. Ltd says: "E-commerce is unstoppable. Even for bathrooms products where touch and feel is a very important aspect, there has been a noticeable e-demand. In my opinion, we will certainly see an increase in the e-commerce sales of bathroom products but having said that, the traditional channel will not be disturbed. We are now analysing the possibility of starting our own e-sales as some of our products are already placed in some portals by other vendors.  We are always protective for our end users, and ensure the quality and features of ours products. So, our strategy will be to sell it directly through our own e-channel. In our industry after-sales support and guarantee are only given by the manufacturer, hence it should be us who cater the e-demand directly."
The e-commerce platform has proved to be extremely beneficial for Raymond too. Pankaj Saxena, Business Head, Raymond Home says: "The Company along with its expansion plan will be utilising the platform to reach out to more customers across the length and breadth of the country. At present, Raymond Home is available on Flipkart, Snapdeal, Jabong, Fabfurnish, Bedbathmore, Fashionara, Amazon, Paytm etc. Our products are also available on RaymondNext.com."
Leaders too join the league
Many mobile phone brands started off first to go online and embrace the e-route. In 2014, Moto X was only available via Flipkart. Mobile phone retailers such as The Mobile Store and UniverCell also offer delivery within few hours along with all the in-store perks, such as buybacks and data transfers, to their online customers. Snapdeal and Shoppers Stop will also work together with the departmental store chain becoming an anchor store on the e-commerce website as also the mobile site. Shoppers Stop will start selling on Snapdeal by Diwali.