Growing double household income and urbanisation, coupled with ever-increasing consciousness about the significance of quality education, have further resulted in vigorous development of the Indian education industry. Today, education business is recognised as one of the best performing sectors that offers finest business opportunity for aspiring entrepreneurs. Looking at the transforming trends, the brands within the education industry are turning out to be more innovative in terms of adopting niche learning pedagogies and inculcating the art of learning by doing concepts. Schools are no longer dependent on instructing students through conventional learning methods. Nowadays, more and more players are coming up with new concepts to make learning more interesting and further generate 100% participation in classroom activities.
New concepts supporting the K-12 education 
K-12 education is growing by leaps and bounds. As per rating agency CARE Ltd, the potential of K-12 segment remains healthy with higher growth coming from private spending owing to a consistent shift towards private schools in the country. Considering the number of schools and growing enrolments, now the brands are coming up with innovative teaching solutions that are portable and affordable. Considering the changing trends, Mumbai-based Nischal's Smart Learning Solutions Pvt Ltd (NSLS) spearheaded by 19 year old chartered accountant and a double Guinness World record holder – Nischal Narayanam, started the company with a vision to create platform for world-class innovative educational products and inculcating the approach of learning by doing. Commenting about the concept, he says: "When I started NSLS back in 2010, my vision was to create a platform for world-class innovative educational products, manipulatives and teaching and learning material to inculcate the philosophy of activity based learning. NSLS is the pioneer in portable and micro scale laboratories for maths, physics, chemistry and biology. It's an antidote to the traditional approach of taking children to the laboratory. It's a live laboratory in the classroom."
The uniqueness of these laboratories is that all these are curriculum-based and are readily usable and most importantly are compact and portable therefore all the concepts can be taught in the classroom itself in a lab atmosphere.  So far, the brand has supplied its products to more than 2, 00,000 government and private schools across the country. Nischal A+ is a brand under Nischal's Smart Learning Solutions which deals with the courses, training and franchises. Besides that, the brand deals with the sale of products through their distributorship and dealership model. These products are designed to be suitable for any syllabus like CBSE, ICSE, IGCSE, IB and even state boards across India.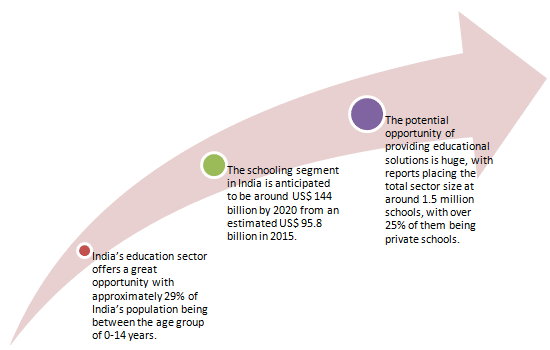 Following the similar vision, Hyderabad-based brand – Genius Edu Labs has also came up with a novel concept of movable Nao Science Laboratory that helps teachers to make science lectures more interactive and facilitating 100% participation of students. This new concept of mobile science lab is the brainchild of friends turned entrepreneurs who conducted in-depth market research to carve a niche in the education industry and providing a cost effective solution to schools.  Through an ultramodern idea of portable science laboratory, the company is now set to take off entire k-12 education sector to a new level.
It will progressively grow and will set new benchmarks by making science education more accessible within rural as well as metros cities. Commenting about tapping the franchise model, Bala Bhaskar, Managing Director, Genius Edu Labs says: "Franchise model is the simplest way of addressing market potential of meeting 1.4 millon schools pan India to be equipped with science labs. To have a wider market penetration, we plan to have, 21 master franchisees across India, with one master franchise and 10 sub franchisees in every state, however, we would appreciate and feel contended if the franchise comes with a social bent."
 Looking at the changing market scenario, schools are now also adopting new teaching techniques to make education more interactive. It is anticipated that the most convenient and a cost-effective concept of movable science labs will certainly act as major catalyst of growth and will create a massive social impact in the coming years.
Expansion on the anvil
Genius Edu Labs Pvt Limited is now aiming to make a social impact by tapping one lakh schools which will be equipped with Nano Science Labs. Also, minimum of two lakh science teachers will be empowered with the right skill set of experimental teaching.  This will further inspire 12 lakh students every year. With an aim to bolster science education, Genius Edu Labs Pvt Ltd will be distributing its movable science labs in various schools across the country by partnering with franchisees.
The franchisees will be responsible for targeting schools in a defined market and sell movable science labs to cater to the need of science students.  The brand will clinch deals with master franchisees in a particular region or geographical area, who will further partner with sub franchisees to spread their brand's reach to uncharted markets.  On the other side, Nischal's have its dealer network already in place for almost all the districts of Telangana and Andhra Pradesh. Moving ahead, the brand will be expanding aggressively pan-India by having distributors for various states of India and also looking for international partnerships across the globe. 
In the coming times, more and more new concepts are expected to make a mark in K-12 education sector as it holds of a lot of potential.  It is also expected that it will ramp up growth prospects for likeminded individuals within the education industry as educationists believe in incorporating new tools and teaching techniques to make learning process for children more interesting, and encouraging 100% participation of students which will further boost the overall ranking of schools within the country.