The India logistic industry has under gone a drastic transformation due to the great demand of courier and supply chain management across sectors. The logistics industry emerged worldwide with the commencement of the industrial era. The cut-throat competition among various e-commerce brands has also contributed to the success of the logistic industry. Be it a retail business, F&B, services or e-commerce, the annual sales and profits across the sectors are entirely dependent on their courier and supply chain management. This B2B industry has now become the household name not only offering lucrative business opportunities to the investors' but providing employment to many pan- India.
Industry at a glance
The Indian logistics industry is poised for a significant growth in the coming years as companies, especially in the automotive, pharma, manufacturing, retail and FMCG sectors, are increasingly opting to outsource their logistic requirements to specialised service providers. Some of the existing and emerging growth areas in the logistics sector are enumerated below.
-According to a joint study by consultancy firm PwC and industry body Assocham, the size of the e-retail industry is poised to touch $10-20 billion by 2017-2020 and e-commerce firms are expected to spend up to $1.9 billion by 2017-2020 on infrastructure, logistics and warehousing.
-Better outlook of Indian manufacturing sector will drive export/import and domestic distribution.
-The use of air as the mode of choice for the movement of cargo has increased over the past few years. At present, India contributes over 1 per cent of the world air cargo traffic. The five major airports account for around 88 per cent of the total air cargo handled in India. Growth in cargo/freight volumes is an outcome of macro-economic factors such as domestic consumption, exports and imports. As a result, Air Cargo business will grow on account of more time-sensitive packages.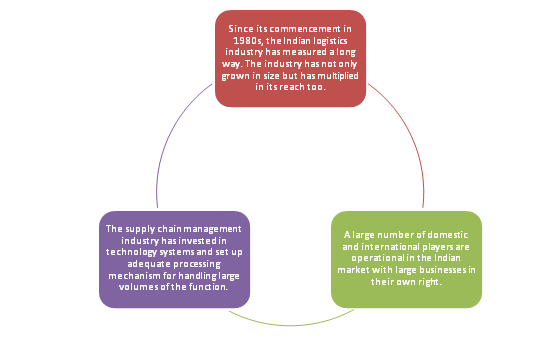 -Surface Cargo will grow with infrastructural improvement and more efficient and cost effective road networks.
-With an ever increasing e-commerce industry and a conscious increase in breed of quality and timely delivery conscious Indian consumers, manufacturers have endeavoured to develop logistics network that would cater to the reverse logistics flow of materials. The ability of a logistics network to cater to the timely retrieval and delivery of material can be considered as a strategic tool for customer retention. There is a huge opportunity for the various logistics service providers to expand their bouquet of service offerings and consolidate on the opportunities that reverse logistics would offer.
E-commerce: growth driver of logistics industry
With e-commerce gaining popularity amongst youngsters and becoming the new age business without boundaries where anyone can buy anything from anywhere, logistic industry has also grown by leaps and bounds. While logistics play a vital role in fulfilling the business needs of the e-commerce companies so is the case vice versa. Mehul Agrawal, MD and Co-founder, FabFurnish.com says: "If logistics is the backbone of e-commerce, then e-commerce is the biggest driver of it. A lot of improvement is required to create an entirely sustainable back-end. Logistics evolution will be necessary to realise this potential robust growth and will be of great importance in determining the course for the e-retailing industry. We have partnered with some of the top logistic providers countrywide that gives way to a smooth pan India shipment. The internal team in place takes care of all the deliveries and further the tracking system makes it quite convenient for the customer."
E-commerce retail to clock double digit growth
As per the study, with improvement in infrastructure such as logistics, broadband and internet-ready devices, there is likely to be a significant increase in the number of consumers making purchases online. As per report by Associated Chambers of Commerce and Industry of India (Assocham) along with PricewaterhouseCoopers (PwC), "It is also estimated that around 65 million consumers in India to buy online in 2015, as against around 40 million in 2014."
While talking to Abhishek Chakraborty, Executive Director, DTDC Courier & Cargo Ltd, he enlightens: "The Indian e-commerce industry is likely to clock a Compounded Annual Growth Rate (CAGR) of 35 per cent and cross the $100-billion mark in value over the next five years, a study conducted by Associated Chambers of Commerce and Industry of India (Assocham) along with PricewaterhouseCoopers (PwC) has said. According to the study, the Indian e-commerce industry is valued at $17 billion now. Continuing on the strong growth momentum of 2014, the e-commerce industry is estimated to see a 67 per cent increase in the average annual spending on online purchases per individual in 2015, to Rs 10,000 from Rs 6,000 in 2014."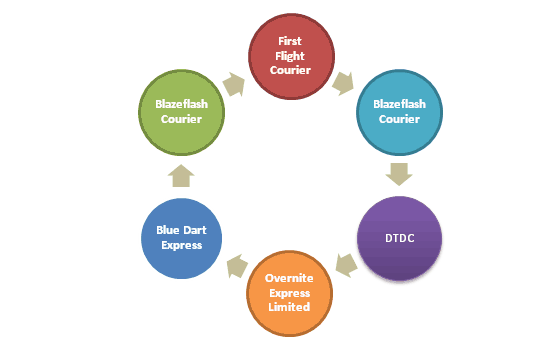 Along similar lines, Vishal Chopra, Regional Vice President - Logistics Division, South Asia & South Africa Country Manager, India, InXpress adds: "E-Commerce is all about convenience. They do everything they can to delight their customers. After all, they come back again and again to place repeat orders. Logistics connects the package with its buyer and therefore plays a key critical role in the last mile connectivity. Customers can forgive once, but any inconvenience thereafter would lead him to other E-Com vendors or sellers. E-Commerce companies realise that very clearly."
However, Supam Maheshwari, CEO and Founder, Firstcry.com opines: "With an omni- channel presence, we at Firstcry have put in place a robust in-house model for the logistics and sales network. The entire network is in-house and we work on the wholesale model wherein we act as distributors to the franchise. We are probably the only ones in this sector who make next day deliveries free of cost in many cities."
The future of the logistic industry is very bright and it will certainly witness exponential growth in the years to come.  Due to public and private sector participation, the logistic industry has evolved as an improved supply chain management service agency and it also holds the room for exploring ways for investing energy, costs and time to grow a strong logistics system.