According to a report of IAMAI and IMRB International, e-commerce industry in India reached to a big value of Rs 81,525 crore (US$13.5 billion) in 2014. While, the Indian fashion accessories market was worth US$ 3 billion in 2013, and is estimated to grow at a healthy CAGR of 12 percent to touch US$ 6 billion by 2019. It is expected that organised retail contributes only 16% to the bags, belts and wallets markets and 45% to the watches market.
Fashion accessories industry is a key business category in India's booming online retail business as it offers one of the highest margins. The major market drivers are the changing shopping preferences of consumers, disposable income, enhanced standard of living, more and more women are working and growing population which is stimulating the industry at a healthy rate.
E-retailing accessory business has made things different for brands that are on one hand trying to gain more and more sales through online medium while on the other hand they are coming up with unique ways to keep their brick and mortar business format intact. But, the brands that maintain their offline stores still draw most of the sales.
The preferred biz format
The mammoth growth of the e-commerce sector has obviously drawn good business for the retail brands, but it has also posed challenges for the brands to maintain their offline stores. From holding different marketing activities at their stores to making product and discount related modifications, the brands have done it all to woo the customers to visit their outlets.
On enlightening about which business format assures success, Vicky Ahuja, Director Sales and Marketing, Baggit says: "Yes, e-retailing business for bags has indeed added to sales, it is also increasing brand awareness. Even though online sales have been growing faster than offline sales, majority of the business still comes from brick and mortar business format. Recently, we have launched our new campaign 'Play The Life Game' pan-India with a very strong marketing strategy and have invested hugely on the same. Lot of in-store branding and visual merchandising has been done to provide both visibility and increase footfalls for all our offline formats channels. We have received positive response for the same."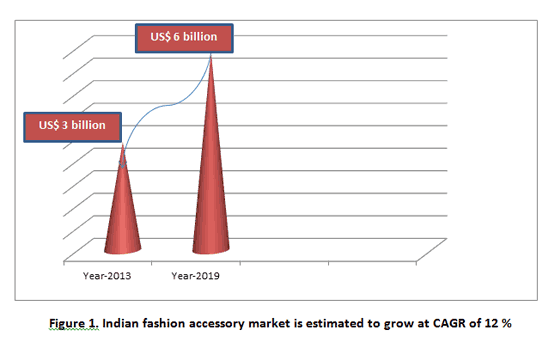 Commenting about this brand's business strategy, Dilip Kapur, President, Hidesign, says, "We view e-commerce as one of our channels through which we distribute Hidesign. We expect experience to be similar and nice. We ensure certain amount of parity to protect offline by ensuring our core styles are not discounted at any time of the year."
Offline expansion via franchise route continues 
Notwithstanding the growth of the online market, accessory brands are fast spreading their footprint via the franchise model as buying from stores has its own charm for consumers. To reach more and more targeted customers, the brands prefer to expand via franchising. "Currently, we have a very strong presence across India through our exclusive outlets and multi-brand outlets. We are planning to strengthen our offline business by expanding in tier II and III cities. We intend to do this via facilitating more and more franchisees across India. We want to open more number of doors so that we can reach to different consumers across India as well as abroad," explains Vicky Ahuja. Currently, Baggit is focussing to grow its presence from 40 EBOs to 60, however, major focus is to penetrate in different zones in tier II and III cities through distribution network.
On the other hand Hidesign has too set its eyes on major expansion. "Hidesign would continue to be the leader in India and will establish itself as credible and distinct brand in the international market. We want to be a leader internationally in the ecologically conscious and sophisticated consumer market that loves a natural look. We are looking at brand extensions such as footwear, pens and stationery those appeal to the same consumer base. We are also looking to expand our airport stores, international expansion majorly in the USA, Gulf and Singapore," adds Dilip Kapur.
Capturing the online retail market
To capture the pulse of market which is showing healthy signs for e-retailing, the accessory brands are not only offering online sales on their respective websites but are also tying-up with leading e-commerce portals. "We have our own portal. Apart from that, we are also present on leading e-commerce websites. We constantly update them with our new collections. We also have a full-fledged in house digital marketing team that works continuously to uplift the brand imagery. We make sure to engage with our customers on all our social media handles. Currently, we have 5 lakh plus fans on Facebook and are also quite popular on other social networking sites like Pinterest, Twitter and Instagram," says Vicky Ahuja.
Adding to this further, Dilip Kapur says: "Strength of a brand is to ensure that all major e-commerce players consider Hidesign important for the business. We ensure that they offer us a full experience of the brand through shop-in-shop with all brand values and stories coming through strongly. Finally, our own website ensures that the full story of the brand is represented the way we wanted."
Industry leaders say major trend in bags is of different styles like the bucket bag, slings, totes, backpacks and satchels. Another trend is of vibrant hues, women nowadays prefer bright colours. While, for shades, retro shapes like classic-round sunglasses are in vogue this season. Experts also add that bags, work totes in neutral and classic shades are in trend.  
Franchise facts
| | | | | | |
| --- | --- | --- | --- | --- | --- |
| Brands | Area | Investment | RoI | Total outlets | Expansion plans |
| Baggit | 300-500 sq ft | Rs 20-25 lakh | 2% to 3% | 43 operational | 60 outlets |
| Hidesign | - | - | - | 84 exclusive stores | 10-12 new stores |