Franchisors have stepped into the era where both online and brick and mortar presence is being integrated seamlessly. Omni-channel retail has opened doors for investors as e-tailers are seeking franchisees for opening physical stores. On the other hand, traditional brick-and-mortar players that have gone online, either with their own websites or by tying up with already existing e-tailers, are on the lookout for partners to strengthen their omni-channel presence. Let us learn more about the opportunity.
Metro cities as major retail hubs
Brands that started as online ventures are robust on growing their base across metros through brick and mortar stores. Motorola re-entered the Indian market in 2014 in an exclusive partnership with e-commerce giant Flipkart. However, it is striving to increase its offline presence to widen its reach in metros and tier I cities. The brand will set up more than 50 retail stores this fiscal. Currently, there are six stores, known as Motorola hubs in Delhi-NCR and Mumbai that have been set up through the franchise route. "These stores that we call hub, will be set up across metros and tier I cities. These will not be just sales points, but also experience points, especially for our high-end devices. We hope to have over 50 of these in this fiscal," explains Sudhin Mathur, Managing Director, Motorola Mobility India.
Online start-ups are also eyeing market share. Apparel and accessories venture The Souled Store is seeking franchisees to open brick and mortar stores in metro cities. "We are looking at franchising to open and brick mortar stores by the year end. Ours is a low cost business model. Initial investment will be made us and the brand shall even provide logistics needs and goods," says Vedang Patel, Co-founder and Director, The Souled Store.
Ease of business for single-brand retailers
The liberalised government policies have facilitated foreign single-brand retailers to sell through their own stores as well as franchise outlets. Denim and casual major Pepe Jeans is looking forward to opening around 50 stores and 20 of these would be opened this fiscal. "We will open 20 stores in the current fiscal. The number will be gradually scaled up in the coming years. We already have permission for around 50 own single brand stores. The plan will help the brand push our omni-channel retail strategy," says Kavindra Mishra, Managing Director, Pepe Jeans India. Currently, the brand retails through 217 exclusive franchise stores and 1,000 multi-brand stores, apart from its own online store and e-commerce portals like Amazon and Flipkart.
Challenges to omni-channel growth
Omni-channel strategy is the way forward for franchisors. However, brands that have adopted omni channels face a set of challenges. For Nike, the biggest challenge is devising a cost-effective online marketing strategy. "It becomes tough to identify which channel to push more. Also, how to measure the return on investment is a task," shares the company's spokesperson.
The key to ensure right mix of offline and online stores is following the right marketing benchmarks. For Gap, the marketing cost for an entry-level brand should be 40 per cent, whereas 12 per cent for a developing one and 8% for an established brand. As far as site conversion rate is concerned, it should be 0.06 per cent for debutants, 2.3 per cent for developing brands and 4 per cent for established brands, elaborates GAP's official. Gap signed a franchise agreement with Arvind Lifestyle Brands Ltd to enter India. "We have established Gap well in India, opening 11 stores across six cities in under 18 months. Gap is also available to shop online at gap.nnnow.com. We see a positive and strong potential in omni-channel retailing in India, for Gap," says Oliver Kaye, CEO - Gap Division, Arvind Lifestyle Brands Limited.
Sharing a word on foraying from online to offline, Just Herbs' CEO Arush Chopra says, "Initially, we adopted a lean start-up strategy and entered the market as an online-first venture through our e-store. However, omni-channel is the way forward and that is why we decided to venture into the offline retail space as well. Basis the customer response to the first two stores, we plan to launch at least three to four stores annually so as to gradually expand our offline reach in all major cities of India. The stores would be a mix of company-owned and franchise stores." 
                                                                     TOP OMNI-CHANNEL RETAIL MARKETS IN INDIA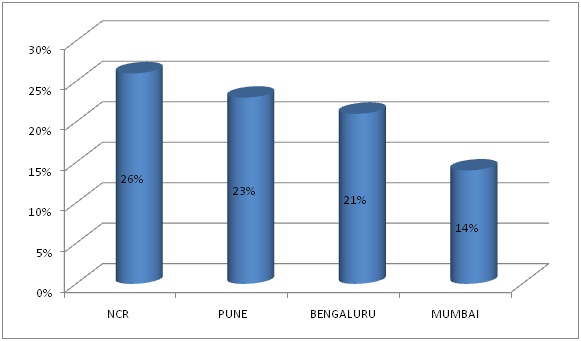 Source: Knight Frank India