Pizza Hut is proud of its heritage which started from humble beginning 56 years ago, when two young brothers borrowed $600 from their mother to open the first ever Pizza Hut in Wichita, Kansas.  This story may be inspiring for many other students and youngsters but only a few have known the hard work and process involved behind the same. Fred DeLuca, President and Co-founder of Subway International opened his first Subway when he was just 17.  He says: "Age is no bar if one sets one's mind to running a successful business. Anyone can take up the Subway franchise as it is easy and requires a small initial investment and necessarily does not need a large area."
Subway in India boasts of a number of senior citizens and students running their restaurants in India. However as per the company, it is difficult to ascertain numbers, nationally, at this juncture.
US-based chain of Pizzeria; Sbarro is fast expanding in India. It serves its menu of Pizza, Pasta and Salads at more than 800 eateries across 33+ countries. The brand hugely encourages retired persons to own a QSR as they have financial capability to sustain the business, years of professional experience and maturity, which is important to operate a successful business and manage decent returns on their investments.  Akhil Puri, CEO, JIFPL (Jyoti International Foods Pvt Ltd) that runs Sbarro In North and West India comments: "We don't have any benefits or incentives that are given to any individual but Sbarro system of franchising is extremely simple, which ensures that an individual from any age group can easily adapt to the business model and enter the F&B space without much difficulty or inconvenience."
Classroom sessions
Subway always welcomes entrepreneurs who are keen to become a part of the global Subway family and profit from its model. Brand's franchisees are provided training and support through headquarters in Milford, Connecticut and through various country offices across the globe. The brand also has online training platform available for all franchisees in the 'University of Subway'. There are class room sessions and in-store training that helps franchisees familiarise themselves with the brand and its systems. DeLuca comments: "Availability of this level of support should certainly help allay any doubts that any entrepreneur might have of running a successful franchise."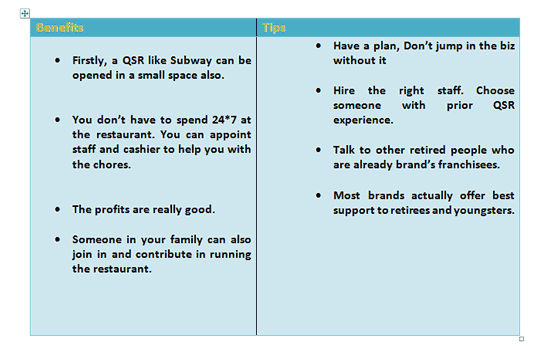 Franchising could be the best way forward for retirees. There are number of advantages attached to it-
·         It is a proven concept globally
·         You get a lot of support being a senior citizen.
·         You get proper training and opening assistance
·         Few franchisors help you out in finalising the right location too
·         Plus, there is free branding too.
These days a lot of opportunities are available that are suited for senior citizens. Companies now understand the importance of having senior citizens as their franchisees in so many segments. Senior citizens at home have funds to invest but are always in the hunt of something worth the business for themselves. Let's not forget that the most important factor that needs to be considered is that the retirees who have been planning to open a QSR from a very long time, must not have been able to do so, but someone who took the franchise way is already making profits and running the store successfully.