Though the sector of furniture remains highly unorganised in India at present but there are a large number of opportunities for franchisees in the organised sector. With both domestic and international players foraying as organised players in the industry more and more furniture brands are mulling on penetrating into tier-II and III cities. Metros and tier-I cities hold great bunch of opportunities for the investors in the furniture industry but of late tier- II and III cities have shown potential for the growth. With rising disposable income of people and lower property costs at these towns attracts huge growth for this sector.
Industry insight
·  As per the study of India Ratings & Research, a Fitch Group Company, the Indian education sector's market size is expected to increase to Rs 602,410 crore ($109.84 billion) by FY15 due to the expected strong demand for quality education. 
·  The furniture industry employs a total of around 300,000 workers. 
·  The total production of furniture in 2001-02 (according to Annual survey of Industry) was USD 3580 million.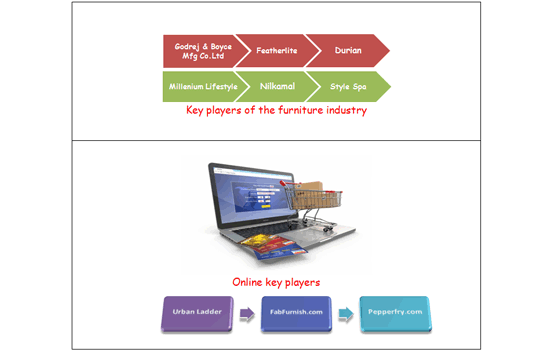 Growing via franchising 
Citing the rapid growth of the industry, many furniture brands have adopted franchising as their business expansion model. Not only this, these brands are eyeing on to spread their operations pan-India at a faster rate, thus they find franchising the apt way. Almost all the leading brands are expanding via the franchise route.
Godrej Interio is one of India's leading furniture brands in both home and institutional segments with a strong commitment to sustainability and centers of excellence in design, manufacturing and retail. The brand is not only helping people transform their experiences and their lives but also creating entrepreneurs. Godrej & Boyce (G&B), a company founded by Ardeshir Burjorji Godrej in 1897, is currently a Public Ltd Company with a strong presence in B2C and B2B segment provides furniture and turnkey interior solutions for home and office spaces in India. It operates in a fragmented and predominantly unorganised market.
Subodh Mehta, Sr. VP (Sales & Marketing) Godrej Interio says: "The need for faster expansion, providing better accessibility to the customers and harnessing the entrepreneurship skills of the franchisees were the driving force behind why we adopted franchising."
World famous furniture brand, Stellar is present in the furniture business for over 2.5 decades and in the international market for over 10 years with a wide network of over 2.75 lakh sq ft. foot print of company owned store space and 11 franchisees in India with over 100 dealers across the globe. The company is planning to come up with 15 franchise outlets all across the nation by the next year.
The brand recently opened its office furniture showroom in the city of Ranchi in collaboration with Aavran Home Plus. Following the success of their existing stores all over India and presence in more than 70 countries, the company offers a complete range of office furniture with its 2500 sq ft. exclusive display in Ranchi.
Projected growth
In order to tap the growing market, furniture brands are seeking  robust expansion and are looking for potential investors.
Godrej Interio's B2C business is targeting mid-segment of their home market across the country supported by 54 Company-Owned Company-Operated (COCO) stores, 116 franchisees and large number of dealers, retailers and distributors. Godrej Interio's has a common Service Setup for B2B and B2C whose goal is to provide effective services to their clients through their own branch structure, network of dealers and authorised service providers in India.
"The company has set a target to open 35 franchise outlets in FY 15-16. While in the five years time, it aims to expand the business by five times," adds Mehta.                           
However, Stellar offers the most lucrative and international standard of quality office furniture at a very economic prices. Created while keeping current international trends in mind, the collection is all about comfort and luxury.