The first thing that comes to any entrepreneur's mind while kick starting his/her business is- From where do I get enough money? The answer is very simple- Go for Fundraising. With investors being bearish in 2016, it had not been a really great year for Indian start-ups and entrepreneurs. But this year, if we talk of franchising and fund raising, entrepreneurs are really hopeful this year to get good funding. With dozens of funding deals and crowd funding happening almost every day, the future seems to be well lit. Here's a peep into the various facets of fund raising and how this trend is taking the industry ahead.
You should have a great plan ready to attract people to invest in your business. One of India's recognised crowd funding platform, Wishberry has a 70% success rate for creative projects. It's Co-Founder and CEO, Priyanka Agarwal told us: 'In less than a decade, crowdfunding has emerged as the ideal method to democratise the fund raising process for creative artists and budding entrepreneurs. It not only helps project creators raise funds, but also helps spread awareness, and map the acceptance for their project in the process. Raising funds through crowdfunding provides the funders with the initial financial resources to develop and put their work in front of the world.'
Big players in the league too
Lenskart.com, also raised funding from Premji Invest, the investment office of Azim Premji. With this investment, Premji Invest joins other marquee investors like IFC (venture capital arm of World Bank), TPG Growth, IDG Ventures, Unilazer Ventures, Adveq on the company's cap table. Peyush Bansal, CEO and Founder, Lenskart said: 'With this collaboration, the company will be able to draw on Premji Invest's extensive experience, particularly in retail and creating long lasting brands to realise its potential and develop best practices. We intend to grow strategically thereby strengthening our presence via both online and offline channels.'
Lenskart has been funded by three venture capitalists till date, namely IDG Ventures ($4 million in October 2011) and Ronnie Screwvala-led Unilazer Ventures ($10 million in February 2013) and TPG Growth & TR Capital ($22 million in January 2015). Last year, Motilal Oswal Private Equity Investment Advisors had invested Rs 110 crore in Bengaluru-based Dairy Classic Ice Creams Pvt. Ltd. Despite a huge demand, the ice-cream space in the country had not seen many deals in the recent past. In July, Drums Food International Pvt. Ltd, which sells Hokey Pokey ice cream, raised Rs 44.5 crore in a Series A round of funding led by Belgian investment firm Verlinvest. Aditya Birla Bizlabs, Aditya Birla Groups initiative mandate was to collaborate with innovative startups and provide them with the opportunity to scale up in a large operating business environment. Aditya Birla Bizlabs received over 1,200 proposals across the sectors of Retail, Financial Services, Mobility and Data Analytics & New Tech. These pitches were carefully evaluated and subsequently filtered down to 20+ startups, which have collaborated with the Aditya Birla Group for possible scaling up opportunities.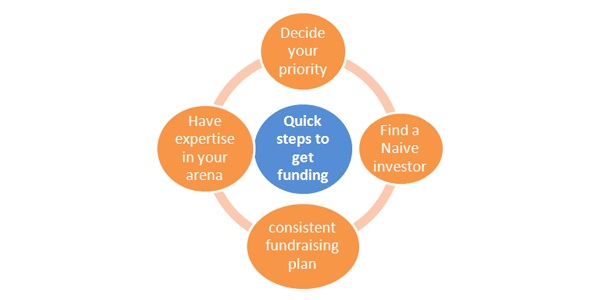 First generation entrepreneurs opting for franchising
Regional Centre for Entrepreneurship Development (RCED) promotes entrepreneurship in and around Punjab. Its Principal Director, Paramjit Singh informed: 'Fund raising is extremely important in a franchising business. Most of the first generation young entrepreneurs opt for the franchising model of business to ensure that they succeed. Generally, they have limited resources with them to begin with. Thus, they depend on borrowed funds from different sources. In number of countries funds are raised by the new startups through the concept of angel funding.'Amongst many franchise brands, Goli Vada Pav is one that is soon set to launch an institute for vadapav making. The brand is looking to raise another round of funding this year of Rs 50-75 crore. Goli Vada Pav is expanding fast via franchise model and shows its presence in around 90 cities.
Various schemes by the Govt of India
RCED completely supports the prospective entrepreneurs for the requirement of funding. They are assisted to apply for various schemes which are specially meant for them. Government of India is extending different incentives in shape of subsidies and tax rebates to them. Presently, youngsters are being motivated to apply under 2 important schemes of the Govt. of India, namely Prime Ministers Employment Generation Programme and Stand Up India. Under the PMEGP scheme, the loan assistance upto Rs. 25 Lakh is available where subsidies from 25-35% of the total cost of the project is provided and the prospective entrepreneur has to contribute on the 5-10% as promoters contribution.
Paramjit Singh added: 'Stand Up India scheme was launched in 2016 with an objective to create entrepreneurship among women and SC/ST candidates. Loan amount ranging from Rs 10-100 lakh is sanctioned without any security. Under this scheme, Govt is targeting to extend loan of Rs 2.50 lakh to first generation entrepreneurs.'
College students are seeking fast success and opting for entrepreneurship as their career choice. This can also be one of the many reasons why programs around entrepreneur training and development are in huge demand. Industrialists like Ratan Tata are seen investing a lot in start-ups.
Well, in the end you can always be optimistic with so many start-ups and entrepreneurs getting funds for their franchise businesses. All you need is a never give up approach and determination to take your business to the zenith of franchising.