The car wash industry is a big one with a huge potential. Today mechanised car cleaning system is already a $5.97 billion business in US with more than 14,414 successful outlets and in India it is just at the threshold of picking up. The car wash industry has grown from as simple as hand wash to sophisticated high impact pressure jet wash technology. Till date the industry is largely served by unprofessional and unorganised players but there is a demand for professional services not only in metro cities but also in tier II cities and towns. Past few years have seen a sudden rise in number of car wash players. Ramesh Naidu, Managing Director, Superwash comments: "High rentals, unavailability of suitable space and amenities required for car wash business are few of the major challenges that the car wash players have to face." It is a known fact that high rentals have not just affected retail but most sectors across various spectrum of industries. With the depleting water resources, the task is even getting tougher for the investors. They have to find a location, where water resource is abundant and does not hamper the business in anyways.
Possible disadvantages of owning a car wash business may include that depending on your geographic area, the business can be seasonal. If you operate a full-service car wash, you will need to hire and manage a fully trained staff. You will also have to deal with clients who may not get satisfied at once. So, even the car wash sector is struggling hard. Noida-based, Speed Car Wash has around 60 outlets currently. For them challenges vary in every aspect. Jasmeet Singh, VP, Channel Expansion, Speed Car Wash says: "To overcome the challenges, we provides 365 days support to the franchisees. From marketing, branding, operations and technical support, we provide all knowledge to the franchisees to run the car wash business efficiently."  
Actions Taken

Another challenge for the car wash business can be long lines/queues. Especially on weekends, when people have free time, they get their cars to the centre and thus crowd and hassle happens. To ensure this does not happen, car wash players have to keep a track of the last wash done by the client for their vehicle. The team can call up and get the washing done for them during weekdays to avoid queues on weekends. Karan Sethi, Director, Express Car Wash says: "Cleaning is very subjective and it becomes difficult to have the same level of satisfaction for every customer. It is about educating them regarding the frequency of getting the cars washed and clean and not only visiting us when there is a major issue. We now offer customers cleaning program with objective points so they can choose according to their car needs. Also, we are now working with steam machines and fully automatic car washes to use minimum chemical which are fully bio-degradable and use minimal water and electricity."
Challenges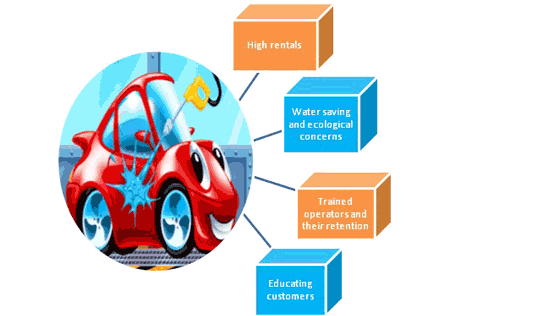 Modern car washes may have learnt how to use technology and run the system smoothly but keeping a track of the customers and giving them the right service at the right time is the key to success for this industry.