If your business is focused on selling products or services to other companies, your model is called B2B, or business-to-business. In contrast with the business-to-consumer or consumer-to-business models, B2B facilitates the transfer of raw materials, parts and components from which additional profit is derived, through manufacturing or final sales to consumers. Browse through the factors driving the growth of B2B services in India.
Logistics: - Logistics is the backbone of B2B industry. Logistics is the flow of goods from point A to point B. Logistics is required in many forms like, transportation, shipping, receiving, storage, flow of information, inventory, warehousing, material handling, packaging, disposal, security. Vishal Chopra, Regional Vice President - Logistics Division, South Asia & South Africa Country Manager, InXpress India says, "This movement of goods, service and information is recurring and always required."
Technology: - Technology has given a great boost to B2B sales. Personalisation, online catalogues and SEO have greatly influenced B2B business. Talking about role of technology in the consulting market, Kailash Shahani, Founder, Morpheus Human Consulting Pvt. Ltd, says, "Over the last few years, the HR industry has witnessed some radical evolutionary leaps led primarily by technology and the growth of domestic home grown multinationals. The industry is estimated to be over Rs 30,000 crore."
Effective supply chain management: - Without supply chain management, no B2B business can flourish successfully. Jyoti International Foods Pvt. Ltd (JIFPL) provides end to end supply chain solutions within the cold chain industry and is amongst the market leaders in this niche segment including including Subway, Chili's, Yogen Fruz, Auntie Anne's, Cinnabon, Krispy Kreme, Starbucks and Sbarro. "Over the years, JIFPL has expanded its services to many other famous names in the food services sector including quick service restaurant chains, retail chains and the food processing sector. With operations in major cities across India, we serve clients in over 100 cities across the country," says Akhil Puri, Chief Executive Officer, JIFPL.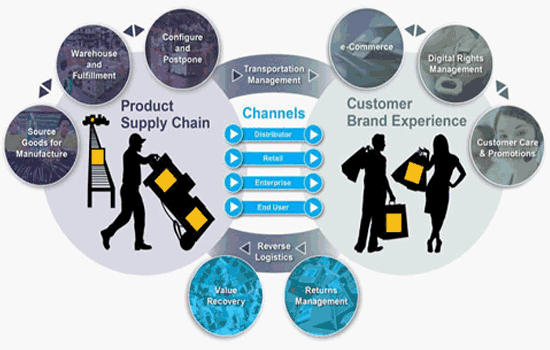 Source: www.3plogistics.com
Innovative equipments: - Innovation is an ongoing requirement of every business. Talking about cleaning industry, Karan Sethi, Director, Exppress Car Wash says, "Cleaning industry will grow at a very fast rate and will soon be the most preferable franchise opportunity in the service industry, if attention is paid towards innovation and cleanliness."
E-commerce: - B2B e-commerce trend is responsible for revolutionising the way business is conducted in India. With a mission to serve all the key client segments in India, in March 2013, DTDC launched its specialist logistics company for e-commerce – DotZot. Abhishek Chakraborty, Executive Director, DTDC says, "It is one of the first pan India e-commerce delivery network with a reach of 8000 plus pin codes and 2300 cities focusing exclusively on the e-retail space. With the advent of DotZot, DTDC is all set to cater to the growing logistics demands of the e-commerce industry."
Driving lessons to be learnt
For a successful B2B entrepreneurship one must understand the strategic goals of the business. Accordingly the products should be customised. The entrepreneur must measure and monitor the B2B model first and then use it stragetically alongside B2C business model. This will certainly help in achieving optimisation.