A modular kitchen is the amalgamation of the modern kitchen task equipments that multiplies the ambience as well as the utility of the cooking space. A modular kitchen is equipped with kitchen appliances like dishwasher, chimney, cooking range/stove, microwave oven, built-in covered baskets, washbasin and many more, designed to suit the customer's preference as per the space available in the kitchen. The contemporary home décor and lifestyle sector has modular kitchen as the vital part that allures the customer to demand it as necessity. High disposable income and modern lifestyle are the major growth drivers. The modular kitchen industry has not only managed to become an apple of the eye in metros and tier-I cities but has flourish by leaps and bounds in tier-II and III cities too.  
Delhi-based, Ideas Modular Kitchen that boasts itself to be the connoisseur of modular kitchen is all set to make an entrepreneurship mark in Indore, Madhya Pradesh. The company has rolled out its expansion model to launch franchise outlets in the city. The franchise model of the company has opened up massive avenues for entrepreneurs and business enthusiasts to invest in modular kitchen market.
As per Seema Khosla, Founder-Director, Ideas Modular Kitchen: "Investors can now become a part of the company's growing pan-India network. Ideas Modular Kitchen has been offering complete set of service for modular kitchen such as design and installation as well as classy range of merchandise from international markets. Ideas Modular Kitchen which is a prominent name in the kitchen industry is making a niche across India by offering business opportunities to the investors. The franchise roadmap is only to ensure more independence for entrepreneurs in terms of their financial requirements and creativity."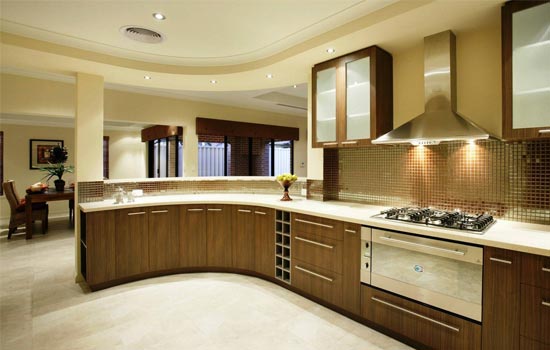 Another modular kitchen brand, Würfel Küche comes with a very strong R&D background on the current modular kitchen world. The brand caters to the Indian consumers' need of quality product at a competitive price. Simple, yet difficult to implement condition, Würfel was conceptualised to deliver European quality at Indian price. The brand opted for franchise model as all its franchise outlets are Würfel extended partners, as they are the only interface for selling and for the fastest growth for the company.
Khanindra Barman, CEO, Würfel Küche says: "With an aim to deliver the best quality at Indian price, Würfel sees itself as the best kitchen brand in the Indian market." Würfel franchise business model encourages enthusiastic new comers as it is designed to have minimal initial investment with high returns."
 
VM Modular Solutions Pvt. Ltd, a modular office solutions company is coming up with another brand in modular kitchen segment which will have franchise outlets all over Andhra and Telangana regions. With an experience and expertise in the industry of complete modular office solutions for over 30 years, it is striving to deliver services to its modular kitchen clients pan-India.
Plentiful profits in kitchen industry
As per the industry experts, the modular kitchen sector is one of the most booming industries in the country right now and more importantly has a with a tremendous growth rate. Modular kitchen in India in the year 2013 had a market share of Rs. 25,000 crore with an incredible growth rate of 45% year on year.
Industry forecast
The modular kitchen market in India is growing at a rapid rate in the country. According to a new report by RNCOS 'Indian Housing Sector Forecast to 2015', the growth in the per capita income of people, coupled with efforts on the part of organized players to offer services at affordable rates, are some of the factors which are providing a boost to the modular kitchen demand in the country.
Major players
* Johnson Kitchens
* Hettich
* Godrej and Boyce
* Gilma
* Oren Kitchen Appliances
* Hafele
* Sleek International
* IFB
* Meine Küche
* Spacewood
* Veneta Cucine CC India
* Kaff
* Häcker Küchen
* Evok
* Glen
* Prestige
* Faber
Growing together
Support to franchisees in terms of marketing and advertising is a must for franchisor's growth. Brands offering franchise opportunities in modular kitchen too are actively supporting their partners.The cost for advertisement and other expenses for preliminary exposure of the Ideas Modular Kitchen franchise will be paid by the company itself. However, the company will provide a sales executive and a designer to each franchisee. Two sets of top model modular kitchens for display and required software for design and estimation will be provided to each outlet.
 
Meanwhile, Würfel Küche is just seeking enthusiastic entrepreneurs with sincere intentions to grow. modular kitchen is one of the most booming industries in the country, and the brand aims at supporting its franchisees from setting up to running the business.
Franchise facts
| | | |
| --- | --- | --- |
| Brands | Ideas Modular Kitchen | Würfel Küche |
| Area | Min 750 sq. ft | - |
| Investment | Rs 30 lakh | Rs 22 lakh (initial investment) |
| RoI | Rs 2 lakh per month on investment for 3 years | 42 % |
| Breakeven | 15 months | 6 months |
TechNavio's analysts' forecast Report:  http://www.technavio.com/report/modular-kitchen-market-in-india-2014-2018