The word entrepreneur originates from the French word, entreprendre, which means "to undertake." In a business context, it means to start a business. The Merriam-Webster Dictionary presents the definition of an entrepreneur as one who organises, manages, and assumes the risks of a business or enterprise.
What is entrepreneurship?
A business model in which you create your own business entity and perhaps hire a few people is entrepreneurship. Over and above all, entrepreneurship is a mindset which makes you think beyond the normal. A craving, a desire and an ambition to break past the set norm and create a unique identity for oneself and his enterprise. Entrepreneurship is also a process of new venture creation.
Who is an entrepreneur?
Someone who wants to self employed and also generates employment for others is an entrepreneur. Someone who wants to be his own boss is an entrepreneur. Someone with a vision, a passion for his product or service and a deep determination to succeed against all odds is an entrepreneur. So we can summarise that
-'An entrepreneur is someone who organises, manages and assumes the risk of a business entity, enterprise and or identity in either goods or services sector'.
-'Entrepreneurs are people that notice opportunities and take the initiative to mobilize resources to make new goods and services.'
-"One who undertakes innovations, finance and business acumen in an effort to transform innovations into economic goods".
What are the typical qualities of an entrepreneur?
-A tendency to break away from the regular and be different.
-Spot the needs / problems / challenges and convert them into opportunities for success by being solution oriented.
-A determined mindset to innovate, create value and be continuously growth oriented.
-Takes responsibility for own actions
-Feels competent, confident and capable
-Sets high goals and enjoys working toward them even with high personal sacrifices
What is Luxury?
Luxury is often a misused term in today's world! Almost everyone and everything claims to be 'Luxury'. So what really is the meaning of 'Luxury'?
If one tries to Google the word luxury, one is thrown up with innumerable meanings in a split second! This only means that 'Luxury is relative & subjective' – meaning 'to each his own'.
In the words of the famous Coco Chanel, 'Luxury begins where necessity ends'.
We can, thus, summarise that luxury is much beyond need – it is a desire that fuels our emotional appeal. Something which defines our social status to others besides just providing us material comfort, great quality, unquestionable functional benefits and makes us feel a part of a social set normally called 'The Elite'.
So what then is Luxury Entrepreneurship?
Someone who has a burning desire to create a business venture or a product or a service which services this sector directly or indirectly is a luxury entrepreneur. An individual with an uncanny eye for detail and excellent customer service can be a successful luxury entrepreneur.
What are the sectors one could explore within the Luxury domain?
Unfortunately, most people link and restrict luxury to fashion and ramp shows due to the glamour attached. There is no doubt that fashion is an essential part of luxury and is in every way the fulcrum point, but luxury extends way beyond fashion, giving an entrepreneur options to choose from areas like jewellery, watches, fitness & wellness, beauty and skin care, real estate, home and interior, aviation, yachting, automobiles to also travel, tourism, hospitality and events etc. Luxury is a complete lifestyle and defines the usage pattern of the affluent class.
If one is a fashion designer, or has an inclination to be a beautician, traditional jeweller, boutique owner, travel service provider or even a wedding planner, it is possible for them to position themselves in this niche space.
Another area is luxury education. Worldwide, there are very few schools that provide this sector of highly specialised education. We at LCBS are one such school with a clear well defined focus on luxury education as a niche area. The scope for such schools is clearly very high since as per an NSDC report, close to 5 million people are going to be required to service this sector by 2022. As a new business opportunity, this is a great investment direction for upcoming edupreneurs.
What are the Growth opportunities in the Luxury sector?
Luxury in India has been growing continuously at a pace of 20-25 per cent per annum for the past several years. Currently at about US$ 18.5 billion, it is expected to touch US$ 50 billion by 2020 and $180 billion by 2025. (as quoted by Niti Ayog CEO Amitabh Kant in February 2016). The 'Make in India' movement is expected to fuel the domestic design industry towards this sector. Recent success of young Indian designers is a case in example of this rising phenomena.
How is Luxury Entrepreneurship different and how can one become one?
In the luxury space, the depth of the vision, the originality of the creative designer, the brand building process, the marketing & communication as well as the customer service orientation is completely of a different level. The aura of the brand, the magic around the intangibles, the romance & mystics behind the product which is accentuated by the impeccable service play the key role.
Let us say that the basics remain the same, but the treatment is entirely different.
The best way of course is to undertake a short course on 'Luxury Entrepreneurship' to clear up ones concept and knowledge of this sector and study in depth the nuances involved in handling such a business
Then on, if one is a creative person he can begin on his own. If one is a moneyed person, he can have his idea developed by a creative team. Alternately, there is a plethora of national & international luxury brands across sectors that are keen to reach out to the Indian luxury consumer and the fast growing market here. One is open to explore franchise opportunities with them.
About the author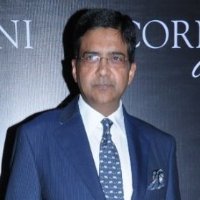 Abhay Gupta, a veteran luxury & fashion strategist is the Founder & CEO of Luxury Connect & Luxury Connect Business School (LCBS), India.
He has been involved in the evolution of the fashion and luxury segments right from manufacturing, joint venture factory set-up, franchising, and now education. Identifying the very niche luxury talent need gap, he founded India's first & only luxury business school in 2012.
Recognised as the 'Luxury retail icon of the year 2012' by Asia retail congress, Gupta has won several awards across India, SEA and GCC regions. Featured in 'India's top 100 most influential men of luxury 2013, 2014 & 2015' for 3 consecutive years in a row, he has also been on the panel of jury members for 'Luxury Lifestyle Awards for Asia. Gupta has been recently acknowledged as 'Most Influential Retail professional across Asia - GCC and Africa: 2016' by Asia Retail Congress.