Specialty retail brands focus on specific market segments and establish themselves strongly in their respective sectors. They have a unified category for product inclusion and they have to excel in their own selected horizon. Thus selecting the right retail channel remains their topmost priority. 'Anti-established' in 2013, Happily Unmarried is known for 'out of the box' products. It is also involved in music festivals and works with corporate sector. Lately, it has been doing a lot of projects involving branding, communication, interiors, marketing all rolled into one. Chumbak retails in souvenirs, stationery, tees and boxers to phone cases, jewellery, laptop sleeves, bags and wallets and home stuff like furniture, lighting, crockery, rugs and more. Presto, which is owned by Mohan Impressions Pvt. Ltd, deals in office rubber stamps, personalised gifts, award and appreciation products and corporate gifts.
Online or offline?
For specialty retail to grow, brands are readily embracing online route. Chumbak has been into online retail since beginning. "We have recently built a brand new website and revamped our entire web experience. We have seen doubling of average purchase values in the last three months since re-launching the website," says Vivek Prabhakar, CEO and Co-Founder, Chumbak. However, Happily Unmarried is of the opinion that though online presence is important, offline stores are important and sale boosters in their own way. The brand started its business while retailing through an offline store. "Offline stores provide the customers a touch and feel experience. For some people shopping is joy, even therapeutic for such customers an offline store is an essential need. While online business will expand we believe that offline stores will continue to grow as well," says Rajat Tuli, Co-founder and Director, Happily Unmarried. 
The buzz of m-commerce
As per a Deloitte report, the Indian mobile app industry is likely to see around nine billion downloads in 2015, which is five times more than 1.56 billion downloads in 2012. Virtually every business venture; whether established, emerging or start-up, is entering into the arena of m-commerce. The applications are being updated and refurbished and novel features are being incorporated. Mass usage of smart phones, internet penetration, and introduction of 3G/4G network has lead to an unprecedented growth in the apps world. Prabhakar of Chumbak reveals that the brand will have a brand new app up and ready in the next month. "We have designed our website keeping a mobile phone in mind in and we clearly see a lot of our future there," he adds. An exclusive application for Happily Unmarried is already underway. "Our app should be out in July," informs Tuli.
But there are brands for which brick and mortar and e-commerce alone are wide channels for enhancing their business and they are not entering the zone of m-commerce as of now. Anurag Poddar, Director, Mohan impressions Pvt. Ltd says, "Right at this moment we do not have any plans for retailing via m-commerce, as we have just started selling our product through e-commerce. As our products are very impulsive so we believe in 100% retailing through retail model."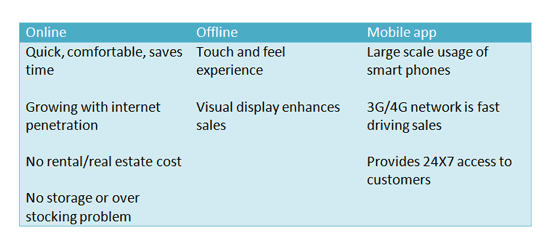 Expansion zone
Presto currently has 145 outlets across India, out of which 110 are franchisee-run. It is seeking pan-India expansion and targeting neighboring countries like Nepal, Bangladesh, Srilanka and Bhutan. It has plans to expand in South East Asia Pacific region also. Happily Unmarried has 12 outlets in India. Out of these four are franchise stores. It is looking forward to opening 12 new stores per annum. Chumbak has 35 stores in India. It is keen on increasing the count of its home stores. Currently the number of home stores for the brand is five, which it will scale to more than 20 by the close of FY.