With fast pacing life and the introduction of new technology is making modern day education more interesting and a great learning experience for both the students and the teachers. The schools are also upgrading the teaching standards and are adopting various digital teaching solutions to educate students in a play way method. Not only this, but the modern day school furniture and playing equipments have become a new rage into the manufacturing and retail industry and undoubtedly offering great business opportunities to its dealers and distributors as well.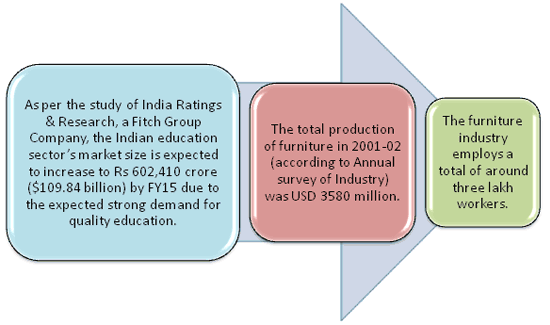 With changing teaching methodologies and smart classes in schools and at tuition centres as well, the manufacturers of school supplies have also adopted changes in designing / manufacturing of products. Even touch tables for primary education has also emerged as the evolution in teaching methods while the dealer / distributorship of these products can fetch real good benefits to entrepreneurs. However, the market considers unorganised players as the biggest drawback as well as challenge.
Market at a glance
As per the reports of Research and Markets, "A global market research store, the furniture industry in India is considered as a 'non-organised' sector, with handicraft production accounts for about 85 per cent of the furniture production in India. The Indian furniture sector only makes a marginal contribution to the formation of GDP, representing just a small percentage (about 0.5%)." Among all the types of furniture used, school furniture segment is the one that boasts to be important in terms of size as well as the technological innovation as per the modern day requirement. It is to be believed that the market size of school supplies is pegged at Rs 24000 crore per annum and is growing tremendously.
Hindrances to overcome
No business is complete without the challenges that it brings along with. But overcoming them is what makes one successful and profitable. In India, the industry of school supplies and smart class technology is still unorganised. The only organised format of operating this business is via dealer / distributor model.  For educational furniture industry, the non-organised sector would be the first and the foremost challenge as it would never let the organised entrepreneurs to lead the race of benefits.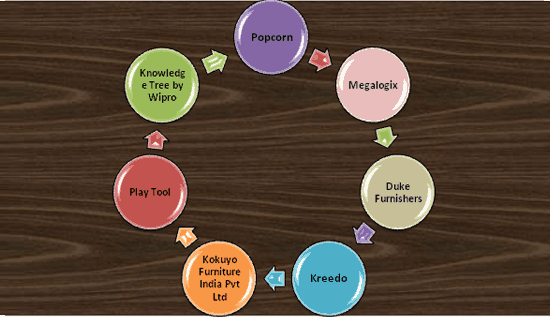 A home-grown stationery and office supplies brand, StationeryBazaar.com provides stationery solutions under one roof. It is focused to support pan- India presence via the franchise route and to support this strategy, the brand is opening warehouse at strategic locations across India while inviting franchise stores in all cities of India. The brand believes that India is a vast country with very diverse culture and therefore requirements. Also till recently the Stationery market was totally dependent on local retailers, with a very little or no presence of organised players. Priyanka Goel, Founder and CEO, StationeryBazaar.com says: "We plan to work with these local retailers rather than separately to capture local markets. This way we will be able to reach those customers without conflicting with local businesses."
Another international brand, Krueger International Furniture Systems (P) Ltd. aka KI, boasts to offers a one-stop-shop to a school for all its infrastructural requirements. It also finds unorganised players as the major challenge for the industry to grow. Girish M Rakhe, CEO, Krueger International (KI), India adds: "As branded furniture manufacturer, we face unorganised players /manufacturers as the major challenge. They hold bigger share in furniture industry in India market. Furnishing knowledge acquired by KI over a period of 71 years comes into play and helps us to emerge as strong player in the industry.  We have been successful in educating our customers with the importance and use of ergonomically designed furniture. The company gets its winning edge with its state of the art manufacturing plant in India."