The beauty and wellness industry has swiftly accepted this change and it is expected that the wellness services in India are projected to generate more than 3 million jobs by 2015. Let us tell you more on how the spa and salon brands are cashing on this wonderful trend of discounting.
The discount culture has been growing in the salon industry with hundreds of offers and combos. Many franchisors are offering the same discounts and schemes across their franchisee run salons to maintain the uniformity of services. Experts say this sector has bigger percentage of offers than any other service sector. The fact is that all salons, spa, wellness centres need new clients to keep the schemes up and running successfully.
Four Fountains De-Stress Spa has its presence at around 30 locations in different cities across India. It's Founder, Anurag Kedia comments: "The amount for the gift vouchers are paid by the guest and used for gifting a spa service to someone they know, usually on a occasion like birthday, anniversary or on completion of a stressful event like exams. Discounts/ discount coupons if offered judiciously can help in new customer acquisition or enhancing loyalty towards the brand. However, several brands have started offering indiscriminate discounting, which hurts not only them but also the industry. We also offer discounts based on memberships and hence it's restricted to users who would like to use the spa on a regular basis." More than half of the beauty shoppers or those who regularly avail such services always opt for deals and discounts via online portals like Groupon, Trideal, Dealsandyou, Coupon Duniya, My Dala and many more of such types. This can be called a better marketing stunt too. Just like contests on facebook, hosting a promotion event at a public place, SMS marketing etc.
Promotional offers trend has caught on
Shahnaz Husain, Chairperson and Managing Director, Shahnaz Husain Group says: "Gift coupons, vouchers and discounts are promotional offers to attract more clients, build up new clientele, as well as to focus on new products and innovations. I feel that a salon or spa treatment makes an ideal gift for someone special, like a mother on Mother's Day. Gift vouchers are also popular. Salons use such promotional offers to increase sales and popularise treatments."
On maintaining client relations with such offers she says: "We do have promotional offers like discounts on salon or spa treatments, on special occasions, like Diwali, Karwa Chauth and other festivals, as well as Mother's Day and Valentine's Day. We also have value added offers linked to purchases. Such offers help to strengthen the relationship with regular clients. The regular clients recommend the treatments and products to their family and friends. No wonder the trend of promotional offers has caught on."
Even top salons like Lakme beauty salons, VLCC, Jawed Habib salons have moved on with the trend and offered discount deals via websites for its patrons.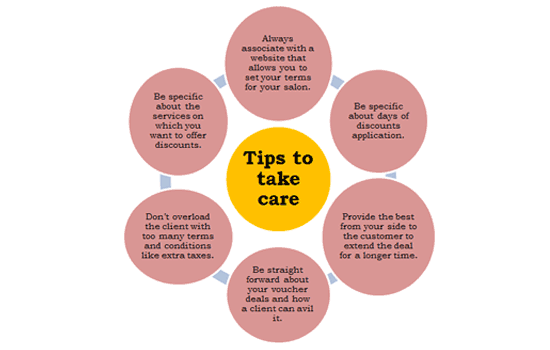 Creating loyal customers
Lloyds Luxuries Ltd brought the very premium, 210 year old brand, Truefitt & Hill to India. On the deals, discounts and promotions, it's Managing Director, Krishna Gupta quips: "It is good that people are buying more gift vouchers and coupons. It allows them to spread the word and offer experiential gifts which are great for us and the receiver as well. We do not discount our services at all as a policy but we have found that people who get a gift voucher become our loyal patrons after just one visit."
The Indian salon and spa market is at the verge of evolutionary change, which has resulted in booming growth and high competition. So, to make complete use of this situation each and every player in the industry is trying to improve their market share by all means possible. One easy and effective way of doing so is through discount coupons and discount vouchers. Nandita Sharma, CEO, Nandita's Organic Beauty Boutique comments: "This trend has become eminently successful in the current scenario as it offers a local street salon or spa and even a major brand in the salon and spa industry, a competitive edge. Such offers prove to be an enticement for the consumers to visit the salon and avail services, which can further lead to them becoming loyal customers. Discount coupons not only ensure higher revenues because of greater number of people walking in, but also help create brand awareness and brand penetration."
So, we can conclude by saying that not just the discount sites are proving to be more beneficial for the customer but surely it is also increasing the job prospects. More discounts means, more services and more services means, more jobs and better prospects for franchisees.