Call it a post-retirement planning or interest in fitness that the duo of Indian cricket team skipper MS Dhoni and vice captain Virat Kohli have floated their own chain of fitness brands in India. While, Dhoni's SportsFit has already opened several centres in different cities, Kohli has recently launched his brand-Chisel and is eying to open 75 fitness centres in coming three years via franchise route.
Fitness industry is projected to be a whopping Rs 50,000 crore industry by 2030 indicating there are enough untapped opportunities in this sector for the growth of the fitness brands. According to Market Research.com, the Indian fitness and slimming industry constitutes about 8 % of the wellness market.
As per FICCI-PwC report released in 2012, with a growing number of Indians willing to pay big bucks to feel good, the fitness and wellness industry is blossoming and will grow to an estimated Rs 100,000 crore by 2015. While the maximum share comprises of single unit operators, the market is seeing a steady growth of branded players, who currently occupy 40% of the total share. 
Star-status benefit
Bringing leading Indian cricketers on board gives recognition to the brand. The consumers easily connect to a brand which has a celebrity name to it. This gives these brands an extra-edge over other brands.
"With the biggest icon of the country and 5th richest athlete, according to Forbes 2014, Mahi is associated with SportsFit as its Director-cum-Brand Ambassador. One can think of marketing value it spikes across common citizens craving for fitness in their back-yard," comments Sheru Aangrish, who is heading SportsFit, founded by Dhoni.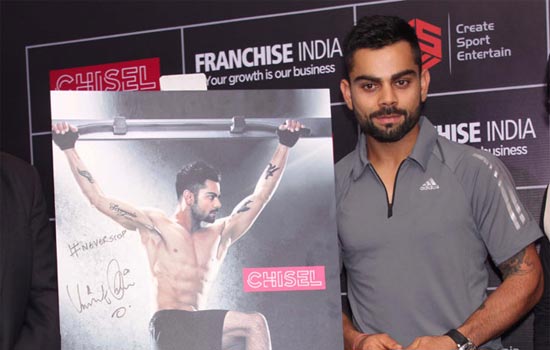 Virat Kohli during the launch of his brand-Chisel
"Virat Kohli has a massive fan base.  Kohli's resonance to young India's passion to stay fit will eventually help the brand to be a part of the booming wellness industry in India," says Gaurav Marya, chairman of Franchise India, which is exclusive marketing and expansion partner for this brand.
Dhruv Mullick, Director CSE Consulting (brand partner), adds to it, "Virat Kohli is the perfect match for brand Chisel as he is an ideal example of a sportsman who believes in the importance of fitness and a healthy lifestyle."
"Fitness and good health is extremely important to lead a happy and successful life, and I'm proud to contribute to this industry which is becoming increasingly important for all of us today," says Kohli.
On expansion pitch
Both SportsFit and Chisel have set their eyes on fast expansion via the franchise mode. SportsFit has massive expansion plans to launch 300 gyms by 2015. The brand, which started franchising in 2013, has already expanded in key markets of Gurgaon, Vasant Kunj, Faridabad, Lucknow, Jaipur and Dehradun.
On brand's expansion, Aangrish, shares, "Franchising is an arrangement that can suit both parties very well. Becoming a franchisee reduces one's risk as a new business owner for the promoters who are expert in fitness sector have already established a successful business model over the years and there is a proven market with innovative and creative products to start your business. There might be thousands of brands existing across the society but with such an enormous experience of 31+ years and the icons themselves helping local population and entrepreneurs, SportsFit has proved why it is growing successfully at the speed of knots. From a humble beginning with a branch or two, today we have closed 25+ deals pan-India. We have a target of 150+ branches within three years across four countries."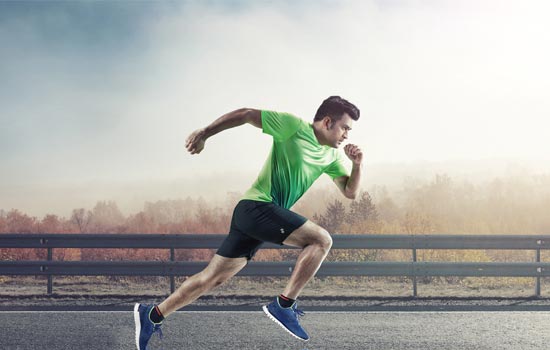 MS Dhoni in a promotional event of SportsFit
Also, newly-launched brand Chisel is eying to open 75 fitness centres in coming three years via franchise route. The company says it plans to expand rapidly catering to the target audience with world-class amenities, best equipment and seasoned trainers.
Training and support to franchisees
These fitness brands believe in the idea of providing holistic training and support to its franchisees. From training staff to arranging equipments and finalising the location, the brands will assist their franchisees.
"From first informal-formal introduction meeting to completion of signing formalities of contract with a franchisee, corporate plays the most vital and essential role. From helping a franchisee in finding location to establishing a successful branch, SportsFit offers full support and guidance to its franchisees. We take full responsibility of our actions during supporting and guiding our franchisee as we believe that franchisee is our back bone as per expansion of business prospective and we should take care and nourish it till it becomes independently mature of its own," explains Aangrish.
Other cricketer stars with biz interest     
The duo of captain and vice captain are not the only ones have switched roles from cricket pitch to entrepreneurship in the recent time, but other cricketers too have turned businessmen though in different business segments.
Earlier, Daredevils' player and former Indian team player Yuvraj Singh invested an undisclosed amount as seed funding in a mobile phone-based beauty and wellness startup Vyomo and Kolkata Knight Riders' Robin Uthappa has co-founded a food startup iTiffin. 
Former Indian cricket team spin bowling maestro Anil Kumble is the co-founder of TENVIC, which is in the business of sports training and consulting.
Kumble's contemporary former Indian cricket captain Sourav Ganguly has also turned entrepreneur as he runs cricket coaching centres and anchors television shows. Ganguly last year ventured into education business and hired a management graduate from Indian Institute of Management Calcutta (IIM-C) among other first recruits.
Likewise cricket legends Sachin Tendulkar, Kapil Dev, Sunil Gavaskar, Virender Sehwag, Zaheer Khan and others have business interest in different ventures.