Indians' appetite for new cuisines and rising disposable income has led to the massive growth of the F&B sector here. Not just international but national brands too are making big waves in the successful business domain which is offering franchise opportunities to many investors.           
As per a Technopak Advisors report, the Indian food service market is currently worth $13.5 billion, growing at seven per cent. Of this, the organised sector accounts for just $1.9 billion (14%), but is growing much faster, at 16 per cent. By 2017, the market size of organised players is expected to double to $3.9 billion. Notwithstanding the current high wave in the industry, there exist many challenges which become headache for investors. Multiple approvals, sanctions and lengthy processes just discourage many investors, but things are changing now.
Ease of doing business         
India dropped by two places from 2013's ranking to 142 among the 189 countries surveyed in the last World Bank's "Ease of Doing Business" report released in 2014. Though this ranking did not take into account a slew of measures taken by the Narendra Modi government for making the country a business friendly destination, but it obviously points out that a lot needs to be done in this aspect.
Expressing his sentiments on the same, Sanjeev Pant, Senior Vice President, CP Foods, that runs Five Star Chicken brand, says, "The main challenge we see in India is in the ease or difficulty of doing business and setting up new ventures. Compared to other countries it is a very cumbersome process with multiple licenses and clearances required at various levels - local, regional, city, state etc. This takes a lot of time and resources and discourages new investment. Franchisees also face challenges to get food, labour and tax clearances as well as getting clearances and licenses related to real estate. These laws need to be simplified and opening new businesses should be made easier."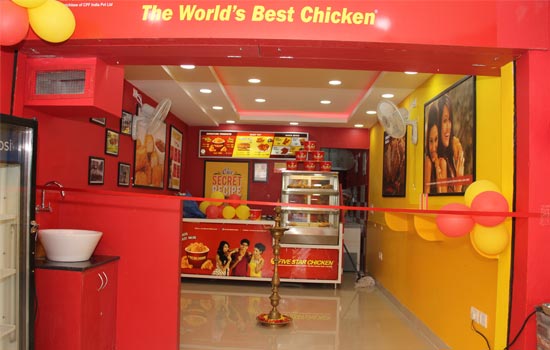 Echoing similar views, Rahul Deans, CEO, Cocoberry, adds, "Multiple permissions are a fact of life and sadly `ease of doing business' has not improved at the level of city authorities. However, it is possible to obtain the necessary licenses legally and run a business in a smooth manner."
Challenges in launching F&B operations in India
Launching your business in India could be a herculean task as there are many challenges which may discourage an investor or a businessman. Viz:
·        How to be relevant to the Indian customer (particularly when it is a foreign brand)
·        How to differentiate from other brands in the category.
·        Dealing with unexpected events and working in an unregulated environment.
"These challenges will remain no matter how experienced a company is. New brands would be advised to learn from similar companies both in the same category as well as of the same size and capability," suggests Rahul Deans.
Must haves before starting a franchise
There are things that one needs to keep in mind while starting his/her F&B business in India. Of course, it is a tightrope to walk on, but there are things which can make your entrepreneurial journey smooth. Rahul Deans opines-
-Make realistic projections, both for revenues and time to execute a project.      
 -Don't blindly copy a template that has not been proven in India.
- Benchmark costs with others (including across categories).
- Initial sales from a newly launched brand are invariably high and longer term projections for multiple outlets cannot be based on that.  
Steps taken by the government
To bring investment into the country and make doing business easy in India, the Centre Government has recently taken several measures to boost economy.
In one of the major initiatives, the government has proposed to integrate 36 central and state government services including application for environment clearance, property tax and factories license with the eBiz portal which provides one-stop clearance platform for investment proposals.
Remaining nine pilot states- Delhi, Haryana, Maharashtra, Tamil Nadu, Odisha, Punjab, Rajasthan, Uttar Pradesh and West Bengal- have been brought under the roll-out of 24 identified state services.
In the last one year, simplification and rationalisation of the existing rules and introduction of information technology to make governance more efficient and effective have been done. With such pro-business steps, the government is aiming to break into the top 50 ranks in the ease of doing business category. These measures will also go a long way in setting up new F&B outlet or business and will motivate more and more investors to come forward.