UK's known denim-wear brand, Pepe Jeans London has very recently launched Custom Studio and Magic Mirror, two novel concepts to increase customer experience and footfalls in its brick and mortar stores, in India. Custom Studio, one of the concepts, is Pepe Jeans London's customisation service. Using this new service, customers can design their own denims by choosing the kind of print, fastenings, and colour they want, to create a pair of denims unique to them. Also, a denim expert at the store will be available to advice as a part of this service. Custom Studio will be offered only at selected stores depending on the size of store.
Creating a perfect brand experience
Acer stores also have a rich expression of Acer brand philosophy with the right combination of brand colours, fonts, layouts etc. and immersive lighting, which together contribute to a wonderful brand experience. Acer has invested considerable amount of time and energy in understanding the art and science of consumer retail experience which reflects in the layouts of these new malls which have the products displayed at the consumer's eye level making it easier for eyeball movement. The new design takes into consideration various aspects of retail science, which for the first time ever, is being integrated into the IT hardware shopping experience.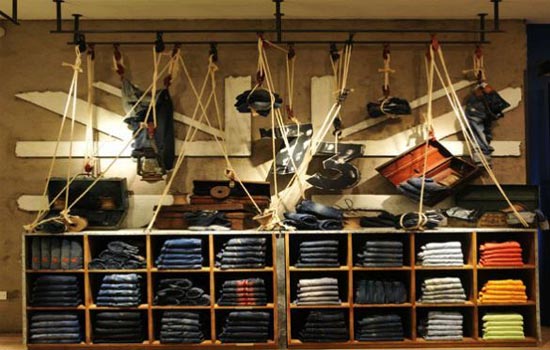 Magic of virtual shopping
The other concept brought in by Pepe is Magic Mirror that will provide customers the experience of virtual shopping.  The technology uses multiple images of the products tried by the consumer, to compare looks on one screen. It encourages self-driven shopping, helps compare looks and allows sharing using social media platforms to get instant feedback. The virtual dressing mirror is expected to enhance in-store experience, ensure convenience, create buzz and increase footfalls. In its pilot phase, the virtual experience is being launched at four stores and will be gradually introduced in other key stores.
One in three consumers walk out of the stores
Consumer studies indicate that one in three consumers walk out of the stores due to lack of appropriate sizes available in the market. More than 60% of consumers end up making compromises with their fits. Seeing this, Van Heusen was inspired to create MYFIT that would end consumers having to make compromises on their fits. MYFIT's manufacturing facility has been re-engineered to manufacture garments within two-three days instead of standard industry operating cycle of three-four months with very low inventory levels. Van Heusen reinvented its business model for its customers delight. Additionally, more than 1200 front-end sales staff had undergone special training only for `MYFIT' so that they will be equipped to translate MYFIT to its end consumers. As per Vinay Bhopatkar, COO, Van Heusen: "The brand already got 100 orders every day under MYFIT within three months of its launch. Interestingly, 80% of the orders are getting generated offline and 45% of the orders are in fits or sizes that are not available in the stores otherwise. While Van Heusen is present across 120 cities through its EBOs, MYFIT has already reached 200+ cities due to online-offline integration."
Adding the starry feel
Just a few days ago, European brand Vero Moda signed actress Kangana Ranaut to design their fashion line. Earlier this was done by Karan Johar. Such type of customisations for the clientele also leave a lasting impression on the regular patrons. Kangana is designing Vero Moda Marquee Autumn-Winter 2015 collection. There are five broad themes — Dandelion Dreams, Deep Lake, Red Velvet, Royal Enchantment and Gold Rush.
Top three benefits of customisation
    Satisfied customer
    Increased business value
    Leading in innovation