Take a quick look below @ key points that will help you narrow down the opportunities from the hundreds available for you to step up the ladder of success.
Currently, there are innumerable franchise opportunities across many sectors that significantly contribute to our country's gross domestic product (GDP). This means that the potential business investor or a franchise buyer has a massive list of business opportunities to pick from. Buying a business is itself is a daunting task. So, when you decide to be your own boss or look ahead to buy a business, make sure you are clear about the kind of business opportunity and industry segment that are looking forward to target.
Why do you want to get into a franchise business?
Franchising is a proven concept of expanding faster by opening replicable stores. Nowadays, many investors or franchisees are taking up franchise of a recognised brand to make more profits instead of starting one's own business from scratch. Setting up one's business deters many investors as it involves a pool of risks. While, franchising is a readymade business concept wherein franchisee takes brand's rights from franchisor and operate brand's franchise within the market without any fail and is able to make quick profits.  Every business comes with its fair share of challenges. There are various things that you need to take into account which further involves – budget for setting up a business, preferred location or area, how reliable and safe is it, what all risks are associated, competition, running cost and so on.  
Research
Before you buy a business, make sure you do thorough research about the industry in which you are planning to enter into. Skim and scan newspapers, business magazines, print advertisements, online news portals, social media – twitter, Linkedin and Facebook and electronic media to know more about new trends and concepts that are coming up. Attend franchise or investor oriented conferences and exhibitions taking place across every nook and cranny of the country. Spend few bucks on platinum membership and get yourself registered with the reckoned franchise consultants who may help you in scouting the right business opportunity of your choice.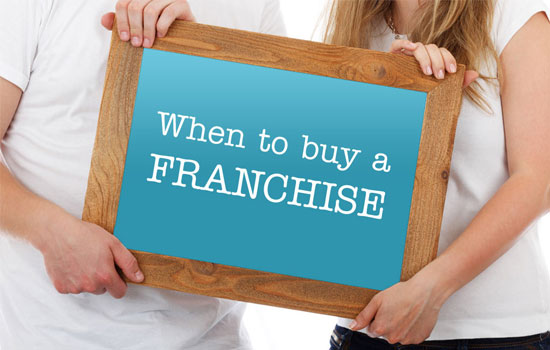 Pick best of the rest
Select five-six business opportunities of your choice and check out their respective franchise requisites. Visit their company or brand's premises, talk to existing franchisees or investors, Google their expansion strategies, browse their website to know about the kind of opportunity they are offering to franchisees or email their franchise manager directly to know more about the business opportunity.
Evaluate
Before you clinch the deal with the franchisor, evaluate the return on investment you will be getting, how much would be the franchise and royalty fee, what all training and marketing support the franchisor is providing to the new franchisees on board. Also, figure out the type of franchise model they have in the offing for franchisees. Browse company's website to know more about the products and services it is offering.
Visit your franchisor
Meet the franchisor or visit the company's head office to get answers to your questions. In business, one-to-one talk is always important as it assures transparency. Make sure, the business opportunity that you have selected matches your investment bracket. Also, if you have decided, seal the deal, ensure to take assistance from the franchise lawyer who can further guide you in negotiating few clauses in the agreement.
Last but not the least
Before getting into business, ask yourself a few questions – Are you financially independent? Can you take risks? Can you give extra time to your business? Is this business opportunity worth investing? Is it recession free? Once you are through with everything, dive into the franchise pool.