Words wisely said by Mahatma Gandhi, "It is health that is real wealth and not pieces of gold and silver". Beauty and health industry is one recession free business that is growing year-on-year (y-o-y ) with the ever increasing demand of people to stay fit and beautiful. The industry has now evolved to another level of conception and has diversified in length and breadth. It has witnessed a transition from a cocoon to a fully bloomed industry creating a great lot of opportunity for investors.
As per Sameer Kaul, COO, Metropolis Healthcare Ltd: "Healthcare at the primary level involves hospitals and on secondary level it's the trauma centres, which is in part and parcel of the healthcare industry. But diagnotics are on the tertiary level because no treatment starts without any reports of the diagnosis. Therefore, diagnostics industry in India is growing exponentially and better than the overall healthcare industry. The brand is tapping the North India market for further expansion and eyes on partnering with franchisees too."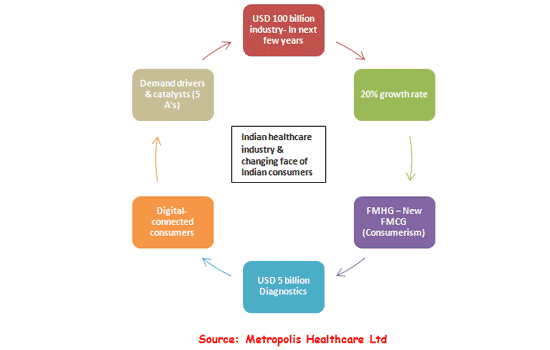 The diagnostic brand, Metropolis is not very familiar in north India, but boasts to be the largest chain of diagnostic centres in Asia, predominantly, in South and West India. It has operations all across the world, even in the emerging countries and have recently opened infrastructure now in north India. 
Market @ a glance
As revealed in the study 'Healthcare Industry in India' conducted by Indian Brand Equity Foundation, the overall Indian healthcare market today is worth US$ 100 billion and is expected to grow to US$ 280 billion by 2020, a compound annual growth rate (CAGR) of 22.9 per cent. Healthcare delivery, which includes hospitals, nursing homes and diagnostics centres, and pharmaceuticals, constitutes 65 per cent of the overall market.
However, in a study jointly conducted by industry body Federation of Indian Chambers of Commerce and Industry (FICCI) and global consulting firm PricewaterhouseCoopers (PwC), the wellness industry in India was poised to touch Rs 1,00,000 crore (Rs 1 trillion) in 2015, with a compounded annual growth rate of 15-17%, from about Rs 70,000 crore in 2012.
Diversification, route to success
The modern beauty and wellness industry has gone through stages of makeover via technical assistance. A North India- based salon chain, Strands also vouches for technology the integral part of their roster.
Naunihal Singh, CEO, Strands Salon says: "I take this opportunity to announce that Strands have tied up with a renowned Yoga professional and we are very soon launching a chain of YOGAGYAAN Centre where yoga for fitness of body and mind will be rediscovered." Recently, Strands have launched a new bouquet of authentic asian therapies under the brand name SALUS ARA SPA.
Potential franchisees
Taking franchising of a well established brand is something which is a proven concept and people have succeeded in. And by large quantity, brands across sectors are taking up this route for expansion.
"Potential healthcare franchisees should be an entrepreneur with passion to take away the business to another level. Must possess credibility, have an advantages of healthcare exposure, should have capital to invest and local expertise to offer quality services to the local customers. Apart from these, anybody with pathology expertise, accreditations, scale /hub and spoke model, marketing and sales support, technical support/ accuracy, customer care and brand pull will be preferred," says Kaul.
Meanwhile Singh of Strands Salon envisions reaching the total count of 200 salons by 2018 and further ensuring beauty and wellness secrets reach to every doorstep.