As custom clothing is offered at one of India's top notch brand outlets, this segment is all set to create new benchmarks as customer's requirements (in terms of right size, style, choice of fabric) for a particular shirt, trouser or a formal suit is fulfilled with the help of experts and new technology that focusses entirely on detailed stitching and exquisite designs as per one's choice. 
Custom clothing in vogue
The trends within the Indian market are changing as affluent male consumers are willing to splurge and are reckoned as early adopters when it comes to embracing new fashion trends. To revolutionise the male consumers' closet, brands like The Raymond Shop (TRS), Raymond's Made To Measure (MTM), Arvind Limited's Studio Arvind & Creyate – a bespoke tailoring clothing label, Van Heusen's new venture MYFIT, Siyaram's Fashion Avenue, Reid & Taylor, Louis Philippe are offering custom made or bespoke tailoring services to strengthen their brand's value in India. Also, international labels like Versace, Hugo Boss, Hong Kong-based Ascot Chang, Canali, Corneliani, Cadini, Gucci and Armani which are catering to the bespoke industry.
As custom-made clothes are once again back in vogue, the industry is now gaining ground across India. Commenting about what they have in the offing for its target consumers, Bhaskar Kelkar, CEO, The Arvind Store informs: "The Arvind Store aims to create an enriching shopping experience through the convergence of Arvind's strongest competencies under one roof. Our diverse offerings include a wide range of premium fabrics, best in class international brands and bespoke tailoring services. Studio Arvind, the bespoke tailoring service of the store, brings to the fore all of Arvind's expertise in creating world-class garments. Combined with our in-store expertise in both styling and tailoring, we are uniquely positioned to give the perfect fit to each customer of our store."
Growth drivers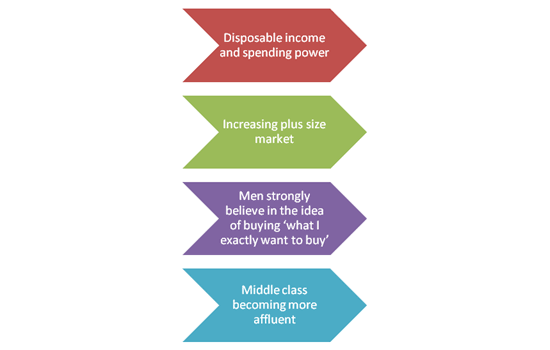 He elaborates further: "We also have a personalised denim solution in the form of Arvind Denim Lab (ADL).  Each denim is made to order in our factory as per the customer's specifications. It is a great product for a customer who is looking for something fresh and innovative. To summarise, we are a complete wardrobe solution provider for the young discerning customers of India."
On the other side, Mohit Dhanjal, Executive Director at The Raymond Shop, says: "We have two retail formats under which we operate brands including Made to Measure (M2M) and The Raymond Shop (TRS). As far M2M is concerned, it's more into bespoke tailoring which is very high-end. We are looking to open exclusive M2M stores via company-owned stores."
These days, the trend of custom clothing is catching up fast owing to the factors like more and more buying capacity, younger population, growing working class which looks for perfect fits and sizes. Elaborating about the factors behind the rise of custom tailoring, Bhaskar Kelkar opines: "The Indian consumer has become highly discerning and wants his identity to reflect in the clothes he wears. Our innovations in fabric, design or process are directed towards this solitary purpose of serving the consumer who evolves from his former self every day. Every year, we create original western as well as an eclectic melt of Indo-western style which transforms contemporary fashion without flinching from the traditional values. And, that is what Studio Arvind represents. Here, the consumer has a wide range of options – from selecting just the right collar, right buttons, trims to placket designs etc. that makes him involved in the garment, as per his choice and taste. It all ties in to give the customer a garment that is made as per his/her fit and style."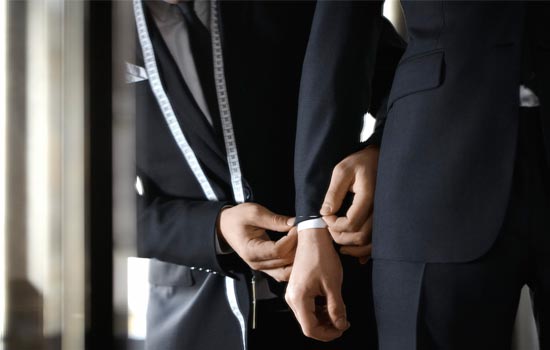 Widening footprint
The Arvind Store which started its journey in August 2010 has today crossed the footprint with 140 stores in 13 states. Talking about the company's expansion plans, Bhaskar Kelkar informs: "This year, our aim is to touch the store count of 200. Currently, we have a strong presence in the South, West and East regions of India and this year, we are planning to explore new territories of Central India. We operate in three models where the ownership format ranges from totally company owned (COCO) to a company and franchisee owned (COFO) or a total franchisee owned (FOFO). We have a healthy mix of all three offerings, where around 50% of our stores are franchisee partnered. 
A franchisee can invest anywhere between Rs 20 to 60 lakh and the returns on investment is upward from 20%."  On the other side, The Raymond Shop (TRS) has a large franchise led network with over 720 outlets in India, of which, 660 are franchised.
Enlightening about the future plans, Mohit Dhanjal says: "We are looking at adding another 30 to 35 TRS this year through the franchise route, mainly in tier-III, IV and V cities. The ideal size of stores is about 1,500 sq.ft. The investment in interiors including infrastructure, site fit-outs etc. is approximately Rs 50 lakh and may vary from site to site depending on the quantum of work required. As far as investment in inventories is concerned, it is dependent on the size of the outlet and the potential sales. The investment is approximately between Rs 60 lakh and Rs 85 lakh."