Search Business Opportunities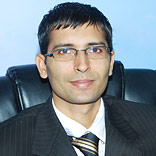 As its name denotes, Kathak Fashion Mills is known for its traditional saris and dress materials. In an interview, Jitendra Madaan, Managing Director, Kathak Fashion Mills briefs us..
To exploit the huge potential in the Tea & Coffee market in India, The Infinity Hotels Pvt. Ltd has launched its newest brand Chai Coffi. In an interview, Abu Farhan Azmi, CEO, Infinity Hotels Pvt...