It is always prudent to prepare a league under yourself that can carry ahead the name for your business. Via franchisees, biggest of the brands are taking ahead their businesses to new heights. With proper skill development and introduction of newer and better programs, franchisees are now more confident. This trend of skill development and employment generation for franchisees is a welcoming step in the franchise fraternity. We tell you more on this..
Skill development for franchisees can be done in many ways. Few brands organise motivational programs and train their partners, while other send franchisee to other successful outlets to learn the nuances of the trade. While it is important to train them, it is equally important to prepare them for making a team ready under them too so that more employment generation can be done and better opportunities can be given. Aditya Birla Group's Aditya Birla Bizlabs is a platform that enables innovative startups to gain market access and new customers to rapidly scale up by leveraging the Group's global reach and business expertise. Jewellery brand, Caratlane has just started out on its retail network expansion plans. Atul Sinha- Sr. Vice President, Marketing & Retail Sales, CaratLane says: 'We treat our franchisees as business partners and offer an intensive training programme for them and their staff while on boarding them. Our franchisees also have access to various other interaction forums, both formal and informal, to encourage a more cohesive partnership culture.'
Government also playing its role
Pradhan Mantri Kaushal Vikas Yojana (PMKVY) is the flagship scheme of the Ministry of Skill Development & Entrepreneurship (MSDE). The objective of this Skill Certification Scheme is to enable a large number of Indian youth to take up industry-relevant skill training that will help them in securing a better livelihood. Individuals with prior learning experience or skills will also be assessed and certified under Recognition of Prior Learning (RPL). Under this Scheme, Training and Assessment fees are completely paid by the Government. There is short term training, special projects, recognition of prior learning, placement guidelines and much more for future entrepreneurs. On the same, Prashant Kulkarni, Founder, Chatar Patar- India's first trademark Pani puri brand says: 'We are making all efforts to get in touch with people from PMKVY and recruit more budding entrepreneurs from there. Meanwhile we are hiring people from North East and training them as they posses' excellent cooking skills and have tremendous potential. One they are trained they show full dedication in work assigned to them. We can this way help all our franchise outlets to grow fast in terms of better manpower, quality and skills.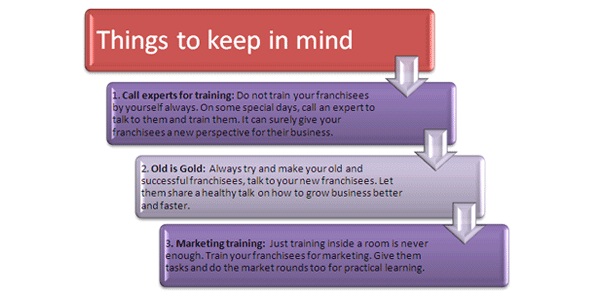 The 'customer first' approach
For Thomas Cook India Group, its Gold Circle Partner franchisees form a critical element of its distribution strategy, offering them a viable model to penetrate new and high potential source markets like Middle India's Tier II and III regions. The brand ensures knowledge and skill development of its franchisees to maintain the high standards of Thomas Cook brand. Rajeev Kale - President & Country Head - Leisure Travel, MICE, Thomas Cook India Limited tells us: 'Our franchisee front lines from a critical customer interface, more so given the perspective of our service sector. Our franchise programmes hence follow a 2 pronged axis of domain expertise (product and destination knowledge) and skill development (selling skills, customer service, etc). The sessions are conducted by both external trainers (e.g. Tourism Boards) and internal trainers (business and HR Learning & Development experts). A combination of interactive online and offline sessions, learning and fun elements, certification and Reward and Recognition programmes ensure that our skill development initiatives are engaging and effective.'
On being asked about trainings, he says: 'At Thomas Cook India, we hold a diversity of Product/Destination training programmes year-round and a large format Annual Regional Partners Meet to discuss our strategy and way-forward for the next year and key booking seasons. We host well-planned sessions with product detailing and offerings to our partners; equally weaving in areas like domain knowledge, behavioural and soft skills elements in the training sessions. Our programmes are focussed on 'Customer First', inculcating a culture of customer-centricity and service delight.'