Since 2008, Kiran Bawa, Managing Director, IOSIS Wellness is determined to make this venture a huge success. She is proud to have Bollywood actress, Shilpa Shetty Kundra as her partner and both of them plan to take IOSIS to a new echelon altogether. Read more about the brand and what opportunities it has in-store for women entrepreneurs and franchisees who look ahead to invest in beauty and wellness business.
Give us a sight of your professional journey and snapshot of your family life.
I feel I hold a lot of promise when it comes to the future of the Beauty and Wellness industry in India. I am a born Mumbaikar. I am a hard worker and my responsibilities, including single motherhood, adds fuel to my passion to succeed. After graduating from SNDT, Mumbai, I dedicated myself to study cosmetology and wellness at London Beauty School (UK), beauty and paramedics at Christian Valley (US), and Spa intricacies at CIDESCO (Australia). This knowledge gain was followed by two years of Research and development (R&D) in Dubai complimented by some globetrotting; attending seminars, conferences and exhibitions, especially in the spa hubs of the World - Singapore and Malaysia. I also gained hands on experience of the Indian market with Bawa Hospitality Group and helped bring in winds of positive change. I give credit of all this success to my family, especially to brothers Karan Bawa and Vikram Bawa who have stood by me as strong pillars and supported me in the running of IOSIS.
Tell us more about IOSIS Wellness
IOSIS heralds a golden era in the spa and wellness industry of India with the promise of transformation.  It lends that 'Midas touch' to transcend one into the world of ethereal beauty and serenity. I am more than glad to have a partner like Shilpa Shetty Kundra. IOSIS is a one stop shop for all your beauty and wellness needs. A holistic 360 degree experience with non-invasive relaxing spa services, beauty facials, salon services and slimming treatments. Proprietary method of service combines high quality products and an impeccable service delivery through 'Fusion of 4' technique to keep you looking beautiful every day.
Where in the country can we see your presence?
IOSIS is currently present in 9 cities with 14 centers 11 of which are operational. Our locations are Mumbai – Khar, Ghatkopar, Andheri, Chembur, Aurangabad, Chandigarh, Ghaziabad, Guwahati, Lucknow – Gomti Nagar, Hazratganj, Raipur, Varanasi. Aurangabad, Lucknow – Ashiyana and Kolkata shall open shortly.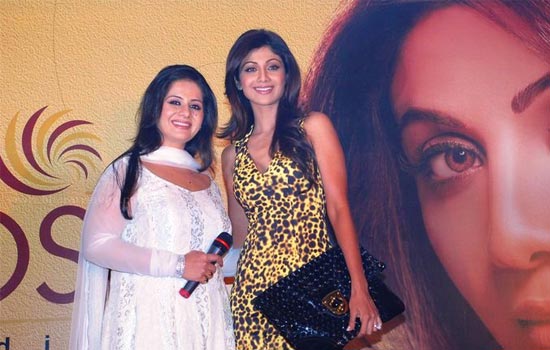 What opportunity your brand offers to the female entrepreneurs?
Endeavours by IOSIS Spa & Wellness represent a movement that is for every woman and girl, no matter where they live and what they do, may be housewives or working.  They are given a stage to utilise their entrepreneurial capabilities to the fullest. They are able to make their dream of becoming a success diva come true by taking up franchise tie up with IOSIS. Their dynamism and pure energy quotient, especially given their stark socio-economic scenario in the Indian background, gets aptly demonstrated once they tread on the path of becoming IOSIS franchisee. This decision taken by them not only improves the life of many members of their family but also brings a radical change in the entire community.
What drives you to work every day?
My passion for beauty, wellness is the sole driver that brings me to work each and every day.
What % of women represent the total workforce of your organisation?
Women contribute to about 70% of our workforce. Also, most of our associates / franchisee are women entrepreneurs who are looking to make a mark in the wellness industry. Our very first franchisee, for our Guwahati unit, is a woman entrepreneur. She has not only been a great partner in growing the business but has also become like family. Our Khar and Guwahati units have been the best performing units and are reaching new heights of success every day.
Any challenges?
The main challenge is being a mother and an entrepreneur at the same time. However, in managing all aspects of life, like social, family and business etc. Health takes a back seat.
What is your advice to aspiring women entrepreneurs? 
Please study the business very well before getting into any financial commitments. Try and work under somebody from the industry you want to get into so that you understand the business completely. Also do a thorough R&D about the industry and business trends, products, services.If it's a people's business, then first hire an HR before you hire anybody else to maintain a strong team. Also finally ensure that you have funds to backup your working capital requirements in case you need funds for the initial 3 - 6 months.