Anti aging products are ruling the markets now. With growing stress levels and also increasing awareness to stay young and look fit, these products are a lot in demand. Most big firms are manufacturing and promoting them well. Anti aging sector is also considered as one of the best business opportunities for franchisors. How the brands are creating numerous opportunities via such products and what is it that is making people invest in anti aging services despite the challenges? Let's dig in more on this...
Most Indians are also now aware of wrinkles, dark spots and fine lines and trying hands on better anti aging creams and products in the category. With the market now flooded with such wellness and anti aging products, the trend is sure to grow. In countries like India, the pressing need amongst all ages to be more fit and presentable makes this sector a more practical option for investment.
The global demand for anti-aging market was valued at USD 140.3 billion in 2015, is expected to reach USD 216.52 billion in 2021 and is anticipated to grow at a CAGR of 7.5% between 2016 and 2021. With introduction of such products numerous challenges have come up but it has surely attracted investors as it is seen as a fast growing industry in the coming years. Commenting on the same, Blossom Kochhar, Chairperson of Blossom Kochhar Group of companies says: ' I think Anti Ageing Market trend is here to grow, it is because people are becoming more aware of how they look, as in a fast moving world of today, all of us do understand that your looks does decide where you land up in your career as well, Your looks give you self confidence, make you feel young and alive, because even though the skin ages, the spirit and soul doesn't, it remains young and feisty; provided only if you want it to be that way.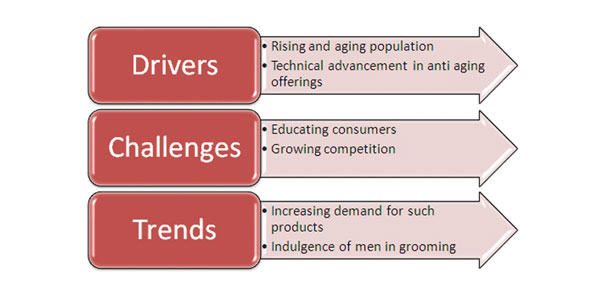 Anti-ageing products and services continue to witness a rapid growth. This segment of the wellness industry is fuelled by the desire to look and feel healthy and younger. For most businesses in the industry this has been the main factor of growth. There has been a great demand for anti-ageing products and services in the wellness and beauty industry in India as well. Sonali Bhambri, Director and Master Franchise at Toni&Guy Salons, North India says: 'Many salons have observed clients investing in these products and services, which indicates their growing penchant for a youthful look over other aspects of beauty and personal care. This has also lead to advancement in the cosmetology and dermatology businesses. At Toni&Guy Salons, North India, we offer a variety of beauty rituals, which focus on anti-ageing. A lot of our clients opt for these services and have become regular due to nature of the outcome. Therefore, it is quite true that the Anti-ageing segment is one of the driving factors in the wellness industry in India and is bound to further growth.'
Sudden shift
People are getting aware about the need to take care of their skin, especially in metros. Women are very aware about premature ageing problems due to changes in the environment, pollution and stress of model life etc. They are looking for ways to solve these problems and therefore are shifting to a more healthy and balanced life style. Nitin Passi, Director, Lotus Herbals says: 'As far as anti-ageing products w.r.t. skin care is concerned, its growth is slow as of now. The reason could be that people have very high expectations from anti aging products and don't get desired results even after many applications. Another reason could be the huge promises made by some brands to woo customers and then fail to deliver on their promise.'
Celebrity Dermatologist, Dr Kiran Lohia of Lumiere Dermatology says: 'Educating the public on the correct way to de-age your skin is quite difficult. With no regulation on claims that brands can make, you are forced to research yourself on the reality of a product's branding. And, frankly, few have the time. Also, with so many regional brands, there are many skin care side effects that can occur. I have personally seen products that weren't ph-modified resulting in full skin peeling-off of a woman. Ultimately, with poor regulation of claims and of products, one has to be clear on the brands they are using, and whether their claims are accurate.'
On the challenges, Passi comments: 'Currently the Anti-ageing skin category is growing at a very slow pace. The biggest challenge is to educate consumers about the benefits of using anti ageing products at an early stage to delay the signs of ageing. At the same time, brands should come out with such formulations which should fill the gap between claimed deliveries and results delivered.'
Concluding the same, Samantha Kochhar, Managing Director of Blossom Kochhar Group of Companies comments, 'This trend will grow. Awareness, self indulgence and the concept of "How you look matters", is gradually catching up with the mindset of the people.'