Wonders of quick & high returns
By
Ekta Sharma Verma, TFW Bureau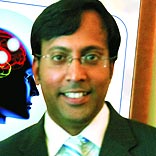 The root of any great deed is a great thought. With this dream in mind, Brain Wonders transfigured the concept of counseling in 2011. In a candid conversation with Ekta Sharma Verma, Manish Naidu, Founder, Brain Wonders, shares the story of Brain Wonders success and expansion.
Tell us about your company. How did the idea of starting your own business come into your mind?
In March 2011, Brain wonders revolutionised the concept of educational counselling through DMIT i.e., Dermatoglyphics Multiple Intelligence Test. I planted the seeds of Brain Wonders experiencing triumphs from my previous undertakings and a meeting with the father of DMIT, Prof. Lin Rubin in Taiwan. With Brain Wonders, I further developed the idea and belief of contributing back to the public. In the last two years, DMIT has practically materialized my dream. Brain wonders has been developed from a single great perception and is on its way to counselling every industry in India, to achieve perfection.
Tell us about the services and products that you offer. What is your brand's USP?
Dermatoglyphics is a complete, auto-assessment interface that is uniquely adaptive, intuitive and responsive to any child's unique needs and skill-sets. Dermatoglyphics presents a scientifically tested US patented DMIT report that takes into account every child's unique potential and affinity towards a particular section, developing specific core competencies from the childhood.
Our USP is our scientifically tested US patented product. It has been recognised by the government of India and we have won "The Best Student Counselling Award" in Indian Education National Awards too.
What was the reason behind opting for the franchise route? What all training and support do you offer to the franchisees?
After doing about 2000 DMIT reports ourselves, we realised that the best way to reach out to the masses is through franchisee network. We provide complete marketing and training support to the franchisees. With our international certified trainers we give a comprehensive two days of technical training with international certification. The franchisee is given handholding in terms of providing the marketing paraphernalia
How many franchise stores do you have at the moment?
We have close to 49 franchisees pan-India and five regional offices. For further expansion, I see a huge potential in B and C category towns of India.
What strategies have you planned to beat the fierce competition in your domain?
I believe we hardly have any competitors. It's very unfortunate that there are so many companies mushrooming without a technical iota of paper to prove their authenticity. With a lack of proper training, there are a few companies which take investors for a ride by selling unauthorised, pirated, inaccurate report making software and these gullible companies keep selling franchises without any research. The only way to beat the competition is through market awareness. We are tying up with various organisations and top doctors, psychologists and educationalists to bring forth the glaring difference between our technically patented product and the pirated softwares running in the market.
What are the investment and area requirements to be a Brain Wonders franchise? Also, tell us about the break-even and RoI.
I have franchisees with an area of 250 sq ft and making more than Rs one lakh every month. The break-even is immediate because we offer complete help to the franchisees with free reports. The RoI is close to 700 per cent in a year.
How many stores are you planning to open by the year-end? What are your international plans?
We are already on the path of achieving the target of opening 125 franchise stores this year. In the next five years, we plan to have 1250 centres in and around India, Australia and the UK.
Related: Fortune in education industry