Vocational education: a profitable domain
As a whiff of fresh air, vocational education is emerging as a well accepted concept in India. Today, taking up a franchise of any vocational institute can bring profitable returns. Read on to know more
By
Abha Garyali
Sub Editor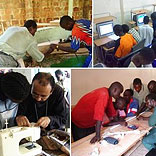 Vocational education basically prepares learners for jobs related to specific trade or occupation. These vocations are in most cases based on manual or practical activities and are non-academic. Indians have always been over powered by professional degree courses. However, rise in vocational education is truly a revolutionary change that promises to fetch more benefits in terms of employment and rising standards of the masses in India. Earlier, vocational education in India provided skilled manpower through unorganised diversified courses. However, with the emergence of organised players in vocational education, the sector is offering promising business opportunities to the aspirants. If you are seeking an education business opportunity, then taking up a franchise of a vocational institute can give you rewarding returns.
Growth in the sector
The recent progress in the organised players in vocational education can be attributed largely to the rising demand of the concept among the youth. With the ever increasing population, job opportunities are reducing. Similarly, getting admissions in regular professional degree course projects a big challenge. At such trying times, many students prefer to take up vocational education for better job opportunity. Majority of the youth today has started opting for vocational training instead of walking on the beaten path of regular academic courses. However, the popularity of these vocational courses does not imply that the degree fixation has reduced but with more and more players entering this field, the horizon of vocational education has become broader. As a matter of fact, vocational courses fulfill the needs of the students by imparting traditional knowledge as well as vocational skills.
Franchising of vocational institutes
As mentioned above, the scope of vocational education is vast. Considering the ever increasing demand for vocational education a large number of prominent educational institutes have started offering vocational courses. Majority of these institutes have taken up franchising as a mode of expansion to impact vocational education far and wide. Therefore, in the last few years' lot of franchise centres are mushrooming in across the nation. According to S Karaiadiselvan, Director, CADD Centre, "We had customers coming from various parts of the country to learn CAD from us. We felt that CADD Centre must provide the world class training at Indian prices at every small town. In 1995, the top management team of CADD Centre decided to expand its network across India thus making it easy for the professionals to join the centers."
Vocational fields
In the last few years, there has been a plethora of players in the vocational education industry with lots of unique courses. Aspiring franchisees can opt for the most suitable vocational field. Traditional vocational courses include typewriting, stenography, secretarial practices, library assistant, tailoring and dress making etc. However, today we have lot of new vocational courses being offered by vocational institutes in following areas:
Computer education institutes: Few prominent players being NIIT, Aptech, CADD Centre, STG, Account Age, Jetking etc have set their institutes pan India.
Language schools: Hero Mindmine, Veta, Russell's Institute, English Express ( launched by Aptech) are some of the popular players.
Animation institutes: Animasters, ANTS (Animation Training School), Arena, MAAC, AAG (Academy of Animation and Gaming), CG Mantra etc are few of the players in animation industry.
IT training and services centres: The prominent players are CADD Centre, Hughes, GurukulOnline Learning Solutions, Akiko Callnet etc.
Aviation institutes: Frankfinn, Avalon Academy, AHA, AHM etc are the prominent players who offer franchises as well.
Traits of successful franchisees
Owning a vocational institute is not a difficult task. However, it is preferable that the franchisee should be knowledgeable of the particular vocation. As informed by Major KV Rajan, Executive Director, Veta, "A franchisee needs to have implicit faith in the brand and its services. He is supposed to have a service temperament, managerial and administrative skills, should be willing to work late hours and needs to have an eye for excellent service delivery." On the other hand, Karaiadiselvan said, "The prospective franchisee must be an engineer or a management graduate with strong desire to be in technology business." Regarding the area and investment needed Preeti Malik informed," A space of 900 -1200 sq. ft at a high visibility location would be required along with Rs 8 -12 lakh of investment from the franchisee."
It can be aptly concluded that owning a vocational institute is beneficial in all respects for a franchisee today. So go on and invest in a vocational institute.
Related: Nurturing young minds franchise way