Boot route to franchise success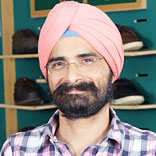 Woodland, the popular footwear brand originated in Quebec, Canada stands for eco friendliness, adventures, outdoor activities and rugged look was launched in India in 80's and 90's. Since then the company is very careful about its expansion strategy. In an interview, Harkirat Singh, MD, Woodland shares the success story of his company.
Ramanjit Kaur (RK): Tell us something about the inception of Woodland?
Harkirat Singh (HS): We originated from Quebec, Canada where we were involved in making winter boots, outdoor boots, for that kind of climate as in Canada it is always cold. Our products were accustomed to withstand all type of weather. So, basically the rough stuff look of the brand and its products come from there.
In late 80s or early 90s, when the Canadian market along with Russian and North European market were coming down, we launched in India with the same product though we modified it according to the Indian weather/ climate. But the rough stuff look was maintained. Woodland stands for outdoor, adventure, nature friendliness, rugged were incorporated into the brand and the look and feel of the brand, we tried to maintain.
RK: What inspired the company to take the refranchising route to expand the presence of the brand in India?
HS: When we started in India, that time there was not much organised retail, so we started by distributing goods through distributors, retailers which were having multi-brand stores. But gradually with time, we tried opening company owned stores where we could give the experience to the customers, about what Woodland actually stands for, so that they can experience the image we are selling. We ensured them that we use a lot of eco friendly material, even in our renovation and decoration. So, the concept of branded stores was started almost about 13-14 years back when we started opening our exclusive stores. During that time, retail was going through a phase in which malls and new markets were coming up, so it was easy for us to show the brand. We took the refranchising route to open more stores.
RK: How is your franchise concept different from other players in the sector?
HS: We have seen that the franchising concept is successful in India only when the company is equally involved in the day-to-day operations of the franchise business. As majority of the franchisees are not expert retailers, so leaving everything on to them can be risky. We try to run all our stores whether franchised or company owned, so that the store runs on the set system and standards of the company even if the franchisee is not involved in the daily operations of the business.
RK: What difference have you noticed in the growth of the company after taking up the refranchising route?
HS: We have been very steady and selective about getting the franchisees. The reason being that we do not want to over expand, we have made sure that whoever we take as a franchisee must understand our business, and once into the system he can grow with the company.
RK: What are the eligibility criteria for selecting the franchisees?
HS: First of all, we do not take too new people. We try to groom up the existing franchisees so that they can run more than one store because I believe that in franchising it is very important for the other party to understand the way we work. We are very selective about new parties but we definitely see their mindset, the business they are into and judge them as much as we can before giving our franchise to them.
The investment for the stores varies with its size and location ranging from Rs three to five crore with an area of 2,000 to 5,000 sq. ft. We give only the smaller stores to the franchisees whereas the bigger stores are run by the company itself.
RK: How many franchisees do you presently have in India and abroad?
HS: We presently have more than 300 stores across the globe, out of which 25 per cent are franchised.
RK: What support and training a franchisee will get while partnering with you?
HS: We make them work with us; we have a franchise team who work with them even if the franchisee is involved in the day to day business. Basically, we do not let everything in the hands of the franchisee. They gradually understand the business we do and learn with experience.
RK: Have you faced any challenges while establishing the business in India?
HS: Indian market is very typical other than our original market like Canada, Europe and Asia. People here are very particular about maintaining a balance between price and value. They value products with the quality, which makes them one of the most difficult customers to cater to. I think that was the biggest challenge because selling a product in India is like fulfilling each and every expectation of the customers.
RK: Where do you see Woodland five years down the line?
HS: Our approach is very slow and steady. We are not aiming very high but definitely we will be growing at the rate with which we have been growing every year.
RK: Any advice for the aspiring entrepreneurs.
HS: There is a huge scope in India and overseas as well. If you have a business concept and product, then sky is the limit. All you need to have is to be at the right place.
Related: Routing Profits the Ethnic Style

Copyright © 2009 - 2016 Franchise India Holdings Ltd.
The information contained herein is of generic nature only, and Franchise India is not, by means of this website or any part thereof, rendering professional advice or services. Before making any decision or taking any action that might affect your finances or business, you should consult a qualified professional advisor. Your use of this website or any of its pages or links given, is at your own risk and you assume full responsibility and risk of loss resulting from your usage. With respect to use of the website, kindly visit www.franchiseindia.com/terms.
X
Tell us what you think!